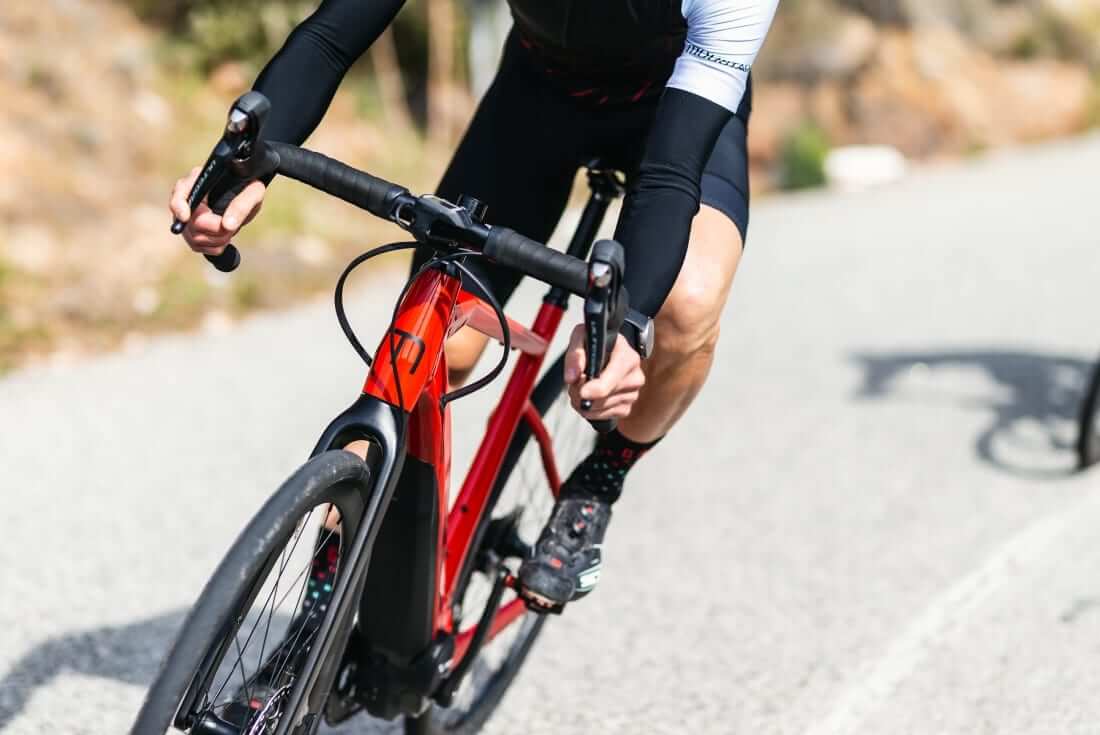 Performance
We want the feel like a regular road bike!
This is why we decided to design & engineer a new frame using our proven Hidden Power solution technology but reversed to lower center of gravity and ensure a dynamic and agile behaviour.
Lateral and torsional stiffness are maximized by using an oversized down tube and massive chain stays.
Disc brakes are an integral part of the design with 160mm rotors front and back for powerful and consistent braking no matter the conditions.
A Carbon Fork has also been created for optimal compliance and ride quality.
Smooth and powerful
The Bosch Active Line Plus system with 500Wh Powerpack battery answers all the modern e-Road needs in terms of performance, ease of use and autonomy. Easy to ride above & beyond 25km/hrs, thanks to his seamless transition form No-Assist/Motor Support to Assist/Motor Support, our Dimanche 28 rides like a regular road pedal bike. Your ride will be ultra-smooth and silent and the 50Nm torque will provide supernatural ride characteristics! No limitation of your playground, the Bosch Active Plus is compatible with double chainring and wide gear range offering great climbing capacity. Ready to try Mont Ventoux climb?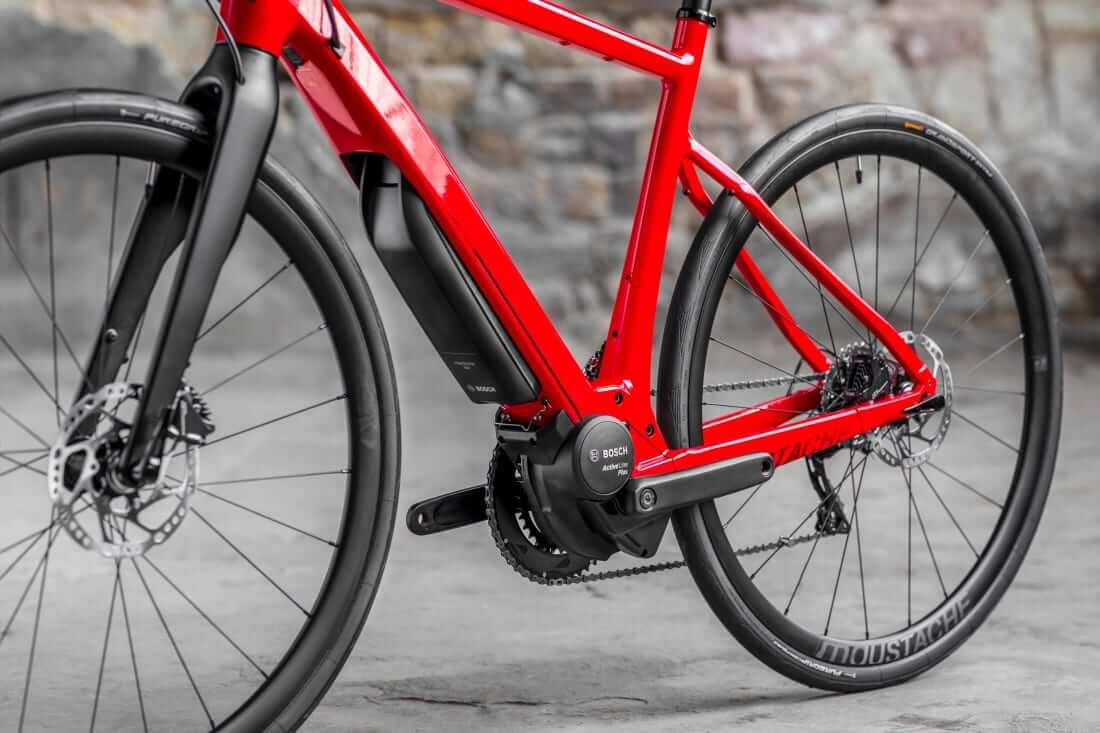 Ergonomics
When it comes to long rides and adventure, comfort is a must. This is why we use components that make riding more relaxed and enjoyable. Our endurance fit is perfect for longer, relaxing rides with less fatigue.
The positive effects of vertically compliant frames are well known. We have designed massive chain stays for dynamic and precise handling but flex seat stays for vertical compliance and comfort. The absorption of high-frequency road vibration allows the rider to save critical energy stores, and thereby arrive as fresh as possible at the finish line.
Ease of use
We want your riding experience to be as easy as possible. NO limitations on wheel choices, from training to high-end carbon wheels everything works as we're using mid-drive motor with no limitations as compared to hub drive systems in the market.
Durable and hassle-free components and frame interfaces. Front/Rear thru axle system with quick release lever for easy wheel in/out. Wide gear range with double and single chainring options to adapt to your terrain and fitness conditions.
Confidence & Reliability
Our solid and stiff frame base means no compromise on durability. Easy to control in any situation you will quickly feel at ease riding the Dimanche 28. Stable and predictable handling at all times and speeds will bring total confidence and control of your bike.
Durable 700x32C tires with Moustache custom made Tubeless Carbon & Alloy wheels will ensure the perfect mixture of comfort and dynamic without losing a single watt of energy from the motor.
Versatility
ONE platform – Multiple configurations! Whether you desire to do a 100km ride in your hometown or achieve a multidays riding trip abroad, Dimanche 28 will be able to answer your needs. Wisely located thread inserts will allow you to install Moustache's front and rear mudguards, rear-carrier for maximum loading capacity. We also select our components to make your riding experience both relaxed and practical.