If you are looking for a reliable, intuitive display system for your Bosch-equipped eBike, look no further than Bosch's wide range of displays. From basic ride data to advanced fitness tracking and navigation, these displays offer everything you need to make the most of your ride, regardless of your experience level. In this article, we will explore some of the best Bosch eBike displays on the market, and their features that make them a must-have for every rider.
Let's take a closer look at these intuitive displays.
Bosch Intuvia
The Bosch Intuvia display is an easy-to-read display that provides essential data on your range, speed, riding mode, battery status, and more. With its easy-to-use handlebar control unit, the display is simple and safe to operate. You can even use the Intuvia as a handy charging station for your phone. This display also offers friendly reminders when it's time to take your eBike in for service.
Bosch Intuvia 100 (smart system)
Just as intuitive as its older sibling, the Intuvia 100 works with Bosch's new Smart System and provides even more data on your ride. This display shows range, speed, riding mode, trip duration, battery status, and more. With the eBike Flow app, you can customize your Intuvia's range and support for select modes. The Intuvia 100 can even update your eBike over the air from the convenience of your own home and is operated from the handlebars with the LED or Mini remote.
Bosch Purion
If you prefer to keep your handlebar instruments to a minimum, the Bosch Purion Display is an excellent option. This display provides essential data such as range, speed, riding mode, and battery status all in one easy-to-use module.
Bosch Kiox
The Bosch Kiox Display is designed for performance-oriented riders and is the ultimate training companion. This display tracks your heart rate, notifies you when you're going above or below your average speed, and syncs all your data with select fitness apps. With its color display, scratch-resistant screen, app and Bluetooth connectivity, cordless bike mount, and various training modes, the Kiox is a smart choice for the more active rider. You can even connect your smartphone via the eBike Connect app to start planning your rides.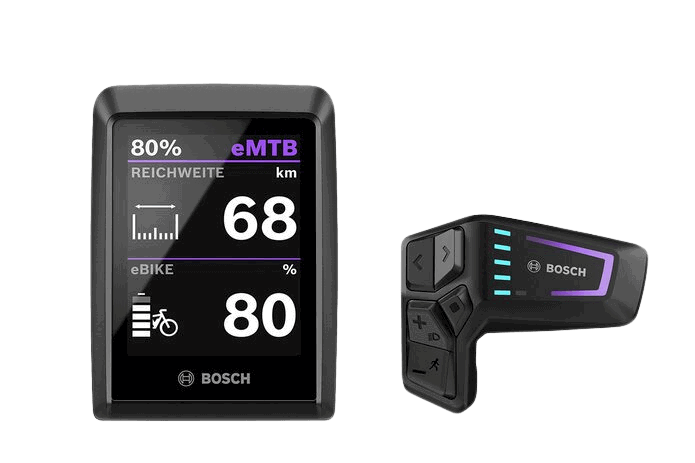 Bosch Kiox 300 (smart system)
Compatible with Bosch's new Smart System, the Kiox 300 display has all the functions of the original Kiox and boasts even more useful features. This display shows altitude and slope data while riding, as well as turn-by-turn navigation through the eBike Flow app. It also has a Walk Assist function and Hill Hold, making it easier to tackle steep grades while walking with your eBike. The Kiox 300 is a great choice for athletic riders who demand the best.
Bosch Nyon
The Bosch Nyon display is perfect for full-on touring or just a leisurely ride. This display is more than just a display, it's an on-board computer. From navigation and weather forecasting to fitness and CO2 savings, the Nyon truly has all the data you need, and then some. You can even connect your smartphone via the eBike Connect app to plan your rides in advance!
Bosch Smartphone Hub
With the COBI.Bike app, mount your smartphone to the SmartphoneHub and transform it into your trusty on-board eBike computer. This display gives you access to navigation, music, phone calls, fitness tracking via select health apps, and more, making it an essential ride companion.
Upgrading Your Display
Provided the motor is compatible, we can upgrade your bike to almost any display option. Just reach out to our support team to see what's possible.
Questions about eBike Displays?
If you have more questions about electric bikes, we highly recommend continuing to explore our website or checking out our Youtube channel, Propel. And if you need help finding an eBike, our Matchmakers will be happy to help.
Contact Us