The Gazelle Ultimate T10+ HMB is a bicycle designed for commuters seeking a comfortable and efficient ride. With an integrated motor and battery, this bike provides reliable assistance, allowing riders to arrive at their destinations quickly and with ease. The aluminum frame is sturdy and stable, making for easy handling and optimum agility. Furthermore, the bike features puncture-resistant tires, ergonomic handlebar grips, and a suspension front fork, all of which contribute to a smooth and comfortable ride. Overall, the Gazelle Ultimate T10+ HMB is a great option for those seeking a reliable and comfortable commuting bike."
Motor: The Bosch Performance Speed drive unit is the power benchmark for Bosch eBike System's drives. Weighing 6.3 lbs with a maximum torque of 85 Nm, it delivers superior performance in a relatively lightweight package. The eMTB-dedicated motor is compact, lightweight, and extremely powerful, combining high-quality materials, an extremely powerful drive and high-end sensors.
From the model year 2021 the Performance Speed will feature a torque of up to 85 Nm, new motor control features, and updates to eMTB mode – all part of a software update. For a thrilling riding experience: more natural, intuitive, and powerful and an absolute benchmark in its class.
Display: The Gazelle ULTIMATE T10+ HMB comes with Bosch Purion a minimalist on-board computer for everyone wishing to have a neat look on the handlebar, be it for use in the city or the countryside. You get all important information conveniently at the touch of a button during the ride, with both hands remaining on the handlebar. Five different riding modes give you the correct support in every situation.
Top Speed: This bike provides ample speed with a top speed of 28mph. If you're looking for more speed bikes, check out our fast electric bikes.
Accessories: This bike is fitted kickstand, mudguards, lights, and a carrier. Our team has a lot of experience outfitting bikes with additional accessories, so be sure to reach out to us if there's anything you may need.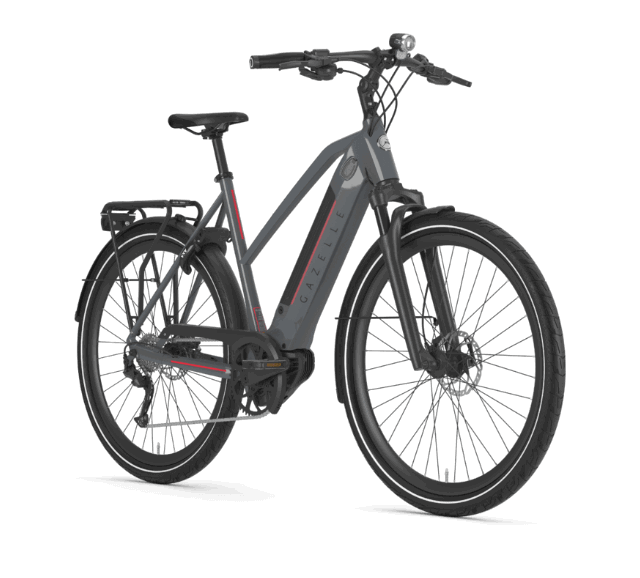 Discover the Gazelle Ultimate T10+ HMB
Want to trade in your car for a quick and fun ebike? Good idea! Especially with this Ultimate T10+ HMB with its powerful Bosch drive system that provides assistance of up to 28 mph. It will have you starting every working day full of energy. The stable but maneuverable frame steers effortlessly, top-quality components offer safety and comfort, and with the contemporary design, you will certainly be noticed. Even on the weekend on a relaxing bike ride.
Style and substance
Available in both high and mid-step options, the streamlined, racy frame is complemented by a bump-absorbing Suntour Mobie 45 suspension front fork with 80mm of travel.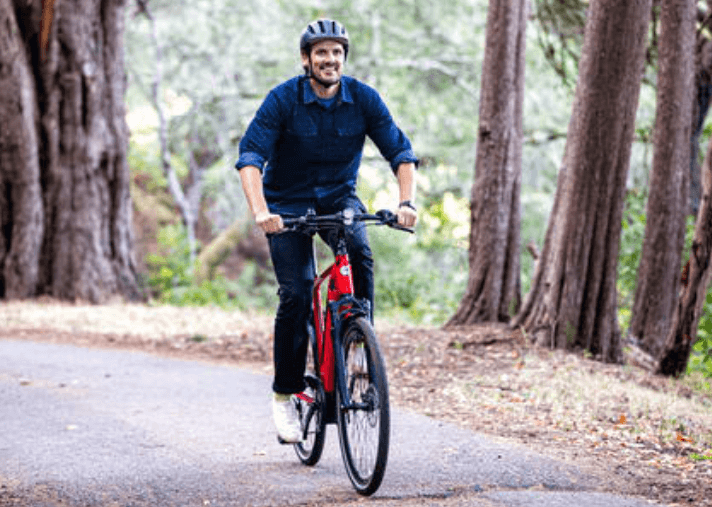 Integrated battery
The integrated in-tube design offers a sleek and modern look, and the high-capacity 500Wh battery provides extensive range.
Powerful assistance
The latest generation Bosch Performance Line Speed motor creates a smooth ride with powerful assistance (85Nm of torque) for fast, effortless cycling. The Bosch Performance Line Speed has enormous power. With assistance up to 28 mph and a torque of 85 Nm, you can easily leave everyone behind. Ideal for commuting to work and for long trips. Who says that electric bikes are dreary?
Accessories for Gazelle Ultimate T10+ HMB