One plus one is three. The Ultimate C380 HMB is the perfect combination of a comfortable touring bike and a sporty city bike. It provides an excellent ride, taking you from A to B in style, speed, and convenience.
Whether you're off touring on the weekend or running a quick errand, the Ultimate C380 HMB is perfect for the job. This ebike has components integrated into the frame and offers phenomenal stability. The Enviolo trekking hub adds the convenience of stepless shifting. And what's more, its attractive frame is sure to turn heads.
The Enviolo gear hub enables stepless shifting
The belt drive requires little to no maintenance
Maximum braking performance in all weather conditions
A powerful, mid-drive motor lends a helping hand
A city bike and touring bike in one
The Enviolo gear hub enables stepless shifting.
The belt drive requires little to no maintenance

Maximum braking performance in all weather conditions
A powerful, mid-drive motor lends a helping hand
Change gears seamlessly, every time
Enviolo's robust, stepless shifting gear hub lets you switch between gears effortless, whether you are pedaling, coasting, or standing still. So if you're waiting at a red light, you can easily downshift to the optimal gear to easily cross an intersection. Shifting is extra smooth in combination with a durable belt drive.
Enjoy low maintenance durability
The Ultimate C380 HMB has a Gates carbon belt drive rather than a standard chain, which has a number of benefits. You don't have to lubricate it, which means it doesn't attract dirt. The belt is also lighter than a chain and runs quietly, even when the ebike is fully loaded. And the belt's durability is unmatched: it lasts three to five times longer than a chain, making it a sustainable and enduring choice.
Safe and controlled braking
With an advanced ebike like the Ultimate C380 HMB, you want to be able to brake safely without thinking about it. Hydraulic disc brakes are therefore indispensable, as they provide the power and precision for controlled braking at all times and in all conditions, including when it's raining or the roads are wet.
Support that always feels natural
Whenever and wherever you cycle, you can enjoy a reassuring push from behind thanks to the Bosch mid-drive motor, especially when you're tackling a steep hill or loaded up with shopping. We've equipped the Ultimate C380 HMB with the next gen Performance Line mid-drive motor with 75 Nm of torque. Support is powerful yet still feels completely natural.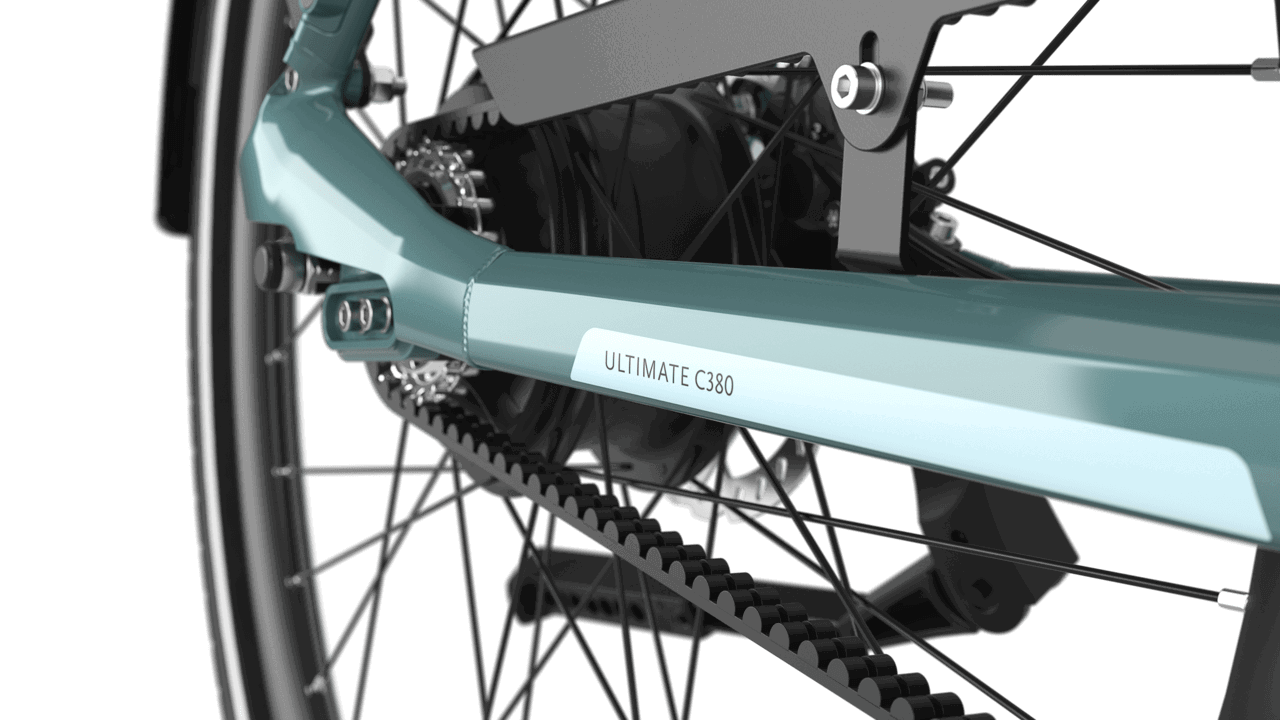 The wind is always at your back with a Bosch Performance Line motor
Bosch smart system
The Bosch Performance Line gives you everything your cyclist's heart desires. Smooth and powerful assistance that will never let you down. With 75 Nm torque you can handle any terrain. Highly recommended for the demanding cyclist.
Efficient, integrated power source
Bosch's lithium-ion batteries are among the most advanced on the market. Their intelligent battery management system guarantees a long life, while the efficient energy control optimizes your bike's range. With the integrated 625 Wh battery, you'll always have enough range. The battery is secured in the frame with a lock. You can easily remove it from the bike using the bike key, so you can recharge the battery anywhere.
Bosch Kiox 300
The Kiox 300 is the perfect companion for sporty rides and Connected Biking adventures. With the Kiox 300 you always have the latest features. Thanks to the app and Bluetooth connection, you can always access the latest updates that are sent over the air.
Complete your Gazelle Ultimate with the following accessories