Want an ebike that is up to any task? The Ultimate C380+ HMB will get you to work or the supermarket quickly and you will still feel like exploring new places with a leisurely bike ride on the weekend. The powerful Bosch drive system, which provides assistance of up to 28 mph, along with the flexible Enviolo gear hub and its strong and stylish frame, will bring you years of carefree enjoyment.
Motor: The Bosch Performance Speed drive unit is the power benchmark for Bosch eBike System's drives. Weighing 6.3 lbs with a maximum torque of 85 Nm, it delivers superior performance in a relatively lightweight package. The eMTB-dedicated motor is compact, lightweight, and extremely powerful, combining high-quality materials, an extremely powerful drive and high-end sensors.
From the model year 2021 the Performance Speed will feature a torque of up to 85 Nm, new motor control features, and updates to eMTB mode – all part of a software update. For a thrilling riding experience: more natural, intuitive, and powerful and an absolute benchmark in its class.
Battery: The Bosch PowerTube 500wh features its compact size and minimalist design. The sophisticated technology of the lithium-ion batteries that can be integrated within the frame ensures carefree riding enjoyment, while a safety catch prevents the battery from falling out even on challenging terrain. Nevertheless, the batteries can be removed with ease.
Display: Design meets functionality: Purion is the minimalist on-board computer for everyone wishing to have a neat look on the handlebar, be it for use in the city or the countryside. You get all important information conveniently at the touch of a button during the ride, with both hands remaining on the handlebar. Five different riding modes give you the correct support in every situation.
Accessories: Our team has a lot of experience outfitting bikes with additional accessories, so be sure to reach out to us if there's anything you may need.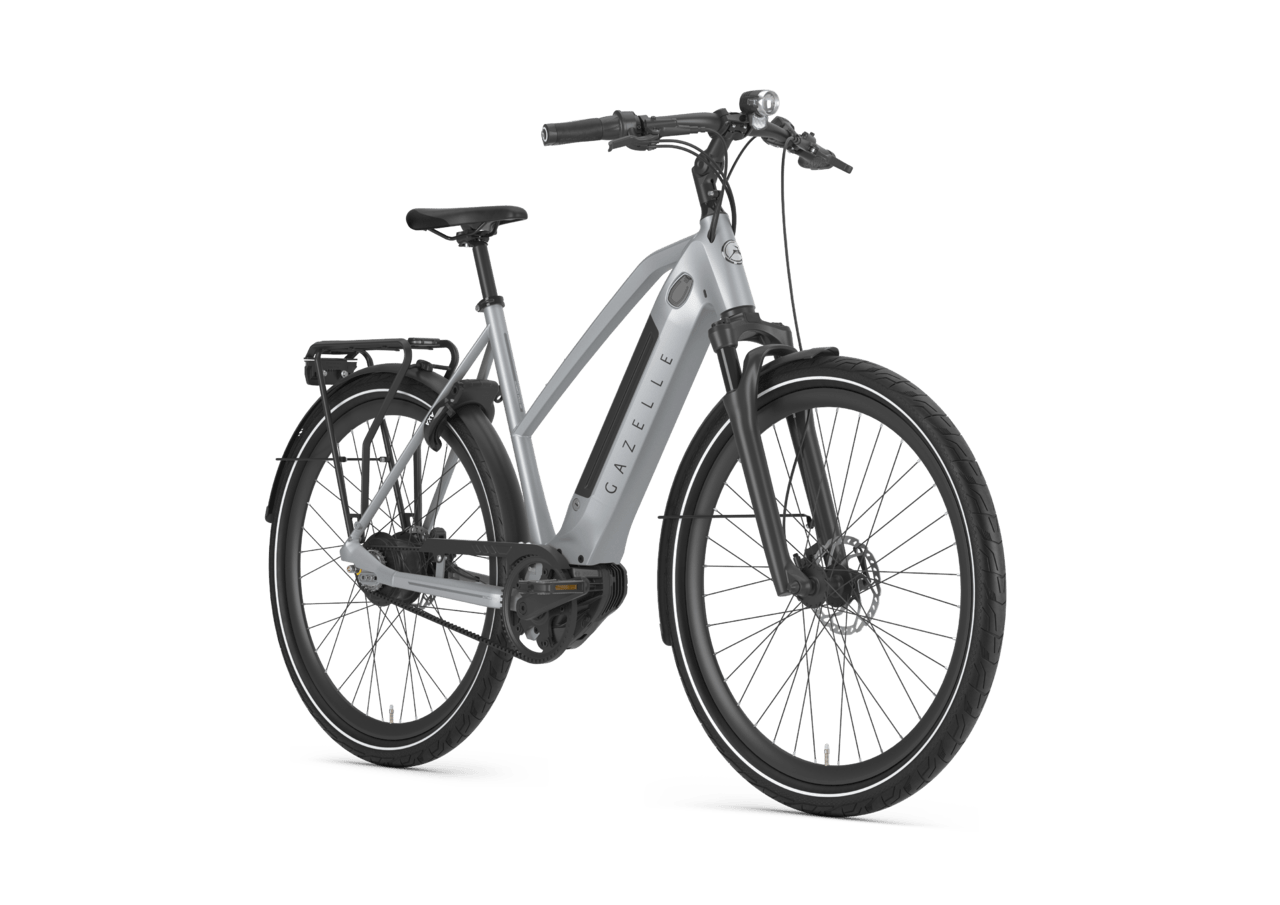 Discover the Gazelle Ultimate C380+ HMB
Power and Persuasion
The Gazelle Ultimate C380+ offers the best of both worlds: the award-winning frame design with sleek accessories and high performance components offering serious power, creating a delightful ride experience, whether you're on a short jaunt across town or a long-haul trek across the county.
Elegant Integration
A mid-mounted Bosch Performance Line Speed motor providing up to 85 Nm of torque and integrated in-tube battery enable a low center of gravity and distinctly stable and pleasing ride feel, while showcasing a clean, graceful silhouette.
Luxurious Innovation
Specced with Enviolo's CVT trekking hub, a Gates Carbon Belt Drive, and a host of high end components, from Selle Royale to Suntour, the Gazelle Ultimate C380+ boasts best-in-class tech and serious creature comforts. The perfect blend of modern features and low-maintenance longevity, this bike is equal parts timely and timeless.
Bosch Performance Line Speed (85 Nm)
The Bosch Performance Line Speed has enormous power. With assistance up to 28 mph and a torque of 85 Nm, you can easily leave everyone behind. Ideal for commuting to work and for long trips. Who says that electric bikes are dreary?
Accessories forGazelle Ultimate C380+ HMB