The Gazelle Medeo T10 is a highly versatile and functional electric bike to tackle everything from the rat race to the farmer's market and everything in between. The artfully designed sloping frame boasts a stylish down tube that integrates with the head tube to create a striking silhouette that will leave your friends envious. With trusted frame geometry and stable handling, combined with wide tires, a suspension front fork, and ergonomic handlebar grips, the Medeo T10 HMB is the electric bike to complement your cosmopolitan life.
The battery integrated in the down tube improves stability
10-speed derailleur gearing
Wide tires and front-fork suspension
Expand your range with a second battery
Motor: The Gazelle Medeo T10 Installed with Bosch Performance Line, This sporty Performance Line is the perfect choice for ambitious eBikers. The finely balanced, high-performance system with a maximum torque of 63 Nm transforms eBikers into explorers and adventurers and provides the required power at any moment.
Brake: The Gazelle Medeo T10 is equipped with Shimano BL-MT200 a hydraulic disc brake lever designed for smaller hands, you can use 3 fingers, it is a versatile design that matches numerous bike styles with less pad rattling noise and braking power tuned for entry-level riders.
Display: The Gazelle Medeo T10 comes with Bosch Purion a minimalist on-board computer for everyone wishing to have a neat look on the handlebar, be it for use in the city or the countryside. You get all important information conveniently at the touch of a button during the ride, with both hands remaining on the handlebar. Five different riding modes give you the correct support in every situation.
Top Speed: This bike provides ample speed with a top speed of 20mph. If you're looking for more speed bikes, check out our fast electric bikes.
Accessories: This bike is fitted kickstand, mudguards, lights, and a carrier. Our team has a lot of experience outfitting bikes with additional accessories, so be sure to reach out to us if there's anything you may need.
Discover the Gazelle Medeo T10 HMB
Commuting to work quickly, going to the city in style, or exploring a rural bicycle route. The versatile and sporty Medeo T10 HMB is up for anything. Its clever weight distribution, wide tires, and ergonomic handlebar grips offer all the riding comfort you could want. On top of that, the powerful motor always provides a nice helping hand when you need it.
Stealthy integration
A clean and cleverly integrated in-tube battery creates a sleek, streamlined silhouette atypical of e-bikes.
Dynamic options
Available in both high and mid-step options and three appealing colors, choose the style that suits you best.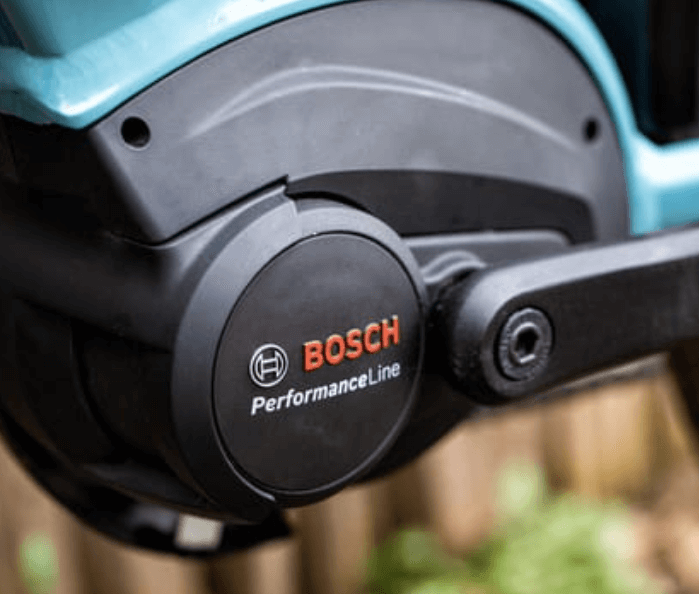 Bosch technology
The powerful Bosch Performance Line mid-motor offers unyielding support, making every hill feel as flat as Holland.
The Bosch Performance Line gives you everything your cyclist's heart desires. Smooth and powerful assistance that will never let you down. With 65 Nm torque you can handle any terrain. Highly recommended for the demanding cyclist.
Accessories for Gazelle Medeo T10 HMB