Riese & Muller Charger GX Touring HS
Riese & Muller Charger GX Touring HS
The Riese & Muller Charger GX Touring HS provides pedal assistance up to 28 mph, a sporty and efficient Shimano Deore XT 11-speed derailleur gear, Shimano Deore XT Trekking disc brakes, air suspension, Fat Tires, Brooks leather saddle and cork handles.
**The model version shown may be different from your selected model. We will correct all the images once we have them. If you have questions feel free to contact us.
The Riese & Muller Charger GX Touring HS is the S-Pedelec version of Riese & Muller Charger GX Touring with pedal assistance of up to 28 mph. The sporty Shimano Deore XT 11-speed derailleur gear produce lots of riding pleasure on grand tours, while the hydraulic Shimano Deore XT disc brakes ensure safe stopping at high speeds. The HS model supports you with power up to 28 mph. The Brooks leather saddle, ergonomic cork handles and high-quality sprung seatpost ensure comfort on long journeys. The Schwalbe Rock Razor Fat Tires prevent any sinking on soft terrain.
Motor: The Riese & Muller Charger GX Touring HS comes with Bosch Performance Speed, 28 mph. The Bosch Motor riding sensation creates a unique electric bike experience. It features three sensors, it measures pedaling power, cadence, and speed more than 1000 times per second. This enables the rider and the electric bike to interact with each other organically.
Brakes: The Riese & Muller Charger GX Touring HS is equipped with high quality Shimano Deore XT hydraulic disc brakes. It provides very reliable stopping power, these brakes are low-maintenance, and easy to control.
Top Speed: It provides pedal assistance up to 28 mph, so you can save energy even above cruising speed.
Warranty: Riese & Muller supplies you a five-year warranty for breakage of the frame and rear swing arm (on Regular bikes: 10 years).
Accessories: This bike comes standard with a mirror, Supernova front light and Busch & Muller tail light for safety, it also comes with  Riese & Muller Charger GX Carriers, SKS mudguard, Hebie kickstand and a Billy bell. Our team has a lot of experience outfitting bikes with additional accessories, so be sure to reach out to us if there's anything you may need.
Riese & Muller Charger GX Touring HS Features:
Dual Battery:
Riese & Muller is doubling the range of its E-Bikes with dual battery technology – in other words, by adding a second battery. This steps up battery capacity to 1,000 Wh. Using a charger, both batteries can be charged at the same time. Depending on your needs, you can also use just one battery to go on a ride. Its dual battery technology puts Riese & Muller at the top of its class in terms of riding range.
Design:  
On the Charger GX models, every detail is highly functional. Even the design. The cables run hidden under the top tube and through the frame.
Tires:
When you go on a trip, you want to experience things. Those things don't usually happen on well-traveled paths, but rather off the beaten track and away from the roads. So we've equipped the Charger GX with wide, stable rims and all-terrain Schwalbe Rock Razor Fat Tires. The broad contact surface prevents the bike from sinking into soft ground, allowing you to conquer any unknown territory with flair.
Additional information
| | |
| --- | --- |
| Suspension fork | Suntour Aion, Air, tapered, 100mm |
| Headset | Acros AZX-220, tapered, block lock |
| Seatpost | Cane Creek Thudbuster ST XL |
| Seatclamp | Kalloy SC-201, 40,0 mm |
| Tires | Schwalbe Rock Razor 60-584 |
| Tubes | Schwalbe SV21 |
| Rims | Alex MD40, 27,5" |
| Spokes | Sapim Leader 2,0 mm, inox |
| Front hub | Novatec, QR |
| Rear hub | Shimano Deore XT Disc |
| Battery | Bosch PowerPack 500 Performance, 36 V, 13,4 Ah/500Wh |
| Motor | Bosch Performance Speed, 28 mp/h |
| Display | Bosch Intuvia |
| Crankset | FSA/Riese & Müller, 170 mm |
| Chain ring | 20T |
| Chain guard | FSA W1126 |
| Chain | KMC X11 (111x) |
| Cassette | Shimano SLX 11-speed, 11-42 |
| Saddle | Brooks B17 Aged |
| Pedals | VP-196 MTB, Alu |
| Shifter | Shimano SLX, 11-speed |
| Shifting System | Shimano Deore XT Shadow+, 11-speed |
| Handlebar | FSA Afterburner, 31,8 mm |
| Stem | FSA Afterburner, 90 mm, 6° |
| Grips | Ergon BioKork, ergonomic |
| Brakes | Shimano Deore XT Trekking, disc brake |
| Front light | Supernova E3 E-Bike |
| Tail light | Busch & Müller Toplight Mini LED |
| Fenders | SKS B65 R |
| Luggage rack | Charger GX carrier, Charger GX front carrier |
| Rubber | Bibia |
| Bell | Billy |
| Kickstand | Hebie FIX18 |
| Lock | ABUS Bordo Plus |
| Mirror | Humpert ergotec M-99 E4, CNC |
| Frame Height | 46cm, 49cm, 53cm |
| Weight | 59.5 |
Riese & Muller uses a modern Just in Time inventory strategy. Every bike is built to order in their Germany factory.
We have worked with R&M and several logistics partners to offer our customers several ordering options.
Twice a month we receive a container from Riese & Muller shipped via Sea Freight. If preferred, you have the option of having your bike shipped individually to you, arriving to us one week after it is built, for $300. **please note that cargo bikes are excluded from expedited shipping.
If you'd like a bike shipped to your home it will have to go to our shop first for us to fully build and test the bike. Please select freight when checking out.
If you have any questions about this process please feel free to contact us or if you are interested in checking out the Riese & Muller bikes that we have available for immediate shipment, please check out our Riese & Muller Stock section.
Motor: The Riese & Müller HS models utilize the Bosch 350 Watt Generation 2 Performance Speed motor delivering up to 60Nm of torque, rated as the best in the industry.  The Performance Speed motor will provide assistance up to 28 mph. The new Bosch Drive Units are fitted with sensors for power, pedal rate and speed with a sampling rate of 1,000 readings per second using a modern 32-Bit processor, the motor seamlessly adjusts to your abilities. In addition, Bosch also developed an automatic gear changer for the new systems: when changing gears the torque is reduced, so that damage to the gears and chain is noticeably reduced. The new Bosch Generation 2 motor systems are extremely responsive, giving a natural and smooth ride.
Battery: Bosch PowerPack 500 Performance, 36 V, 13,4 Ah/500Wh – The most powerful PowerPack available from Bosch. Ultra-modern Bosch lithium ion batteries with 500 Wh energy reserve provide the power for our E-Bikes. The more Watt hours the battery has, the wider its range. This also depends on numerous other factors, such as the pedal assistance level set, the pace, the outside temperature or the inclination of the route. The range computer on the display provides more detailed information. When it's stop-and-go in the city, the range is shorter than with a constant journey over a longer distance – comparable with the fuel consumption of a car. If you find while you're on a ride that your battery's residual power is not going to be enough to complete your journey, you can reduce the degree of assistance and therefore still reach your destination comfortably.
The lifespan is 800 – 1,000 charging cycles. Thanks to the short charging times, the battery can be significantly topped up during a lunch break, for example. A complete charge takes just 4.5 hours.
Display: The variable mode Bosch Intuvia LCD display has two main functions; to allow the rider to control drive parameters, and to display system information, including distance, time and speed. The control pad allows you to access all the computer and drive functions remotely, leaving your hands on the bar to maintain safety and security. To change motor settings while riding, simply push the large, glove friendly keys on the handlebar control pad. This ensures safety and stability, while still allowing you to control the motor for optimal performance.
Functions at a Glance:
 – Five user-selectable power modes to choose from (Eco, Tour, Sport, Turbo & OFF)
 – Speed: Current, average, and top
 – Trip distance and total
 – Clock and riding timer
 – Current motor performance
 – Remaining Range based on current use
 – Off-Board Use: All functions can still be accessed even when the control panel is removed
 – USB port to connect to your GPS, phone or MP3-Player
 – Motor Assistance of up to 4mph when guiding the bike on foot- WALK MODE
 – High precision distance measurement, even after a wheel change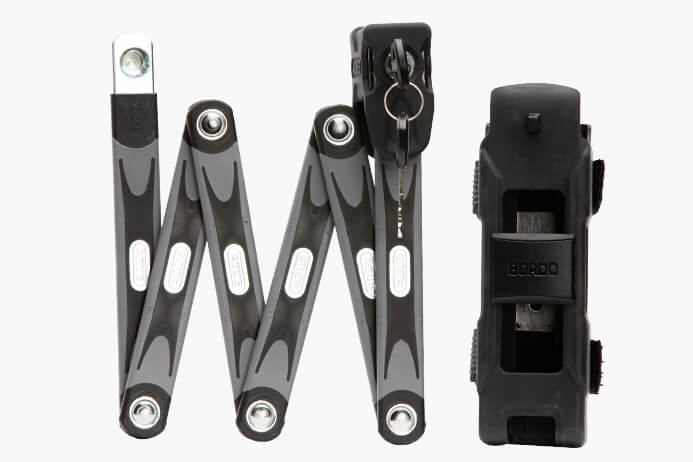 ABUS Bordo Folding Lock: With the ABUS Bordo 90 cm folding lock, your e-bike can be securely fastened to virtually anything. If you want to continue your journey, it can be compactly folded up, disappears into a pouch and is Velcro-fastened to the bicycle frame. The lock, with its ultra-secure articulated design, weighs just 1,120 g and clicks shut simultaneously with the battery lock.
| Frame height | S (46cm) | M (49cm) | L (53cm) |
| --- | --- | --- | --- |
| Top tube length [cm] | 58 | 63 | 64 |
| Head tube angle [°] | 69 | 69 | 69 |
| Seat tube angle [°] | 73 | 73 | 73 |
| Trail [mm] | 85 | 85 | 85 |
| Wheelbase [cm] | 114 | 119 | 120 |
| Bottom bracket height [cm] | 27.5 | 27.5 | 27.5 |
| Top tube height [cm] | 72,5 | 74 | 74 |
| Stand-over height ["] | 31.7 | 32.3 | 32.9 |
| Chainstay length [cm] | 48.5 | 48.5 | 48.5 |
| Wheel size ["] | 27.5 | 27.5 | 27.5 |
| Head tube length [mm] | 120 | 150 | 150 |
| Front suspension travel [mm] | 100 | 100 | 100 |
| Gear ratio [m] | 2.61-9.95 | 2.61-9.95 | 2.61-9.95 |
| Weight [lbs] | 52.2 | 52.5 | 52.7 |
| Gross vehicle weight rating [lbs] | 308.6 | 308.6 | 308.6 |
| Weight rating: Luggage rack [lbs] | 44 | 44 | 44 |
| Weight rating: Handlebar bag/basket [lbs] | 6.6 | 6.6 | 6.6 |
| Childseat compatibility | Yes | Yes | Yes |
| Trailer compatibility: Single wheel/single attachment point | Yes | Yes | Yes |
| Trailer compatibility: Two wheel/single attachment point | Yes | Yes | Yes |
| Compatibility: Bike-Trailer (through hub/quick release attachment) | Yes | Yes | Yes |