The Bosch system
Reliable, performance-oriented and innovative – these are the standards to which we hold our E-Bikes, as well as all components and especially the drive system. That's why all Riese & Müller E-Bikes are equipped with the industry-leading Bosch drive system.
Battery
Bosch DualBattery
The DualBattery option with a 500 Wh PowerTube integrated in the frame and a 500 Wh frame battery mounted on it combines the best of both worlds. Together the batteries achieve 1,000 Wh. The load on the batteries is minimised by means of an alternating load in 5 % increments, which significantly increases the service life. Using the included Bosch Standard charger, both batteries can be charged directly on the bike or at any normal socket once removed. Both can even be charged together on the bike. The charging time for a single battery from a fully discharged state is only 4.5 hours. Charging them on the bike together, both batteries are fully operational again after 9 hours. It is also possible to use just one battery.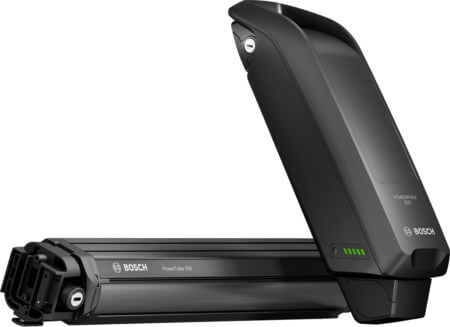 Bosch PowerTube 500Wh
The PowerTube 500 enables trekking and eMountain bikes to take long distances in their stride. Thanks to its compact size and minimalist design, the battery can be integrated within the eBike to ideal effect. The sophisticated technology of the lithium-ion batteries that can be integrated within the frame ensures carefree riding enjoyment, while a safety catch prevents the battery from falling out even on challenging terrain. Nevertheless, the batteries can be removed with ease.
Compact Charger
50% Charge: 3.5h
100% Charge: 7.5h
Standard Charger
50% Charge: 2
100% Charge: 4.5h
Standard Charger
50% Charge: 1.2h
100% Charge: 3h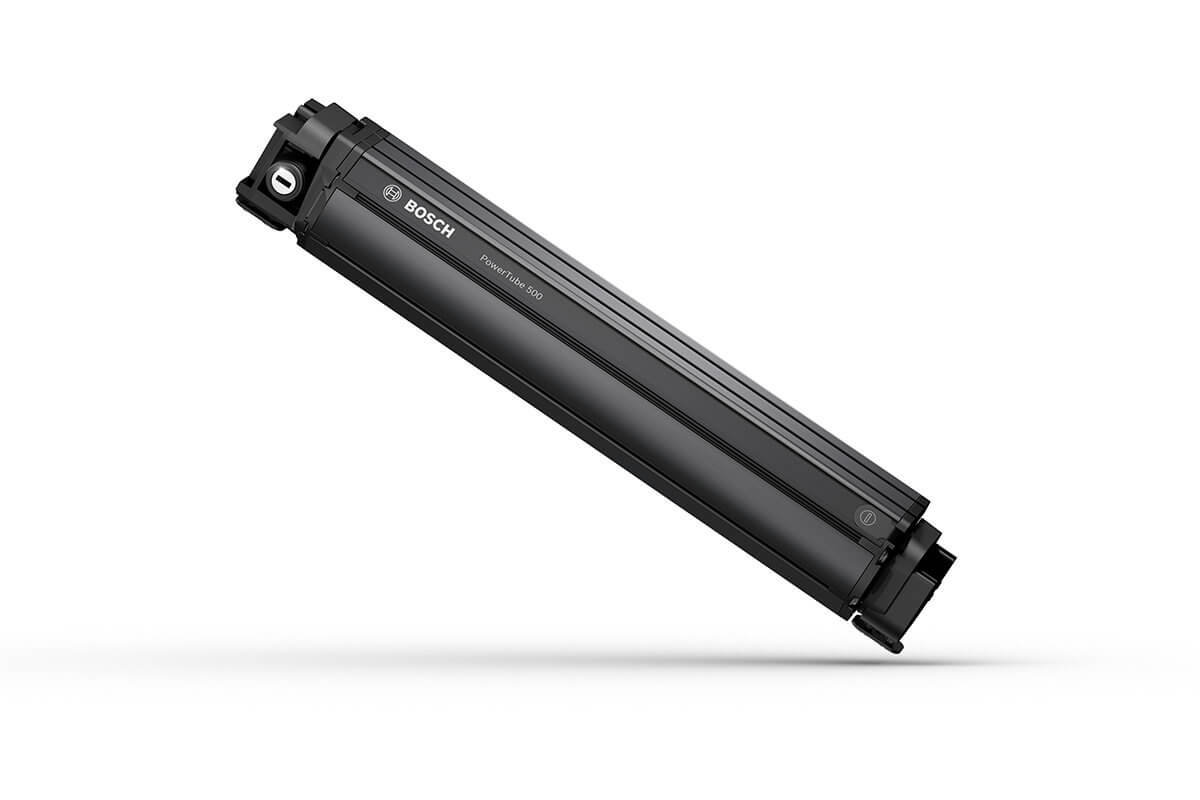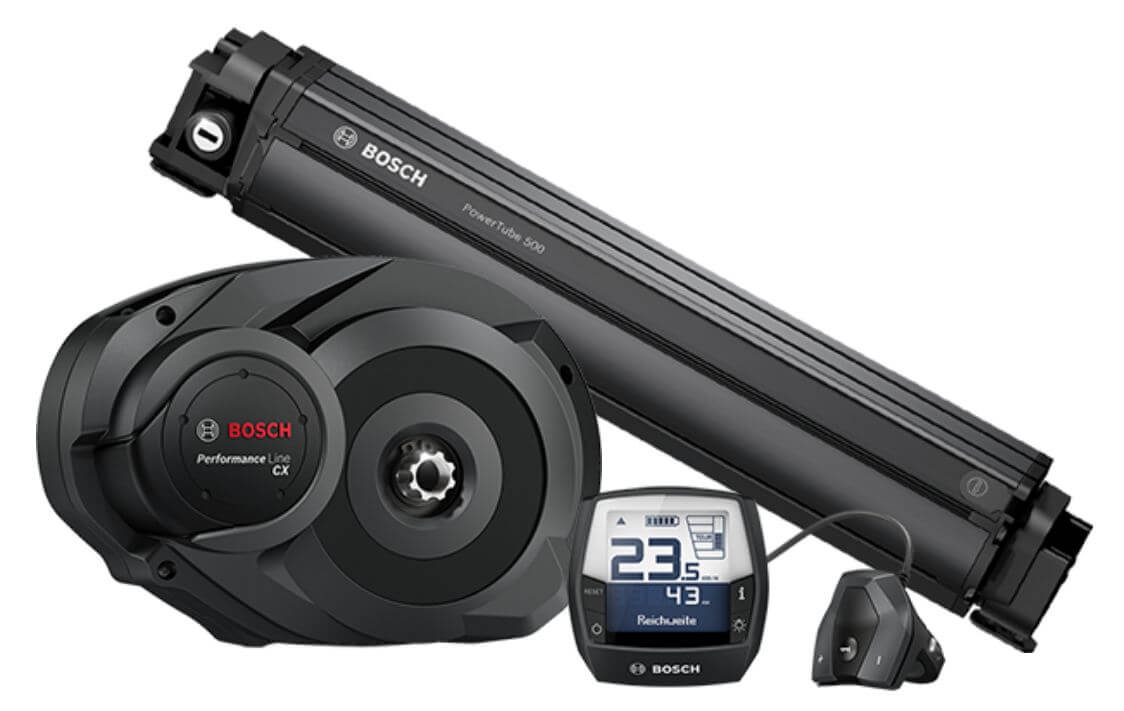 Motors
Depending on the models
Bosch Performance Speed motor
Assistance up to a speed of 28 mp/h makes the Performance Speed drive the fastest Bosch E-Bike motor. Sporty start-up characteristics, 350 watts of power and pedal assistance up to 275 % guarantee the ultimate riding pleasure with a maximum drive torque of up to 63 Nm with derailleur gear and up to 50 Nm with hub gear.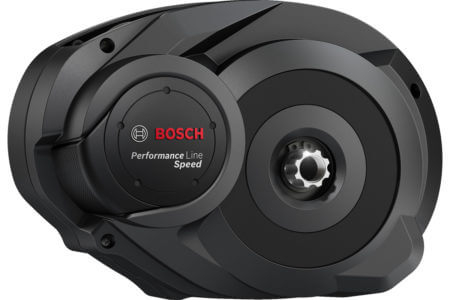 Bosch Performance CX motor
The Performance CX is the most powerful Bosch E-Bike motor ever – with pedal assistance of up to 300 %, a maximum torque of 75 Nm, very sporty start-up characteristics and pedalling rate assistance up to 120 rpm. With "Direct Flow" you have a powerful push on the back wheel from speeds of just 20 rpm. Whether it be uphill or on the flat, this acceleration will inspire you. Another highlight in the new Performance CX motor is the eMTB mode, which replaces the previous Sport mode (this is displayed as Sport mode on the Intuvia Display). Here, the progressive motor assistance automatically adapts to the individual riding style regardless of pedal pressure. This ensures optimum assistance at all times, which really pays off on climbs.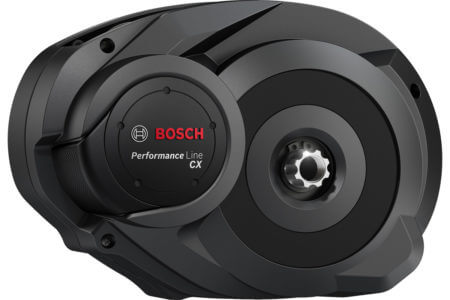 Displays
Depending on the configuration
Bosch Intuvia Display
The Intuvia Display gives you full control and a perfect overview at all times. It provides information about battery status, range, daily mileage, total mileage, ride time, current motor power, time, speed and average speed – clearly legible in any level of sunlight. On our automatic E-Bike models, the automatic version of the display also offers an option for controlling the pedal frequency. A USB interface allows MP3 players and mobile phones to be charged while riding too. It is operated via a remote control conveniently mounted on the handlebar grip.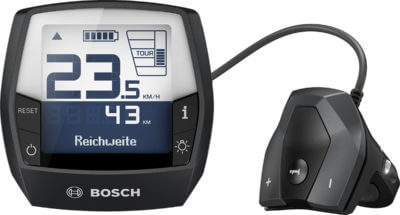 Bosch Kiox Display
With the Bosch Kiox display, the E-Bike turns into the ultimate sparring partner for performance-driven riders. Various training modes and perfect handling, with special features such as tactile pressure points on the control unit, help you to continuously step up your performance. It is even possible to pair it with heart rate monitors via Bluetooth. The display made from scratch-resistant Gorilla Glass is easy to read in intense sunlight, while the magnetic holder ensures simple handling. The ultra-modern Kiox is small, robust, compact and ready for the E-Bike future.
Bosch SmartphoneHub
The Bosch SmartphoneHub is the most intelligent communication system for E-Bike riders. The free app turns your smartphone into a display which bundles all functions together: navigation with live weather, fitness data and much more. Other standard smartphone functions such as calls and music playback can be controlled and used directly in the app while riding. It is convenient and reliable to operate using buttons on the handlebar or voice control. Your smartphone is automatically charged during your trip. But it also works without a mobile phone: in that case an integrated display shows key riding data. The Quick Start Guide will get you up and running with the system in no time at all while regular wireless updates will keep you up to date.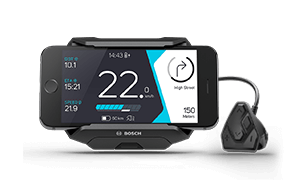 Control Technology
Look forward to the obstacles that line your path.
We have consistently enhanced and optimized the Riese & Müller Control Technology: The perfectly tuned full suspension ensures a sporty ride and that you remain composed over uneven ground, even at high speeds. And the fun of riding is guaranteed not to fall by the wayside.
Integrated battery
Power from within.
The concentrated power of the 500 Wh battery is so perfectly integrated that it is easy to miss at first glance. However, once located it is very easy to remove: just lift upwards in a single movement – or simply charge it directly on the bike. The integration into the frame protects the battery from moisture and stone chips while riding.
DualBattery
Because not every adventure starts at your doorstep.
The DualBattery Technology perfected by Riese & Müller ensures twice the range or far higher climbs, fewer charging breaks and longer-lasting riding pleasure. The batteries are so cleverly positioned that the extra weight has no noticeable impact on riding behavior – and yet both are easy to remove. With the 1,000 Wh now available, completely new destinations can be reached and you no longer have to worry about your range in your daily routine.
GX option
Equipment for every destination
If you like heading off on tours and also riding off-road, then simply equip your E-Bike with this first-class component combination: Schwalbe Rock Razor All-Terrain tires have flat tire studs in the middle of the running surfaces with extremely low rolling resistance for faster riding on straight sections. The solid tire studs on the shoulders of the tire guarantee the very best grip when cornering. The wide flat VP 538 pedals provide grip for your feet. The Ergon GP 3 bar-end grips with an ergonomic shape for optimum pressure distribution, three different grip zones and excellent vibration damping, ensure maximum comfort on long trips.
Carbon belt drive
Simple. Indestructible.
Anyone riding an E-Bike with the Gates CDX carbon belt drive is at peace. And in two ways: because on the one hand the innovative drive offers a wonderfully smooth ride and great riding comfort. While at the same time being unbelievably low-maintenance and performing its tasks with the utmost reliability. The carbon belt drive provides a new, carefree riding experience – for every need and every intent.