Drive
The Bosch system
Reliable, performance-oriented and innovate – these are the standards to which we hold our E-Bikes, as well as all components and especially the drive system. That's why all Riese & Muller E-Bikes are equipped with the industry-leading Bosch drive system.
Batteries
Depending on the configuration
Drive
Bosch PowerPack 500 frame battery
The powerful lithium-ion battery attached to the framehas an energy reserve of 500 Wh. High reliability and a service life of 800 to 1,000 charging cycles make it a strong companion over hill and dale. It can be charged directly on the E-Bike or removed from the frame in a single step. It takes 4.5 hours to charge from a fully discharged state. So with the PowerPack 500 you are perfectly equipped for any trip.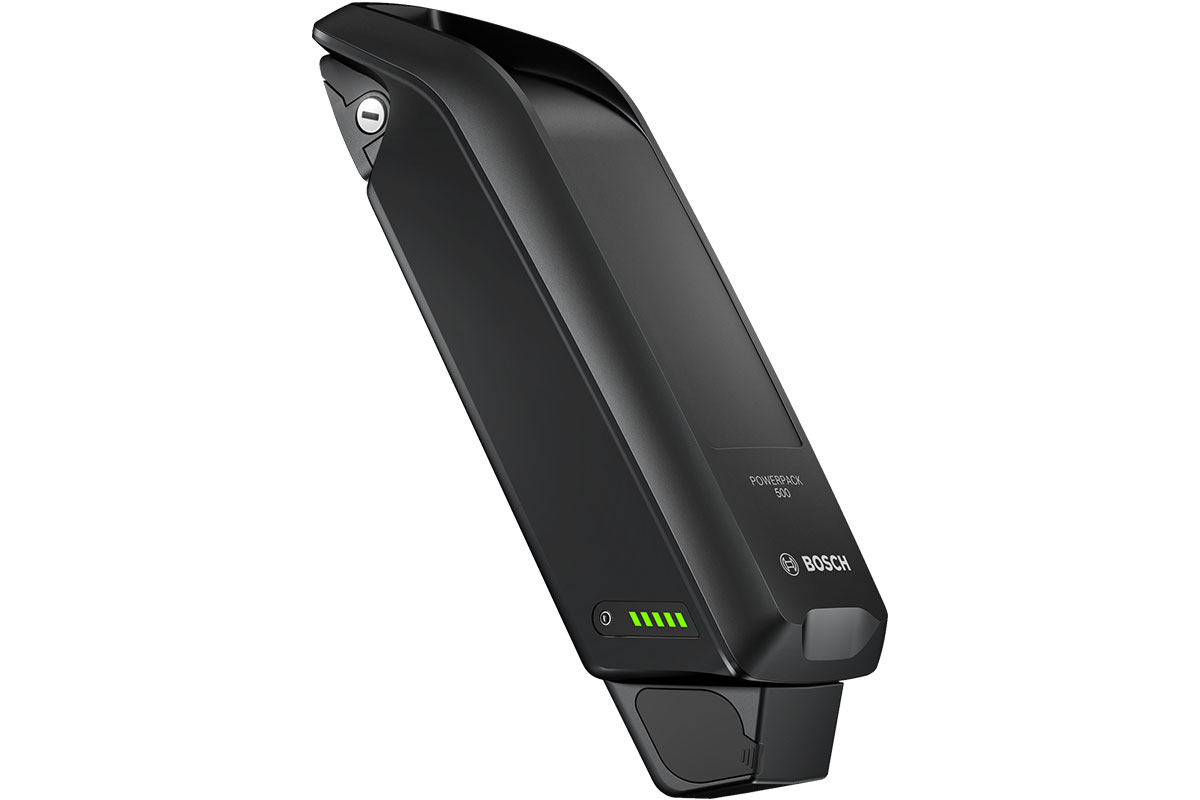 Drive
Bosch DualBattery 1,000 Wh
For long tours with lots of luggage or routes with considerable height differences, the DualBattery remains the benchmark. Riders using their E-Bike to commute to work also have to charge their bike less often. The load on the two frame batteries is minimised by means of an alternating load in 5 % increments, which significantly increasing the service life. Using the included Bosch Standard charger, both batteries can be charged directly on the bike or at any normal socket once removed. Both can even be charged together on the bike. The charging time for a single battery from a fully discharged state is only 4.5 hours. Charging them on the bike together, both batteries are fully operational again after 9 hours. It is also possible to use just one battery.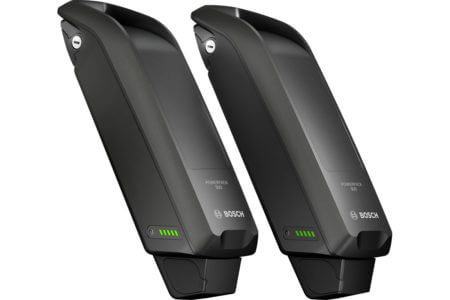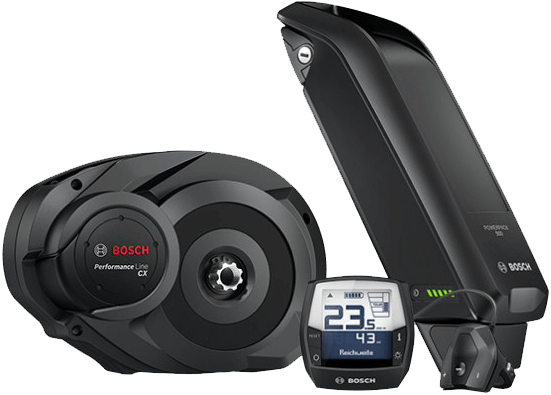 Motors
Depending on the models
Drive
Bosch Performance Speed motor
Assistance up to a speed of 28 mp/h makes the Performance Speed drive the fastest Bosch E-Bike motor. Sporty start-up characteristics, 350 watts of power and pedal assistance up to 275 % guarantee the ultimate riding pleasure with a maximum drive torque of up to 63 Nm with derailleur gear and up to 50 Nm with hub gear. For the Speed motor, you need an insurance certificate and a driving licence for small powered bikes. A driving licence for class MA (from the age of 16 upwards) or for cars includes this. Helmets are mandatory on HS models. We recommend using an E-Bike helmet that complies with the EN 1077 and EN 1078 standards.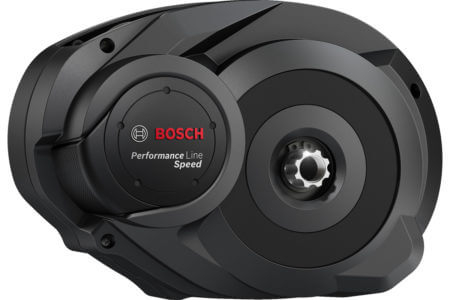 Drive
Bosch Performance CX motor
The Performance CX is the most powerful Bosch E-Bike motor ever – with pedal assistance of up to 300 %, a maximum torque of 75 Nm, very sporty start-up characteristics and pedalling rate assistance up to 120 rpm. With "Direct Flow" you have a powerful push on the back wheel from speeds of just 20 rpm. Whether it be uphill or on the flat, this acceleration will inspire you. Another highlight in the new Performance CX motor is the eMTB mode, which replaces the previous Sport mode (this is displayed as Sport mode on the Intuvia Display). Here, the progressive motor assistance automatically adapts to the individual riding style regardless of pedal pressure. This ensures optimum assistance at all times, which really pays off on climbs.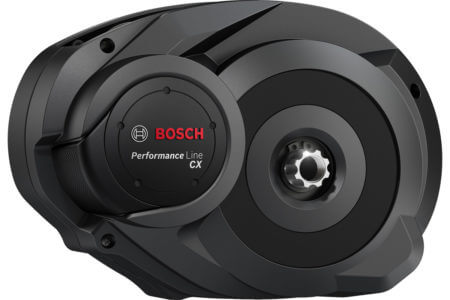 Displays
Depending on the configuration
Drive
Bosch Kiox Display
With the Bosch Kiox display, the E-Bike turns into the ultimate sparring partner for performance-driven riders. Various training modes and perfect handling, with special features such as tactile pressure points on the control unit, help you to continuously step up your performance. It is even possible to pair it with heart rate monitors via Bluetooth. The display made from scratch-resistant Gorilla Glass is easy to read in intense sunlight, while the magnetic holder ensures simple handling. The ultra-modern Kiox is small, robust, compact and ready for the E-Bike future.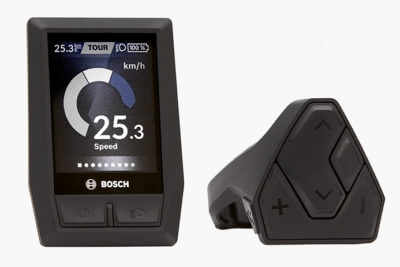 Drive
Bosch Intuvia Display
The Intuvia Display gives you full control and a perfect overview at all times. It provides information about battery status, range, daily mileage, total mileage, ride time, current motor power, time, speed and average speed – clearly legible in any level of sunlight. On our automatic E-Bike models, the automatic version of the display also offers an option for controlling the pedal frequency. A USB interface allows MP3 players and mobile phones to be charged while riding too. It is operated via a remote control conveniently mounted on the handlebar grip.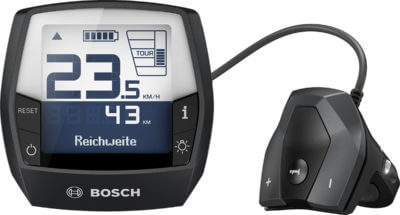 Control Technology
Fun and safety are not mutually exclusive.
Admittedly, when you hear the word "Cargo E-Bike", not everyone immediately thinks of fun on two wheels. But this changes when you sit on a Load with Control Technology. The optimised chassis and the finely tuned full suspension not only ensure optimum comfort, but also a safe ride at higher speeds and excellent road holding. Vibrations and hard shocks, such as from cobblestones or kerbs, are significantly reduced and you remain in control even in tricky situations. Optimally positioned reflectors ensure you are quickly noticed in the dark. The cargo area and the optional carrier are co-sprung, so that your load is perfectly protected.
Safely transport up to three children
The greatest for the little ones.
Never before has a Riese & Müller E-Cargo bike offered so much space for your loved ones: up to three children can be comfortably and safely accommodated on the Load 75. Well-protected under a practical cover if it's raining. One of the children faces the rider while other two sit facing the direction of travel. There's even room for a baby in a Maxi-Cosi opposite the other two small passengers. The extra spacious footwell prevents your passengers from getting in each other's way. Which is guaranteed to contribute to a relaxed shared riding experience.
Flexible load transport and large cargo area
No matter what you have in mind, it fits.
With a 50% larger cargo area compared to the "small" Load, everyone's cargo gets to where it needs to go. Whether camping equipment, the weekly shop, transporting children or tools and materials for customers who use the Load 75 for business purposes. Virtually everything fits. And nothing disturbs the safe and agile riding experience. The low centre of gravity, the many individual cargo equipment options and the sophisticated Control Technology make the Load 75 perfectly configurable for all requirements. This means more possibilities and greater freedom. Whatever you have in mind.
Adjustable seating position
Grows with its tasks.
Thanks to the angle- and height-adjustable stem and the adjustable saddle height, the seat position can be altered to accommodate body sizes from 1.50 m to 1.95 m and adapted to preferences from sporty to comfortable. The overall geometry of the bike can be perfectly adjusted to the rider in just a few easy steps. This flexibility is unique among E-Cargo bikes and makes the Load ideal for shared use, for example within a family.
Transport: good(s)
o match your Load 75, the perfect accessories provide the ideal solution for your transport projects.
Low side walls.
The low side walls, made of weather-resistant plastic, are recommended for transporting normal everyday things.
Up to three children on board
Low side walls. One double seat, one single seat and footwell for the safe transport of up to three children, optionally with cover. Handy extra pocket at the back.
Transporting Children.
Comfortable double child seat with low side walls for safe travel, optionally with cover.
Children and Cargo
Low side walls and a luggage shelf comfortably transporting two children at the same time as a crate of water or bag. Protected from rain by an optional cover. Footwell for smaller purchases, handy extra pocket at the back.
Weather Protection.
Comfortable double child seat with low side walls for safe travel, optionally with cover.
High side walls.
High side walls can be used for securely transporting larger loads. The optional tarpaulin protects the cargo from dirt, rain and prying eyes.
DualBattery
Twice the power to get you moving.
The DualBattery Technology perfected by Riese & Müller ensures twice the range or far higher climbs, fewer charging breaks and longer-lasting riding pleasure. The batteries are so cleverly positioned that the extra weight has no noticeable impact on riding behaviour – and yet both are easy to remove. With the 1,000 Wh now available, completely new destinations can be reached and you no longer have to worry about your range in your daily routine.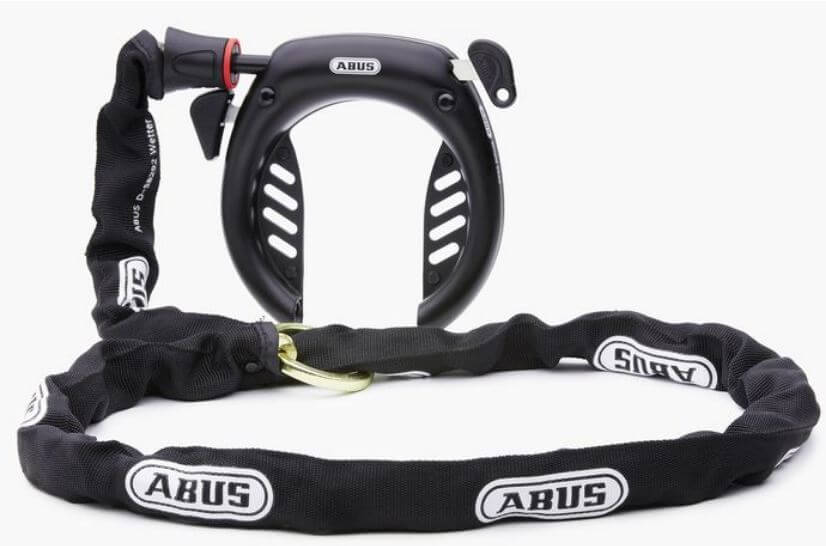 Steals success from thieves
Park your bike whereever you want. Only you can take it away. The permanently fitted Abus Shield frame lock secures your bike in no time at all and the optional 130cm long chain lock can be used to quickly lock it to the nearest lampost. Especially practical: frame chains and battery lock close with the same key.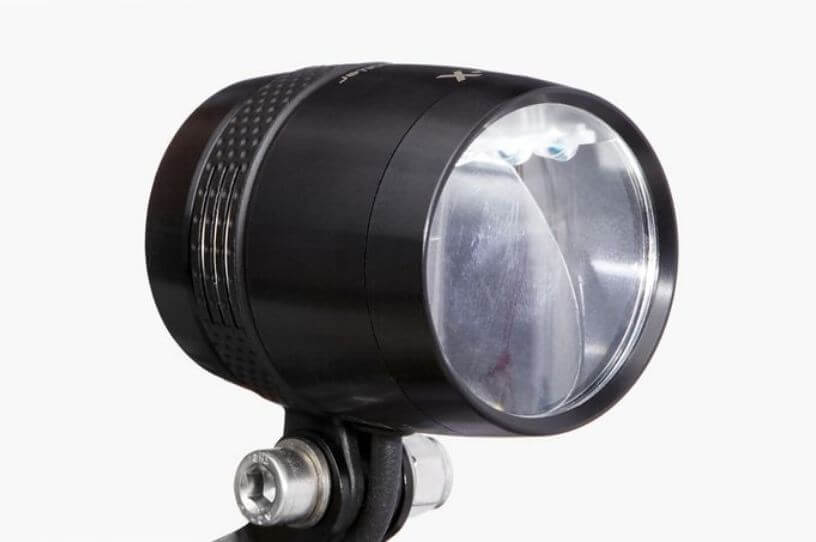 Helps night owls see in the dark.
Always ride with excellent road illumination thanks to the IQ-X headlamps from Busch & Muller. Only daylight is brighter than their exceptional brightness of 150 lux. With their very wide-sweeping and homogeneous large-area illumination of the street. you won't miss a thing. You'll never be left in the dark thanks to the battery power supply.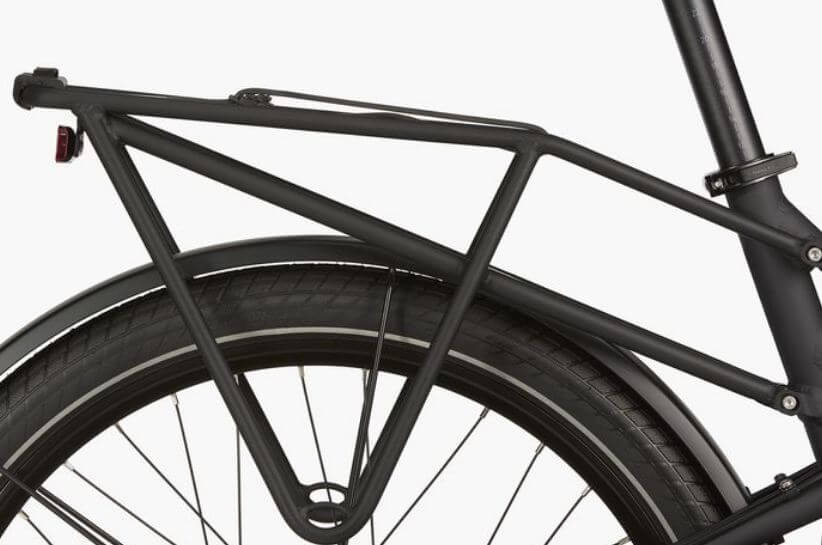 Pack twice as much.
If the front storage space is not enough, there is always the optional carrier. It is ideal for attaching panniers, making it perfect for longer bike trips too. Since it is secured directly to the frame, it also benefits from the suspension thats to the Control Technology. On the HS models, the carrier is fitted as standard (not in the USA and Canada)