Enormously Useful. Surprisingly Smaller.
The HSD is mighty but mini: It's easy to handle, easy to share, extremely comfortable to ride, carries a whole lot of cargo—and all of this in a compact design that's shorter than a standard bicycle.
Haul With Confidence
The compact HSD electric cargo bike stuns with its heavy-hauling abilities. Load up on groceries, carry a furry friend, or make extended errand runs without worrying about overloading. A long wheelbase and extra-low center of gravity ensure easy handling and stability, even under load. The HSD is more than enough bike for reliable urban hauling.
Room for a Friend
Transform daily trips into exciting adventures by having a +1 tag along. And not just with your little ones. Rated to 80 kg, the sturdy Atlas H Rack is long and spacious enough to easily accommodate an adult passenger. And there's a wide range of accessory choices to ensure a safe and comfortable ride. Weekend picnics and date nights just got a lot more fun!
Smart Security
The HSD's smart electronic lock activates automatically when you park, disabling the e-bike system and helping prevent theft. Your smartphone serves as the no-fuss digital key for unlocking the bike. S-Class models also include a high- decibel alarm with flashing LEDs to deter tampering, along with text notifications and GPS tracking in case the bike moves significantly.
More Power to You
Tackling steep hills and accelerating from a standstill loaded down with extra cargo just got a whole lot easier. Featuring the new Bosch Performance Line motor, the HSD now delivers up to 50% more torque compared to some previous HSD models, along with 340% pedal assistance. A new Auto mode can also sense deceleration on a climb and automatically compensate with extra support.
Easy to Ride
The size and weight of big cargo bikes can be intimidating. But the compact HSD was designed to be much more inviting. It's easy to ride, just like a bike should be. Even when fully loaded, a long wheelbase, low center of gravity, and stiff frame provide enhanced stability and handling. And the low Easy-Step frame design makes it easy to mount and control the HSD at a standstill.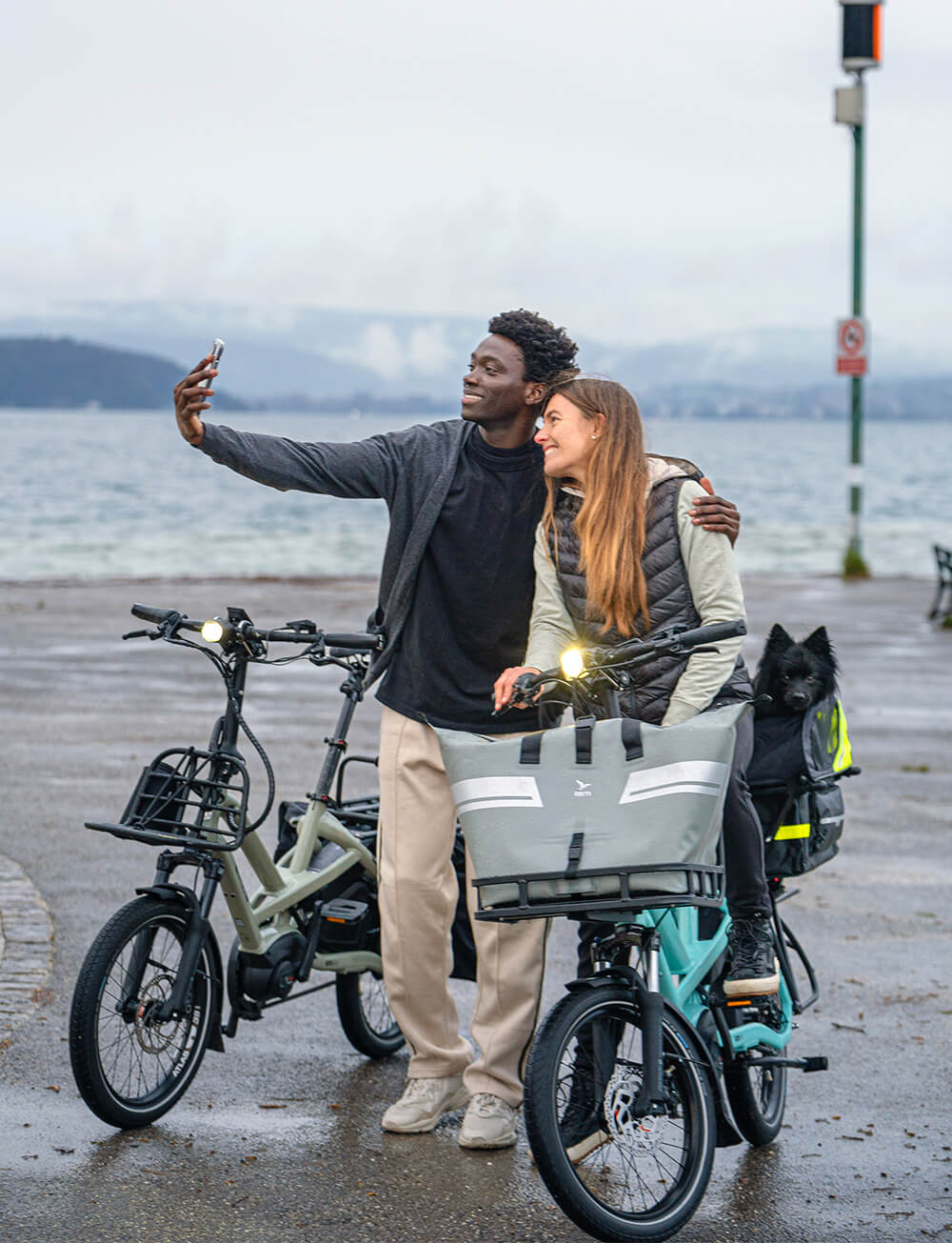 Tailored to Your Life
The best kind of cargo bike is the one set up with the right gear to fit your needs. No matter if you're looking to safely carry a child in all types of weather, comfortably carry an adult or pet, or haul all different types of cargo, the HSD has an extensive ecosystem of accessory options that can best suit your needs today, and as they change in the future.
Stress-Free Parking
The compact HSD easily fits in spaces where other cargo bikes don't dare go. Navigate through hallways and in tight urban spaces. Flip it up vertically to easily fit in elevators. Use vertical parking for hassle-free storage next to a potted plant. Remove stress and worries about finding parking near home or work.
Hit the Road
A cargo bike should help expand your life, not restrict travel to your home base. With the compact HSD, you can venture out to more open spaces. Fold the HSD down flat in seconds to fit in an SUV or RV to journey where life takes you. Or board a train with the HSD and depart for even more cargo bike adventures.
Built to Last
Our philosophy is to keep our bikes on the road for as long as possible, not to create disposable products that are built to fail. We start with intentional design choices that make the bike serviceable and safe—and end up with a reliable vehicle you can use day in, day out. Then, we back it up with great local service and a 10-year warranty for peace of mind.
Tested for Safety
The HSD frame, fork, and handlepost were designed and built to handle a load of 180 kg (397 lb). And we turned to EFBE Prüftechnik GmbH, one of Europe's leading bicycle testing labs, to put the HSD through its rigorous Tri-Test to prove the HSD could handle the stated load, ride after ride.
UL Tested and Certified
The HSD's Bosch e-bike system is certified to the UL 2849 standard, the most rigorous e-bike electrical test on the market. The battery, charger, motor, and display are each tested for safety against potential electrical system hazards, as well as tested together for system safety.
Tuned by Professionals
E-bikes are complicated machines that require attention and service by trained professionals. So the HSD is only sold through Tern-authorized local bike shops, to guarantee your HSD is assembled and tuned by experienced professionals, and that you'll always have a place to go for periodic service and maintenance.
Why the HSD?
HAULS ALL THAT, AND EVEN MORE
Stronger, Stiffer Frame
The HSD frame is now 15% stronger at the head tube and 39% at the bottom bracket. The enhanced stiffness means more stability under load, with less wobble or sway. A stiffer frame also means better handling, making it easier to maneuver in tight spaces, while helping to absorb vibrations and bumps on the road.
Heavy-Duty Rack Design
With a capacity rated to 80 kg (176 lb), the versatile HSD Atlas H Rack makes it easier to ride more and drive less. The rack easily fits a child seat, and is strong and spacious enough to accommodate an adult-passenger or larger cargo. Take on bigger tasks, carry larger passengers, and set off on more adventures.
Cargo-Carrying Versatility
Carry up to 20 kg (44 lb) of extra cargo by installing one of the many compatible cargo-carrying accessories onto the burly, frame-mounted Combo Mount. Switch between bags, baskets, and racks. Carry more cargo up front when there is a passenger behind. All cargo weight is carried by the frame, without interfering with steering.
SMARTER, WITH ENHANCED SECURITY
A Smarter HSD
The HSD is a smart, connected Bosch e-bike that can be conveniently managed through your smartphone. Monitor your battery level, range, and distance traveled, as well as keep track of service appointments and history. Over-the-air updates can be automatically installed to update your HSD with the latest functions and features.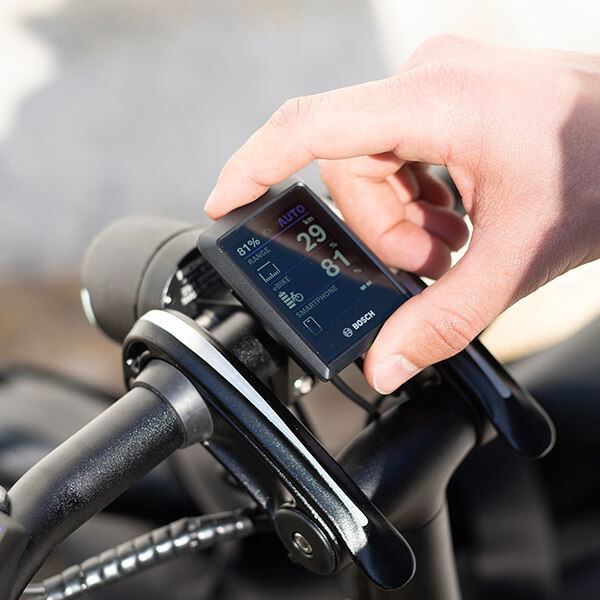 Electronic Lock
Park your HSD and enjoy some extra security for some worry-free downtime. Turn off the Bosch onboard computer and your HSD e-bike system automatically locks, with motor support deactivated. Easily remove the display and take it with you for extra security. The system automatically unlocks once it senses a Bluetooth connection with your smartphone.
Smart Alarms
Ward off potential thieves with the Bosch Anti-Theft Alarms. Locking an HSD activates the alarm. If someone gets handsy and starts jostling the HSD, a motion sensor will set off a high-decibel acoustic alarm and activate flashing LEDs, drawing attention to the would-be thief and deterring them from proceeding. (S-Class Models).
GPS Tracking
Always keep track of your HSD. If a would-be thief ignores the Anti-Theft Alarms and starts moving the HSD significantly, a notification message is immediately sent to your smartphone. The bike's location can then be tracked in real-time via GPS using the Bosch eBike Flow app. (S-Class Models)
Performance Line Motor
Enjoy the power boost of the new Bosch Performance Line motor. Conquer any terrain with 75 Nm of torque and 340% support. A natural-feeling e-assist features multiple sensors that intuitively adjust to your riding style. Enjoy peaceful, noise-free riding with the virtually silent transmission design.
Bigger Battery, Easier Charging
The HSD comes with a high-capacity 545 Wh battery, with an upgrade option for 725 Wh. Ride longer and enjoy sustained assistance on challenging terrain. Then plug into the conveniently placed EasyAccess port to enjoy immediate onboard charging, hassle-free. No scrambling or bending to find and access the port.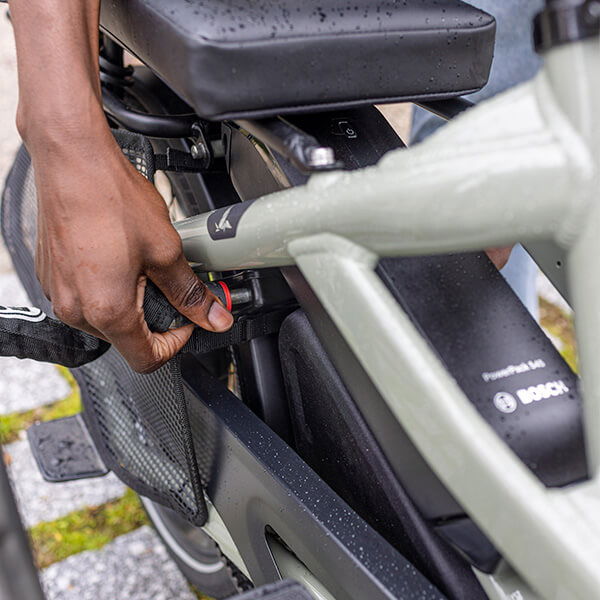 Frame Lock
Never worry about not having a lock. The HSD frame lock provides added security to deter thieves when you need to make a quick stop at the local cafe. Best of all, it's keyed-alike to the battery for extra convenience. Potential to connect to other accessories such as chain adaptors for even more effective protection from theft.
Gates CDX Belt Drive
Spend more time riding and less time cleaning and lubing your bike chain. The Gates Carbon Belt Drive lasts substantially longer than a chain drive system, and the low-maintenance belt drive doesn't require any cleaning or grease, while also providing a smooth, silent ride. (Equipped on select HSD Models)
DESIGNED WITH YOUR SAFETY IN MIND
RearStop Brake Light
The Rearstop Brake Light activates when you press on the brakes to slow or stop. Always on, day or night, with enhanced side visibility. Alert other vehicles to give you space and steer clear. (S-Class Models)
Ignis Headlight
The 700-lumen Ignis casts a strong light and a wide beam for extra visibility when riding after dark or in bad weather. A one-touch high/low beam easily puts even more light at your fingertips. (S-Class Models)
Hydraulic Disc Brakes
Riding with heavier loads requires the superior braking power of hydraulic disc brakes. Easy to maintain and reliable, they are a must-have security blanket when carrying precious cargo, especially on rainy days.
Custom Chainguard
Stay safe and protected with the HSD full chainguard. It prevents long skirts and loose pants from getting caught in the chain or belt, while also helping keep rider and passenger tidy (no pant-rolling required).
Tern Accessory Compatibility Chart