Enormously Useful. Surprisingly Small.
The Tern GSD v1 is designed to carry two kids, a week's worth of groceries, or 180 kg of cargo, but it's only 180 cm long—the same length as a standard bike. With Tern's best-in-class folding technology, it packs down small enough to fit in a VW Touran or an urban apartment. Plus, it adjusts to fit riders from 150 – 195 cm—so mom, dad and the kids can all share it.
A Utility Bike Designed to Fit Your Life.
Despite everything it can haul, the Tern GSD v1 is actually the same length as a regular bike, so it fits anywhere a standard bike can. But there are lots of places a standard bike doesn't fit. That's why we designed it to pack down to 1/3rd its volume in only 10 seconds. That means you can store your utility bike in your urban apartment, fit it in the elevator, or stash it in a train for weekend getaways.
Carries the Family
With room for up to two Thule Yepp Maxi child seats, plus grocery space to spare, the GSD lets you ditch the minivan. The low step-thru frame makes getting on and off much safer, and with an extra low center of gravity, the GSD is stable and steady.
Fits the Whole Family Too
Minivans don't come in S, M, L & XL to fit the driver, so why do bicycles? The GSD is designed to be shared by a family. It adjusts to fit mom, dad or the kids—any rider from 150 – 195 cm. Best of all, thanks to Tern's adjustable stem, and compact geometry, adjusting the bike only takes seconds.
Carry More
Despite its city-bike footprint, the GSD boasts cargo-bike capacity, with a maximum gross vehicle weight of 200 kg (440 lb). Build it up with Cargo Hold Panniers and the Shortbed and Transporteur racks, to carry industrial strength Eurocrates, a week of groceries or a family picnic plus the kitchen sink.
Bosch Motor and Battery
Riding with kids on the back, uphill? No problem. There's a reason Bosch is the global leader in e-bike systems—and it's not just their outstanding performance. We work with Bosch because they offer the best service network, remarkable testing, and next-level quality control.
Cargo Hold Panniers
Think of the Cargo Hold panniers as a trunk for your bike. Keep your lock, rain jacket, and tool kit inside so they're always ready. And then load them up with a week's worth of groceries, or a tent, balance bike, cooler and toys for a weekend trip to the park. Use the lid when it's raining or roll it up and out of the way when you've got extra large stuff to carry.
Yepp, It'll Fit Two
Thule Yepp Maxi child seats are the best in the business. The GSD is designed to fit two, with plenty of foot clearance for the rider. No special adapters needed.
Note: The GSD fits two Thule Yepp Maxi seats, or one Thule Yepp Nexxt Maxi seat.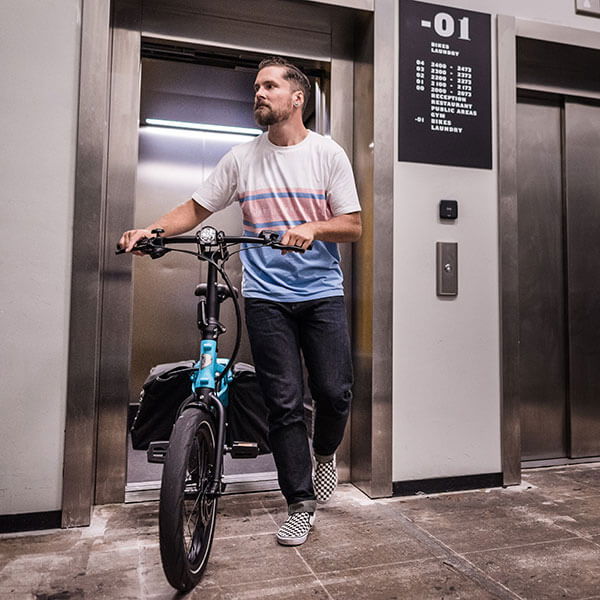 Elevator Friendly
Cargo bikes are most useful in cities (high density of things to see, do and move), but they're also harder to manage and store (small apartments and bike theft). Most people don't have space for a cargo bike. We designed the GSD to fit small elevators, so you can keep it indoors. We even designed the rack to let the bike stand vertically, for compact and stable storage.
All Day Battery
The GSD is one of the few bikes equipped with Bosch's latest Dual-Battery technology. You can connect up to two batteries for a range of over 250km. Tour from dusk to dawn, or commute for weeks on a single charge.
Friends Get Benefits
The GSD brings new meaning to "riding with a friend." Our suite of 'Sidekick' accessories, including a KLICKfix seat cushion, retractable foot pegs, and an underseat handle, let two adults ride together in comfort. With Bosch power and an ultra-low center of gravity, you might not even notice your passenger.
See-and-Be-Seen Geometry
The GSD features a relaxed geometry that puts the rider in an upright, comfortable position. Swept back handlebars and ergonomic grips take a lot of stress off the neck, shoulders, and wrists. You're also able to see (and be seen) over the tops of most cars, which is a great benefit in traffic. With Bosch power, comfort and performance can coexist.
Boosted Components
We use burly and dependable, cutting edge mountain bike technology to make the GSD superlatively strong. Magura 4 piston disc brakes, custom 62 mm Schwalbe Super Moto-X tires, Boost thru-axle hubs, and custom 36 mm wide double-joined rims, provide the rock-solid foundation for a bike spec'd to carry 180 kg.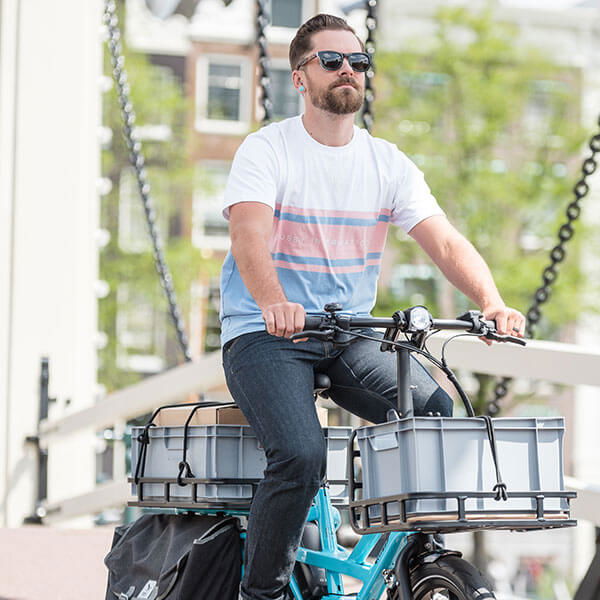 Low and Steady
The GSD is engineered from the ground up for maximum stability, loaded and unloaded. We designed it with a 125 cm wheelbase—25% longer than standard ebikes—for confident and balanced handling. Thanks to small wheels, a low frame, and centrally mounted motor, the bike boasts an extremely low center of gravity. Altogether, the ride is a revelation.
Choose your Tern GSD v1 models