The Bosch system
Reliable, performance-oriented and innovative – these are the standards to which we hold our E-Bikes, as well as all components and especially the drive system. That's why all Riese & Müller E-Bikes are equipped with the industry-leading Bosch drive system.
Batteries
Depending on the configuration
Bosch DualBattery 1,250Wh
DualBattery Technology perfected by Riese & Müller ensures twice the range or far higher climbs, fewer charging breaks and longer-lasting riding pleasure. With the 1,250 Wh now available, completely new destinations can be reached and you no longer have to worry about the range in your daily routine.
Bosch PowerTube 500Wh
The Bosch PowerTube battery with its 500-Wh energy reserve sets the standard for design and function. Fully integrated into the frame, it remains almost invisible and perfectly protected at all times. The high-quality lithium-ion battery can be charged directly on the bike.
When unlocked, it automatically pops a few centimeters out of the frame, so that it can be removed quickly and easily for external charging with the Bosch charger at any normal socket as well.
Motors
Depending on the model
Bosch Cargo Line Cruise motor (4th generation)
The latest generation of Bosch Cargo Line Cruise motor is the most powerful E-Bike motor ever to have been produced by Bosch with programming optimized for E-Cargo bikes. It sets totally new benchmarks with up to 400% pedal assistance, a maximum torque of 75 Nm, extremely powerful start-up characteristics and pedalling rate assistance of up to 120 rpm. It cannot fail to impress with its excellent dynamics, ultra-low pedal resistance, reduced weight and small dimensions, which provides for ultra-aesthetic and unobtrusive integration.
Display
Depending on the configuration
Bosch Purion Display
With the Purion, you are guaranteed to never lose sight of things. Its sleek design combines all relevant information on one small, easy-to-read display. While your hands stay firmly on the handlebars, you can navigate through all the functions with your thumb. The Purion is highly efficient, lightweight and trimmed down to the essentials.
Bosch SmartphoneHub Display
The Bosch SmartphoneHub and free app turns your smartphone into a display which combines the functions smart navigation with live weather, fitness data and much more. Other services and apps on your smartphone, such as music playback, can be controlled at the same time. But it also works without a mobile phone: in this case, a display integrated into the cockpit shows key riding data.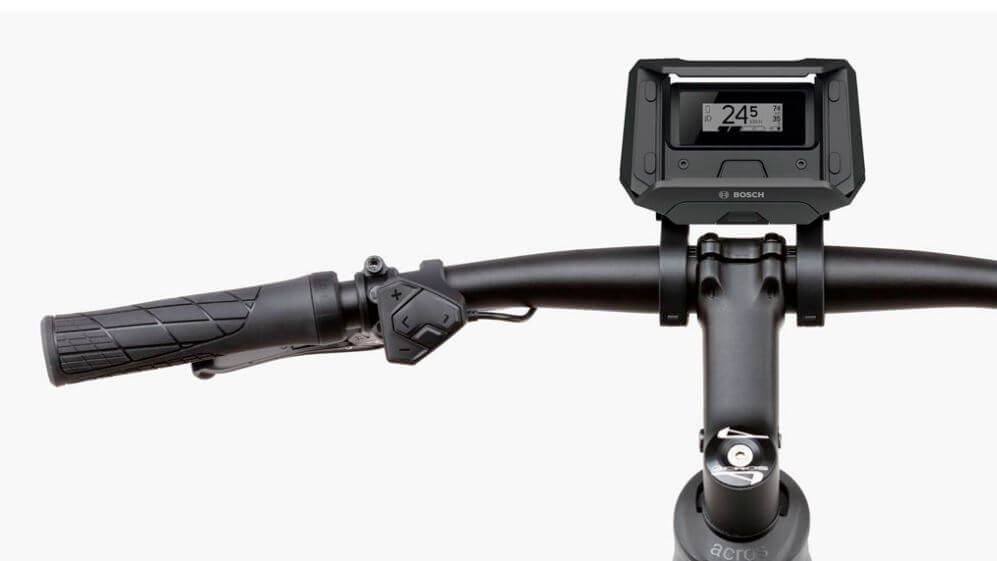 Bosch Nyon Display
The Nyon display ensures that you are fully connected and ideally equipped with navigation for every tour or day-to-day ride. The colour display, with its intuitive touch function, is very simple to use and, thanks to being robust and easy-to-read, is guaranteed to get you to your destination in any weather. The user interface can be adapted to your individual needs and with fitness data, the Nyon literally becomes your very own personal trainer.
Flexible transport options
Suitable for younger generations too.
There is space for up to three children or one person up to 1.65 m tall in the shock-absorbent and yet insulating EPP box. And their safety is top priority: the child seats all feature 5-point seat belts, while the side impact protection provides outstanding safety in urban traffic and the central railing doubles as a grab handle. The low loading floor aids getting on and off the bike, at the same time doubling as a loading space for up to 240 litres. You can even transport up to 350 litres with the optional high box cover.
Sustainable materials
Happy to take responsibility.
The sustainability of the Packster 70 is another of its impressive features with its non-toxic accessories and the use of selected materials: the box, which is made of expanded polypropylene (EPP) is produced with zero emissions and 100% recyclable. Its low weight and waterproof design are further impressive features. The Four Seasons child cover and tarpaulin are both certified with the Oeko-Tex Standard 100 seal, while the child seats are made of 100% recycled fabric. So now you can transport your children worry-free.
Safe handling
Simply and safely through everyday life.
Whether you are riding or parking, getting on and off or loading – with its low centre of gravity and countless details, the Packster 70 is incredibly simple to use at all times. Its small turning circle means that it is ideal for riding and manoeuvring in tight spaces. The combination of high-performance headlamp with daytime running light and well distributed reflectors guarantees that you can see and be seen. Tektro disc brakes ensure that you can brake and stop safely even when carrying heavy loads.
Adjustable seating position
Change riders with ease.
The height-adjustable saddle and stem let you adjust the seating position of the Packster 70 to different body heights from 1.50 m to 2.00 m in the blink of an eye, making it the perfect companion to family life and a flexible replacement for your car.
Choose your Packster 70 model