The Bosch smart system
The smart system points the way to the digital future for eBikes. The eBike Flow app, the battery, the display, the control unit, the drive unit are fully connected in the smart system. Regular over-the-air updates keep them up to date and add new features. You can control all functions of the smart system via the eBike Flow app. Whether you're on your way to work or on the trail at the weekend, the technically and visually precisely tuned components allow you to customise your riding experience and take riding enjoyment to the next level.
Batteries
Depending on the configuration
Bosch PowerPack 725 Wh
More power and stamina: PowerPack 725 wh is the perfect choice for longer tours or more demanding rides. it is ideally suited to cargo bikes or speed pedelecs with higher energy requirements.
Voltage: 36V
Energy Content: approx. 725 Wh
Weight: approx. 4 kg
Dimension: 344 x 95 x 100 mm
DualBattery 1450
DualBattery Technology perfected by Riese & Müller ensures twice the range or far higher climbs, fewer charging breaks and longer-lasting riding pleasure. With the 1,450 Wh available, completely new destinations can be reached and you no longer have to worry about the range in your daily routine.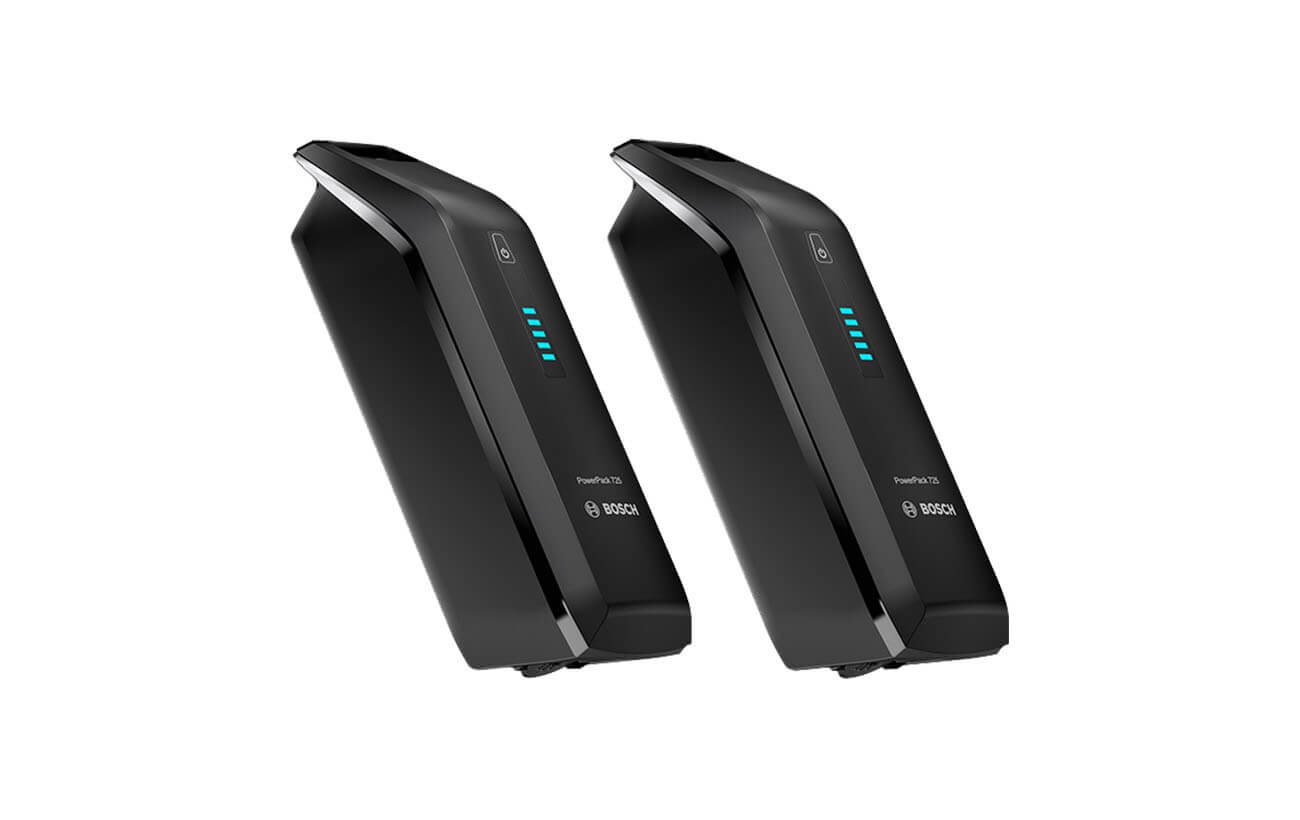 Motors
Depending on the model
Bosch Cargo Line (smart system)
Take advantage of continuous component updates over-the-air, or customise your riding modes on the eBike Flow app. Whatever the conditions, Cargo Line is a constant support: moving heavy loads up steep inclines becomes a breeze.
Whether you're tackling a steep hill, or pedalling on the flat, 85 Nm of torque and a perfectly tuned transmission provide powerful yet natural support.
Specially designed for the Cargo Line, Cargo mode lets you get maximum support from your eBike, namely 400% of your own pedal power. In addition, Cargo mode optimises start-up behaviour: Despite the high level of support and torque, your eCargo bike starts smoothly and pleasantly. Prefer different dynamics or torque? Simply use the slide control in the eBike Flow app to adjust Cargo mode to suit.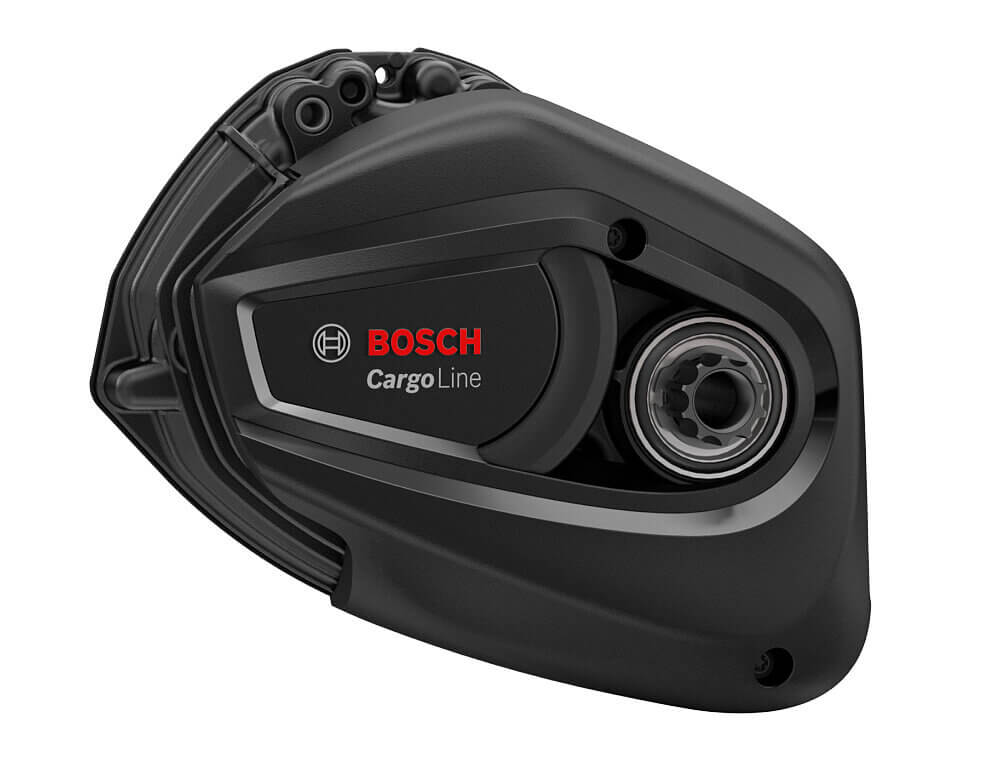 Bosch Performance Line Speed (smart system)
The Performance Line Speed will also be integrated into the smart system. Benefit from over-the-air updates and keep your S-pedelec components at the top of their game. Get where you're going quickly and efficiently thanks to Performance Line Speed's powerful acceleration and support – up to 28mp/h.
Experience the robust support of the high-performance motor – even at high cadences. The finely tuned transmission enables dynamic riding and rapid sprints. You can smash your daily fitness goals on the way to work.
Display
Depending on the configuration
Purion 200
Fully networked display and control unit in one: the Purion 200 provides compact and easy-to-read information about your speed, range and more. And, thanks to its ambient light sensor, you can quickly read the information even in bright sunshine and darkness. Located directly adjacent to your thumb on the handlebar, it lets you ergonomically and intuitively control your bike's functions.
Bosch Kiox 300 Display
The Kiox 300 display is perfect for sporty riders: it displays more than just fitness data, helping riders to optimise their training. It is even possible to pair it with heart rate monitors via Bluetooth. Map-free navigation (only in conjunction with a smartphone) completes the features of the Kiox 300. It can be intuitively operated using the LED Remote on the handlebars.
Kiox 500
The Kiox 500 display cannot fail to impress with its large display and ease of reading – even in challenging riding conditions. Ideal for sportier rides, it records your fitness data and can also be coupled to heart rate monitors by Bluetooth. Map-free navigation (only in conjunction with a smartphone) completes the features of the Kiox 500. It can be intuitively operated using the LED Remote on the handlebar.
Safely transport up to three children
The big one for the little ones.
Up to three children age 7 or younger can be carried comfortably and safely – well protected from the sun and rain under a practical cover. One of the children faces the rider while other two sit facing the direction of travel. The extra spacious footwell prevents your passengers from getting in each other's way, guaranteed to contribute to a relaxed shared riding experience. Loading surface approved for up to max. 65 kg. Please observe national regulations for the transport of children on bikes before using.
Control Technology
Fun and safety are not mutually exclusive.
Admittedly, not everyone immediately thinks of fun on two wheels when you hear the words "Cargo Bike". But this changes when you sit on a Load with Control Technology. The optimized chassis and the finely tuned full suspension ensure optimum comfort, safe riding even at higher speeds, excellent road holding and thus top-of-the-range riding dynamics. Vibrations and hard impacts, such as from cobblestones or kerbs, are significantly reduced and you are in control.
Flexible load transport and large cargo area
Maximum freedom of transport.
Carry whatever cargo you need to on a loading surface 75 cm long and with a maximum width of 54 cm: camping equipment, the weekly shop, young children or a delivery to your business customers (loading surface approved for up to max. 65 kg). Nothing disrupts your safe and agile riding experience, as the Cargo Bike can handle almost all needs, thanks to its low centre of gravity, its many individual equipment options and refined Control Technology. For greater freedom and flexibility – whatever your plans.
Safety equipment
Safely to your destination.
It's all about riding stability and visibility in traffic. You'll remain safely on the saddle with the optional Bosch eBike ABS 2.0 with Magura CT brake and Suntour Mobie 34 fork. The daytime running light of the Supernova M99 Mini Pro headlight with main-beam function offers excellent lighting conditions at night and also increases your visibility during the day. And if you need to stop quickly, the Supernova M99 Tail Light ensures your safety while the standard Tektro cargo brake packs quite a punch.
Adjustable seating position
Change riders with ease.
Thanks to the angle- and height-adjustable stem and the adjustable saddle height, the seat position can be altered to accommodate body sizes of from 1.50 m to 2.00 m, and adapted from sporty to comfortable. The overall geometry of the bike can be perfectly adjusted to the rider in just a few easy steps. This flexibility makes the Load ideal for shared use, for example within a family.