Drive
The Bosch system
Reliable, performance-oriented and innovative – these are the standards to which we hold our E-Bikes, as well as all components and especially the drive system. That's why all Riese & Müller E-Bikes are equipped with the industry-leading Bosch drive system.
Batteries
Depending on the configuration
Drive
Bosch PowerPack 500 frame battery
The powerful lithium-ion battery attached to the framehas an energy reserve of 500 Wh. High reliability and a service life of 800 to 1,000 charging cycles make it a strong companion over hill and dale. It can be charged directly on the E-Bike or removed from the frame in a single step. It takes 4.5 hours to charge from a fully discharged state. So with the PowerPack 500 you are perfectly equipped for any trip.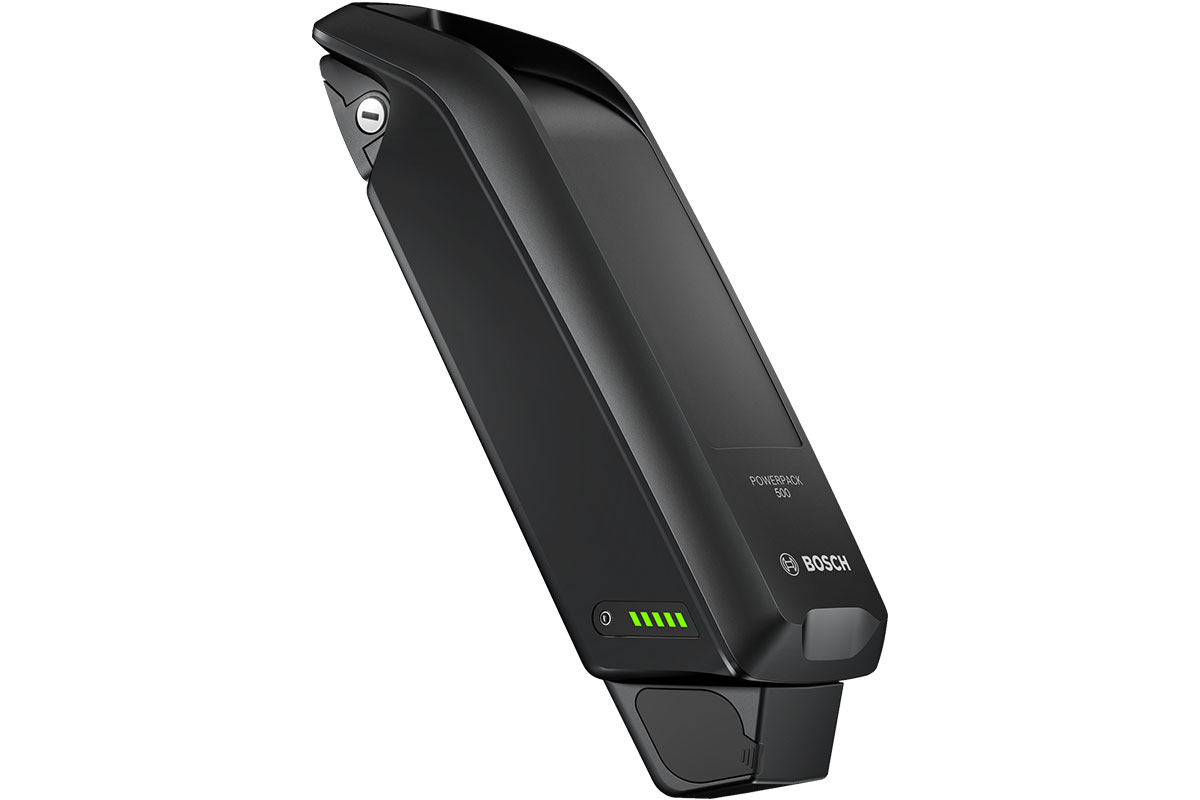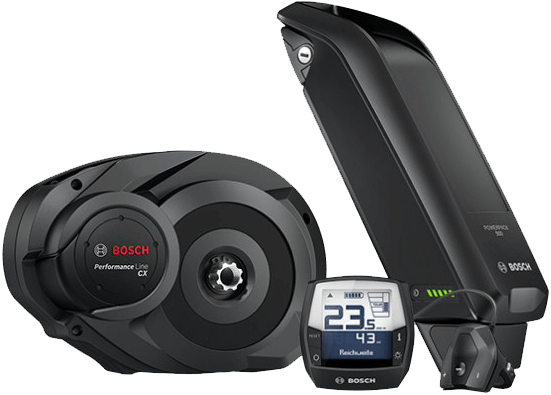 Motors
Depending on the models
Drive
Bosch Performance Speed motor
Assistance up to a speed of 28 mp/h makes the Performance Speed drive the fastest Bosch E-Bike motor. Sporty start-up characteristics, 350 watts of power and pedal assistance up to 275 % guarantee the ultimate riding pleasure with a maximum drive torque of up to 63 Nm with derailleur gear and up to 50 Nm with hub gear. For the Speed motor, you need an insurance certificate and a driving licence for small powered bikes. A driving licence for class MA (from the age of 16 upwards) or for cars includes this. Helmets are mandatory on HS models. We recommend using an E-Bike helmet that complies with the EN 1077 and EN 1078 standards.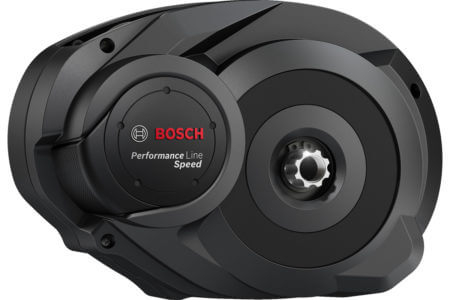 Drive
Bosch Performance CX motor
The Performance CX is the most powerful Bosch E-Bike motor ever – with pedal assistance of up to 300 %, a maximum torque of 75 Nm, very sporty start-up characteristics and pedalling rate assistance up to 120 rpm. With "Direct Flow" you have a powerful push on the back wheel from speeds of just 20 rpm. Whether it be uphill or on the flat, this acceleration will inspire you. Another highlight in the new Performance CX motor is the eMTB mode, which replaces the previous Sport mode (this is displayed as Sport mode on the Intuvia Display). Here, the progressive motor assistance automatically adapts to the individual riding style regardless of pedal pressure. This ensures optimum assistance at all times, which really pays off on climbs.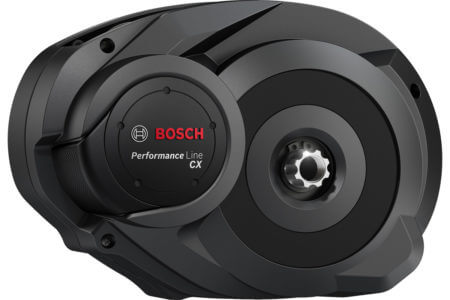 Display
Depending on the configuration
Drive
Bosch Intuvia Display
The Intuvia Display gives you full control and a perfect overview at all times. It provides information about battery status, range, daily mileage, total mileage, ride time, current motor power, time, speed and average speed – clearly legible in any level of sunlight. On our automatic E-Bike models, the automatic version of the display also offers an option for controlling the pedal frequency. A USB interface allows MP3 players and mobile phones to be charged while riding too. It is operated via a remote control conveniently mounted on the handlebar grip.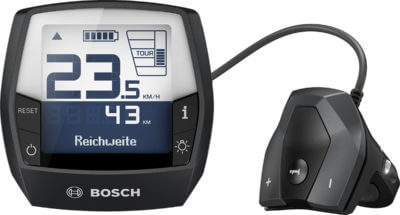 Flexible stem
Fits everyone. Without compromises.
The angle- and height-adjustable stem and easily adjustable seatpost mean that the Tinker can adjust to rider heights from 1.50 to 1.95 m and adapt to every rider's comfort preferences. In everyday life, the clever all-rounder becomes the perfect family E-Bike: you ride in comfort, your children will enjoy it and you can quickly lend it to your best friends or your dearest flat mate.
Compact frame
Saves energy and transport tickets.
Not a folding bike. Not a mountain bike either. But perfect for busy cities and unspoiled nature. Once the stem is folded and the seatpost pushed in or pulled out, the Tinker can fit into most estate cars, SUVs or mini-vans for transportation. Its frame is so compact that it can effortlessly be taken on public transport.
Abus Shield frame lock
Steals success from thieves.
Park your bike wherever you want. Only you can take it away. The frame lock clicks shut simultaneously with the battery lock, so you only need one key for your E-Bike.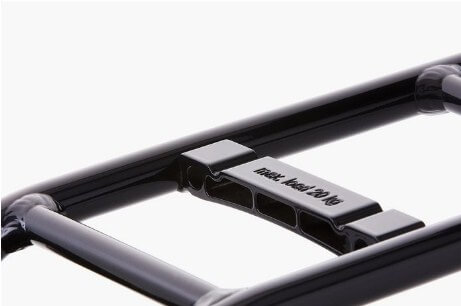 Load up, set off.
Baskets and panniers can be secured to the carrier in no time, thanks to the "snapit" system from racktime. With just a click, your load can be changed quicker than a pit stop. Accessories can be obtained from your dealer.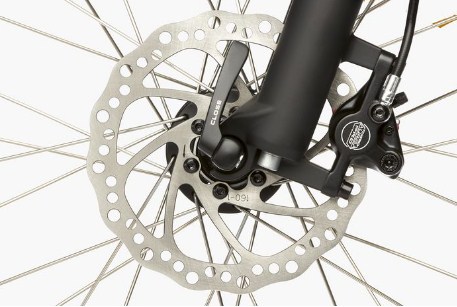 The fastest route to a standstill.
The hydraulic disc brakes from Tektro deliver maximum performance, no matter what the weather. The large brake discs allow the braking effect to be distributed most effectively. They don't produce rim wear and impress with their consistent braking performance.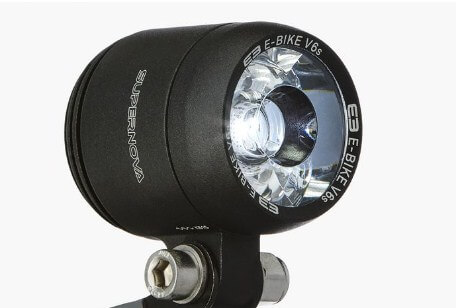 A bright outlook.
At dusk, in the woods or late at night: Supernova's or Busch & Müller's LED headlamps provide consistently excellent road illumination whenever you go for a ride. They are supplied with power by the battery. Thus, full lighting power is ensured at all times – whether at high speeds or standing still, for instance when stopping at a traffic light.