The Bosch system
Reliable, performance-oriented and innovative – these are the standards to which we hold our E-Bikes, as well as all components and especially the drive system. That's why all Riese & Müller E-Bikes are equipped with the industry-leading Bosch drive system.
Batteries
Depending on the configuration
Bosch PowerPack 500 frame battery
The powerful lithium-ion battery attached to the framehas an energy reserve of 500 Wh. High reliability and a service life of 800 to 1,000 charging cycles make it a strong companion over hill and dale. It can be charged directly on the E-Bike or removed from the frame in a single step. It takes 4.5 hours to charge from a fully discharged state. So with the PowerPack 500 you are perfectly equipped for any trip.
Motors
Depending on the models
Bosch Performance Line Gen3
With a sporty torque of 65 Nm and high performance, the Drive Unit provides the right support at the right moment, even in the mountains. The riding sensation remains natural with barely noticeable pedal resistance when switched off or at over 20 mp/h. All of this and almost silent too – for maximum riding enjoyment.
Bosch Performance CX motor
The Performance CX is the most powerful Bosch E-Bike motor ever – with pedal assistance of up to 300 %, a maximum torque of 75 Nm, very sporty start-up characteristics and pedalling rate assistance up to 120 rpm. With "Direct Flow" you have a powerful push on the back wheel from speeds of just 20 rpm. Whether it be uphill or on the flat, this acceleration will inspire you. Another highlight in the new Performance CX motor is the eMTB mode, which replaces the previous Sport mode (this is displayed as Sport mode on the Intuvia Display). Here, the progressive motor assistance automatically adapts to the individual riding style regardless of pedal pressure. This ensures optimum assistance at all times, which really pays off on climbs.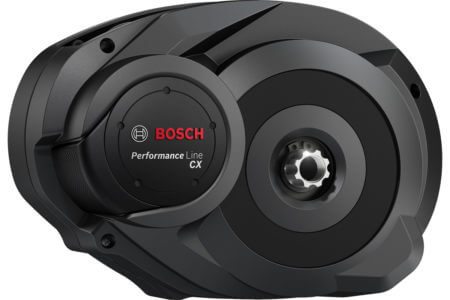 Display
Depending on the configuration
Bosch Intuvia Display
The Intuvia Display gives you full control and a perfect overview at all times. It provides information about battery status, range, daily mileage, total mileage, ride time, current motor power, time, speed and average speed – clearly legible in any level of sunlight. On our automatic E-Bike models, the automatic version of the display also offers an option for controlling the pedal frequency. A USB interface allows MP3 players and mobile phones to be charged while riding too. It is operated via a remote control conveniently mounted on the handlebar grip.
Compact frame
Find a spot anywhere.
Thanks to its compact frame, the Tinker saves loads of space. As a commuter bike, it can be taken on public transport with ease, while it always finds a spot in packed bike stores. And if it does in fact have to be transported by car at some point, the Tinker will fit into many vehicles without any problems, with its stem folded and seatpost retracted.
Adjustable stem
Fits everyone. Without compromises.
Without sacrificing comfort, the Tinker can be adapted to accommodate rider heights from 1.50 m to 1.95 m thanks to its angle- and height-adjustable stem and easily adjustable seatpost. This makes the all-rounder the perfect family E-Bike: you ride comfortably, your children have fun and friends or flatmates will be delighted to borrow it as well.