Drive
The Bosch system
Reliable, performance-oriented and innovative – these are the standards to which we hold our E-Bikes, as well as all components and especially the drive system. That's why all Riese & Müller E-Bikes are equipped with the industry-leading Bosch drive system.
Battery
Drive
Bosch DualBattery PowerTube
The DualBattery option with two PowerTube batteries integrated into the frame with a combined 1,000 Wh sets standards in design and range. Long tours with lots of luggage and routes with considerable height differences are no longer a problem. Riders using their E-Bike to commute to work also have to charge their bike less often. The load is minimized by means of an alternating load in 5 % increments, which significantly increases the service life. Using the included Bosch Standard charger, both batteries can be charged directly on the bike or at any normal socket once removed. Both PowerTubes can even be charged together on the bike.
The charging time for a single battery from a fully discharged state is only 4.5 hours. Charging them on the bike together, both are fully operational again after 9 hours. It is possible to use just one battery.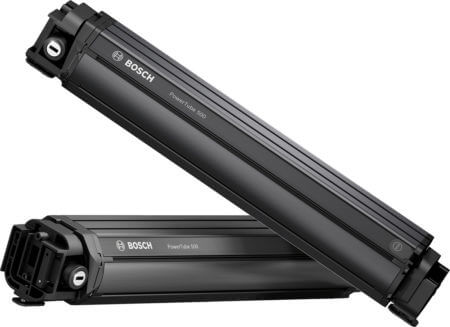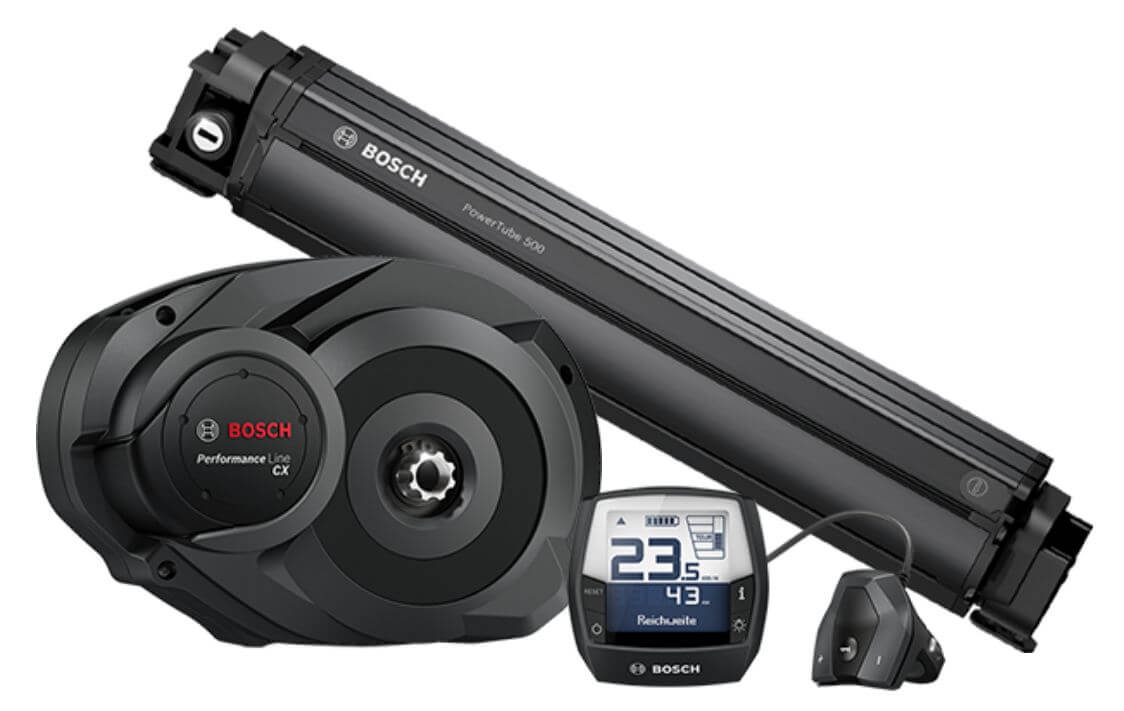 Motors
Depending on the models
Drive
Bosch Performance Speed motor
Assistance up to a speed of 28 mp/h makes the Performance Speed drive the fastest Bosch E-Bike motor. Sporty start-up characteristics, 350 watts of power and pedal assistance up to 275 % guarantee the ultimate riding pleasure with a maximum drive torque of up to 63 Nm with derailleur gear and up to 50 Nm with hub gear. For the Speed motor, you need an insurance certificate and a driving licence for small powered bikes. A driving licence for class MA (from the age of 16 upwards) or for cars includes this. Helmets are mandatory on HS models. We recommend using an E-Bike helmet that complies with the EN 1077 and EN 1078 standards.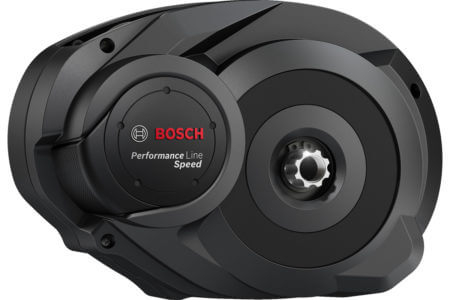 Drive
Bosch Performance CX motor
The Performance CX is the most powerful Bosch E-Bike motor ever – with pedal assistance of up to 300 %, a maximum torque of 75 Nm, very sporty start-up characteristics and pedalling rate assistance up to 120 rpm. With "Direct Flow" you have a powerful push on the back wheel from speeds of just 20 rpm. Whether it be uphill or on the flat, this acceleration will inspire you. Another highlight in the new Performance CX motor is the eMTB mode, which replaces the previous Sport mode (this is displayed as Sport mode on the Intuvia Display). Here, the progressive motor assistance automatically adapts to the individual riding style regardless of pedal pressure. This ensures optimum assistance at all times, which really pays off on climbs.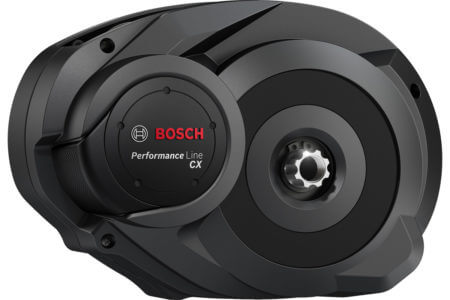 Displays
Depending on the configuration
Drive
Bosch Intuvia Display
The Intuvia Display gives you full control and a perfect overview at all times. It provides information about battery status, range, daily mileage, total mileage, ride time, current motor power, time, speed and average speed – clearly legible in any level of sunlight. On our automatic E-Bike models, the automatic version of the display also offers an option for controlling the pedal frequency. A USB interface allows MP3 players and mobile phones to be charged while riding too. It is operated via a remote control conveniently mounted on the handlebar grip.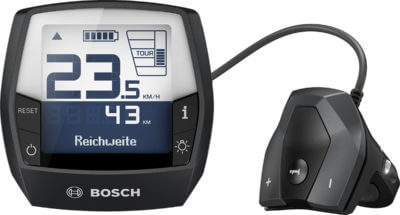 DualBattery
Design miles ahead.
A technology and design highlight: the optional DualBattery technology with two Bosch PowerTube batteries fully integrated into the top tube and down tube. This results in an incredible battery capacity of 1,000 Wh. Besides being able to go twice as far on long trips, you no longer have to worry about your range in your day-to-day riding either. Our engineers have integrated the batteries so skilfully that the additional weight and battery position have no noticeable effect on riding behaviour. The Supercharger comes with one battery as standard and can be fitted with an optional second Bosch PowerTube battery.
Carbon belt drivey
Simple. Indestructible.
Anyone riding an E-Bike with the Gates CDX carbon belt drive is at peace. And in two ways: because on the one hand the innovative drive offers a wonderfully smooth ride and great riding comfort. While at the same time being unbelievably low-maintenance and performing its tasks with the utmost reliability. The carbon belt drive provides a new, carefree riding experience – for every need and every intent.
Frame design
Delights the legs, pleases the eye.
This frame has it all, from its highly functional design featuring characteristic contours to its remarkable engineering prowess, all its cables and – the battery. Easily overlooked at first glance, it blends perfectly into the overall image. The colour concept emphasises the E-Bike's sportiness with sharp dividing lines. The superbly finished frame thus comes into its own and all key technical components have optimum protection.
Suspension fork and suspension seatpost
Turns gravel tracks into freshly paved roads.
Uneven trails can be encountered anywhere, even in the city: cobblestones, gravel paths, small potholes or cracks in the concrete can tarnish your riding pleasure. The suspension seatpost and sensitive suspension fork offer so much comfort that you'll barely feel any bumps.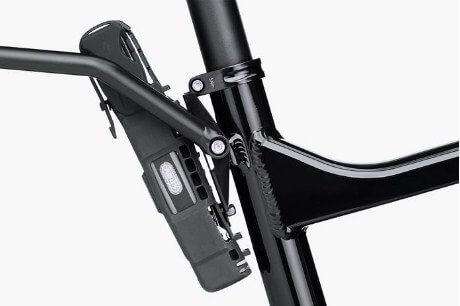 A securely locked bike is one less worry for you.
With the Abus Bordo 90 cm folding lock, you can securely fasten your E-Bike to virtually anything. If you want to continue your journey, it can be compactly folded up, disappears into a pouch and is Velcro-fastened to the bicycle frame. The lock, with its ultra-secure articulated design, weighs just 1,120 g and clicks shut simultaneously with the battery lock.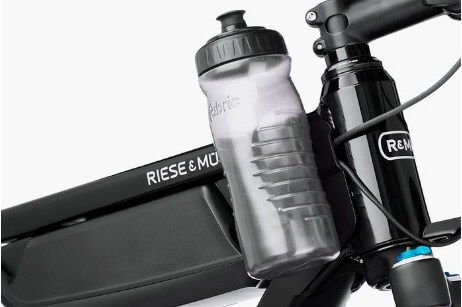 With no holder, there's no holding back.
The E-Bike features two water bottles, but without a single holder attached. This technical feat is revolutionary. The front cover plate of the frame is equipped with two mounting studs on each side, specially designed for direct mounting of cageless water bottles from Fabric. It doesn't get any easier than this when it comes to keeping two bottles within perfect reach during a ride.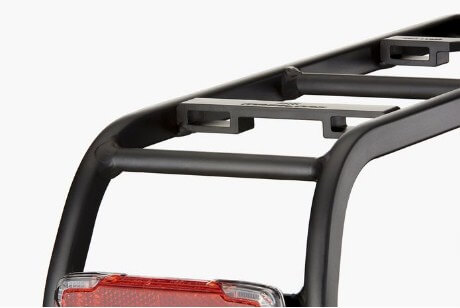 Big on space.
When a tour becomes a trip, the rucksack becomes panniers or luggage rollers. Even the heaviest luggage can come along for the ride on the stable front and rear carriers of your Supercharger GX rohloff. To the Alps and back? The Supercharger GX rohloff gives you more than enough space to satisfy your wanderlust. However, the other Supercharger models also boast great transport possibilities, thanks to the rear carrier featuring the Basil MIK system.