Drive
The Bosch system
Reliable, performance-oriented and innovative – these are the standards to which we hold our E-Bikes, as well as all components and especially the drive system. That's why all Riese & Müller E-Bikes are equipped with the industry-leading Bosch drive system.
Battery
Depending on the configuration
Drive
Bosch DualBattery
The DualBattery option with a 500 Wh PowerTube integrated in the frame and a 500 Wh frame battery mounted on it combines the best of both worlds. Together the batteries achieve 1,000 Wh. The load on the batteries is minimised by means of an alternating load in 5 % increments, which significantly increases the service life. Using the included Bosch Standard charger, both batteries can be charged directly on the bike or at any normal socket once removed. Both can even be charged together on the bike. The charging time for a single battery from a fully discharged state is only 4.5 hours. Charging them on the bike together, both batteries are fully operational again after 9 hours. It is also possible to use just one battery.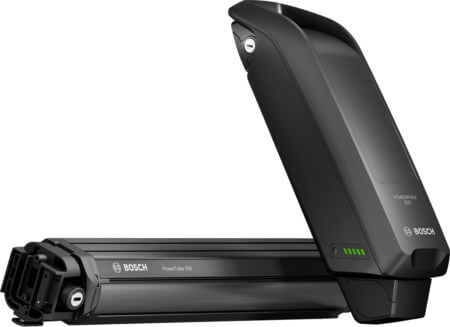 Drive
Bosch 500 Wh PowerTube
The Bosch PowerTube battery with its 500-Wh energy reserve sets the standard for design and function. Fully integrated into the frame, it remains almost invisible and perfectly protected at all times. The high-quality lithium-ion battery can be charged directly on the bike.
When unlocked, it automatically pops a few centimeters out of the frame, so that it can be removed quickly and easily for external charging with the Bosch charger at any normal socket as well.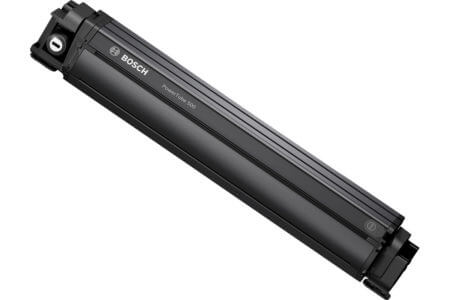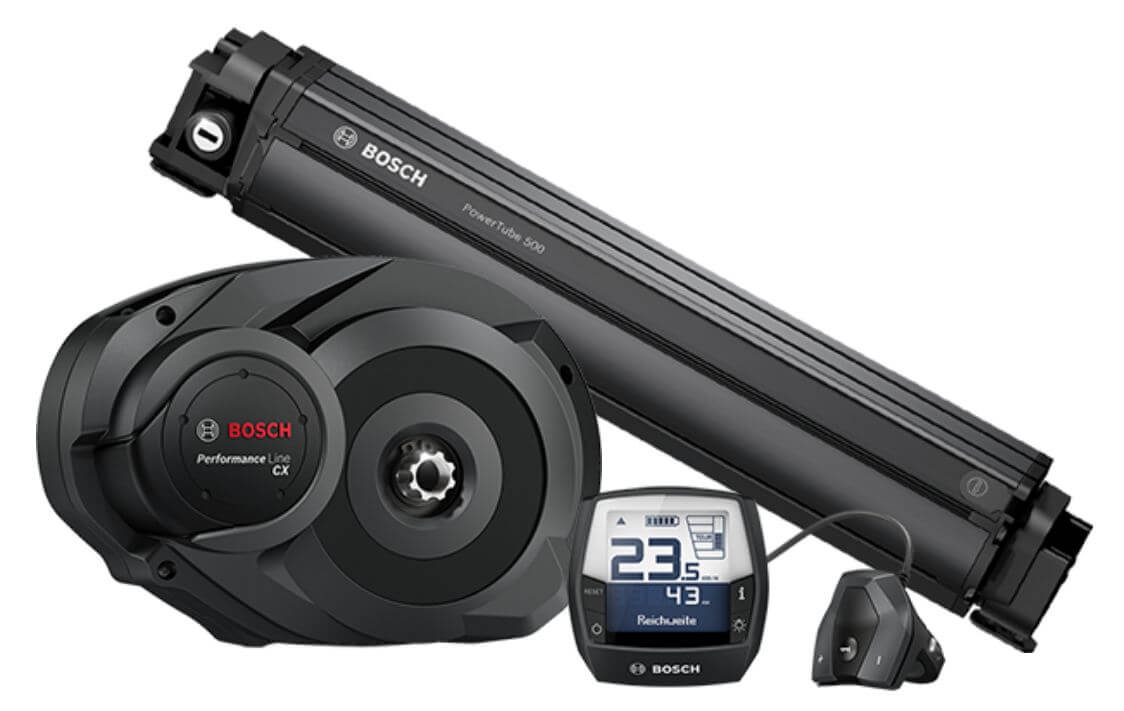 Motors
Depending on the models
Drive
Bosch Performance Speed motor
Assistance up to a speed of 28 mp/h makes the Performance Speed drive the fastest Bosch E-Bike motor. Sporty start-up characteristics, 350 watts of power and pedal assistance up to 275 % guarantee the ultimate riding pleasure with a maximum drive torque of up to 63 Nm with derailleur gear and up to 50 Nm with hub gear. For the Speed motor, you need an insurance certificate and a driving licence for small powered bikes. A driving license for class MA (from the age of 16 upwards) or for cars includes this. Helmets are mandatory on HS models. We recommend using an E-Bike helmet that complies with the EN 1077 and EN 1078 standards.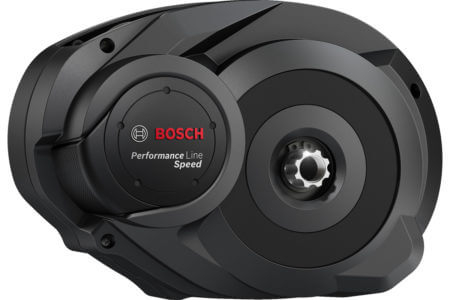 Drive
Bosch Performance CX motor
The Performance CX is the most powerful Bosch E-Bike motor ever – with pedal assistance of up to 300 %, a maximum torque of 75 Nm, very sporty start-up characteristics and pedalling rate assistance up to 120 rpm. With "Direct Flow" you have a powerful push on the back wheel from speeds of just 20 rpm. Whether it be uphill or on the flat, this acceleration will inspire you. Another highlight in the new Performance CX motor is the eMTB mode, which replaces the previous Sport mode (this is displayed as Sport mode on the Intuvia Display). Here, the progressive motor assistance automatically adapts to the individual riding style regardless of pedal pressure. This ensures optimum assistance at all times, which really pays off on climbs.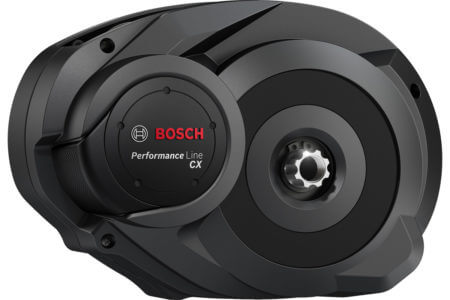 Drive
Bosch Active Plus motor
With pedal assistance of up to 250 %, the particularly quiet Active Plus drive is perfect for city trips, for example. With its low-profile design, it fits inconspicuously onto the frame. At only 3.2 kg, it is also the lightest Bosch motor that Riese & Müller fit on their bikes. The torque of up to 50 Nm ensures a harmonious, agile acceleration. A balanced ride feel, motor coasting and no pedal resistance at more than 20 mp/h make every trip an experience.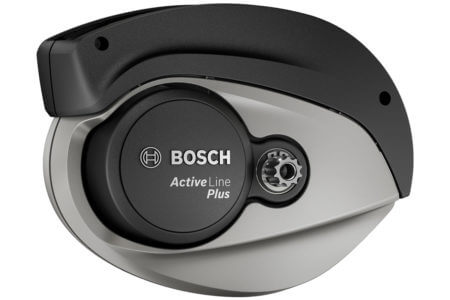 Displays
Depending on the configuration
Drive
Bosch Intuvia Display
The Intuvia Display gives you full control and a perfect overview at all times. It provides information about battery status, range, daily mileage, total mileage, ride time, current motor power, time, speed and average speed – clearly legible in any level of sunlight. On our automatic E-Bike models, the automatic version of the display also offers an option for controlling the pedal frequency. A USB interface allows MP3 players and mobile phones to be charged while riding too. It is operated via a remote control conveniently mounted on the handlebar grip.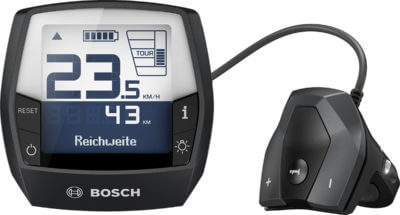 Integrated battery
Power from within.
The concentrated power of the 500 Wh battery is so perfectly integrated that it is easy to miss at first glance. However, once located it is very easy to remove: just lift upwards in a single movement – or simply charge it directly on the bike. The integration into the frame protects the battery from moisture and stone chips while riding.
DualBattery
Because not every adventure starts on your doorstep.
The DualBattery Technology perfected by Riese & Müller ensures twice the range or far higher climbs, fewer charging breaks and longer-lasting riding pleasure. The batteries are so cleverly positioned that the extra weight has no noticeable impact on riding behaviour – and yet both are easy to remove. With the 1,000 Wh now available, completely new destinations can be reached and you no longer have to worry about your range in your daily routine.
Easy to mount and fine-tuned centre of gravity
Enjoyment begins as soon as you get on.
You feel like a young speed demon on an E-Bike. You even experience this exhilarated feeling when getting on and off the bike. This is because of the low step-through, which also ensures a low centre of gravity and thus sporty handling. In addition, the Nevo GX models have off-road qualities that boast a new and thrilling riding experience.
Elevated chainstay
Sporty. Inside and out.
The design of the Nevo GT is all about integration. The battery integrated into the frame and the elevated chainstay give it an especially sporty look. The chainstay also allows versions with a durable and easy-care carbon belt drive.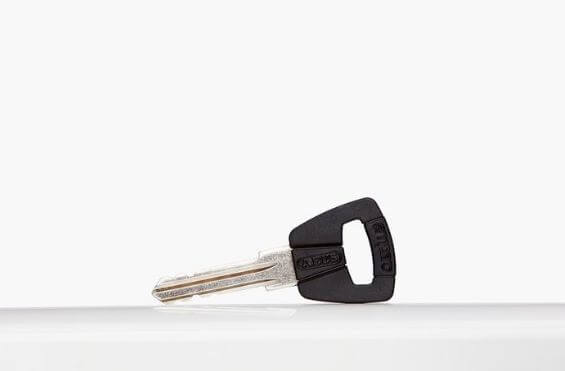 Steals success from thieves.
Park your bike wherever you want. Only you can take it away. The frame lock clicks shut simultaneously with the battery lock, so you only need one key for your E-Bike.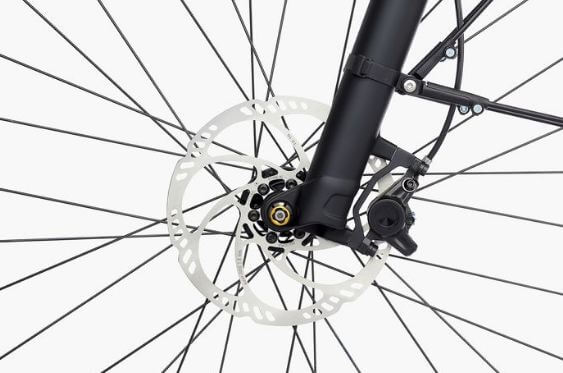 The fastest route to a standstill.
The hydraulic Magura MT4 disc brakes deliver maximum performance, no matter what the weather. The large brake discs allow the braking effect to be distributed most effectively. They don't produce rim wear and impress with their consistent braking perfomance.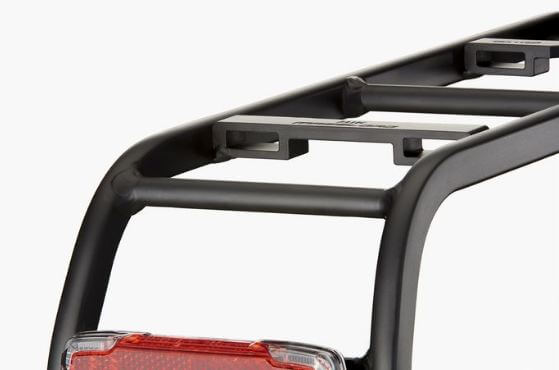 Load up, set off.
Baskets and panniers can be attached to the carrier with just one click using the Basil MIK system. This extraordinarily stable system lets you quickly swap bicycle accessories fitted with an MIK adapter plate. Accessories can be obtain from your dealer. In addition, the Nevo GX models are equipped with a front carrier as standard.