Riese & Muller Load
Riese & Muller Load
The Load.
The dawn of a new E-ra.
The revolution begins in the crowded streets of the city bustling with commuter traffic. Safely and comfortably – thanks to the full suspension – past the long queues, on the Load E-Cargo bike. Even as you set off, you'll be surprised by its sportiness, even despite all your luggage. The challenges of everyday life, like transporting crates of drinks to the BBQ spot half a mile up the hill, will no longer be any trouble at all. Quick rider changes are a piece of cake since the handlebar and saddle can be adjusted to almost any body size. So all that remains is for us to say: dear car, it's great staying in the garage.
Riese & Muller Load – Control technology
Maintains a deep relationship with the road.
Only an E-Bike with true full suspension keeps ground contact on poor roads – and keeps you in full control. The active rear swing arm, optimized front wheel suspension and co-sprung carrier form the core of the Control Technology. They ensure better road holding and safety at high speeds, with heavy loads and in tricky situations. The immediately appreciable advantage is the back-sparing riding comfort. Vibrations and hard knocks like those experienced on cobbles or curbs are significantly diminished. Your luggage is also protected on the sprung loading surface and optional, rigid-frame and therefore sprung carrier.
Adjustable seating position
Grows with its tasks.
Thanks to the angle- and height-adjustable stem as well as height-adjustable saddle, the seat position on the Load can be adjusted to accommodate body heights from 1.50 m to 1.95 m and adapted to comfort preferences from sporty to comfortable. The overall geometry of the Load can be customized in a few simple steps. This flexibility is unique among E-Cargo bikes and makes the Load ideal for shared use, for example within a family.
Dual Battery
Twice the range. Twice the riding pleasure.
Riese & Müller is doubling the range of its E-Bikes with DualBattery technology – in other words, by incorporating a second battery. This increases the capacity to an astounding 1,000 Wh and propels Riese & Müller to the fore when it comes to range. The second battery is mounted behind the cargo surface in order to keep the bike's centre of gravity low and to maintain the excellent riding behavior. Besides being able to go twice as far on long trips, you no longer have to worry about your range in your day-to-day riding either.
High frame stability
Does not bend to any challenge.
The trellis frame has extremely high rigidity values. The less bendy the frame, the more direct the transfer of force, and the Load does not tend to jitter at all. Together with the low cargo centre of gravity and the Control Technology, the superior and sporty riding characteristics are noticeable even with heavy loads.
Riese & Muller Load Carrier
Pack twice as much.
If the front storage space is not enough, there is always the optional carrier. It is ideal for attaching panniers, making it perfect for longer bike trips too. Since it is secured directly to the frame, it also benefits from the suspension thanks to Control Technology.

Help night owls see in the dark.
Always ride with excellent road illumination thanks to the IQ-X headlamps from Busch & Müller. Only daylight is brighter than their exceptional brightness of over 100 lux. With its very wide-sweeping and homogeneous large-area illumination of the street, you won't miss a thing. They are operated via the Bosch display, while the energy is supplied via the battery.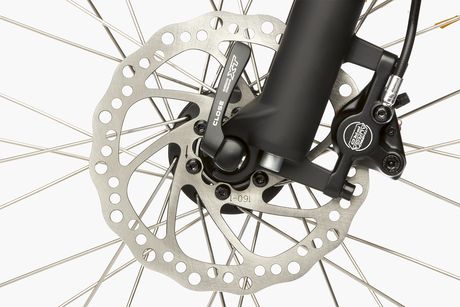 The fastest route to a standstill.
The hydraulic disk brakes from Tektro deliver maximum performance, no matter what the weather. The large brake disks allow the braking effect to be distributed most effectively. They don't produce rim wear and impress with their consistent braking performance.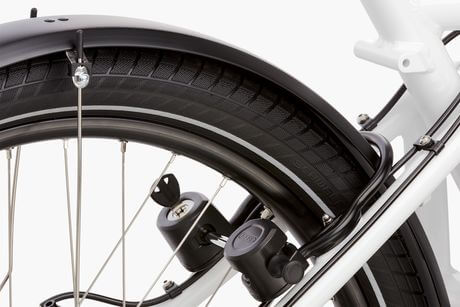 Steal success from thieves.
Park your Load wherever you want. Only you can take it away. The standard frame lock clicks shut simultaneously with the battery lock, so you only need one key for your E-Bike. We recommend the optional combination of a simultaneously locking ABUS Bordo as a second lock and a bottle cage plus water bottle (not included when ordered without Bordo).
Riese & Muller Load Custom Variables
To match your Load, the perfect accessories provide the ideal solution for your transport projects.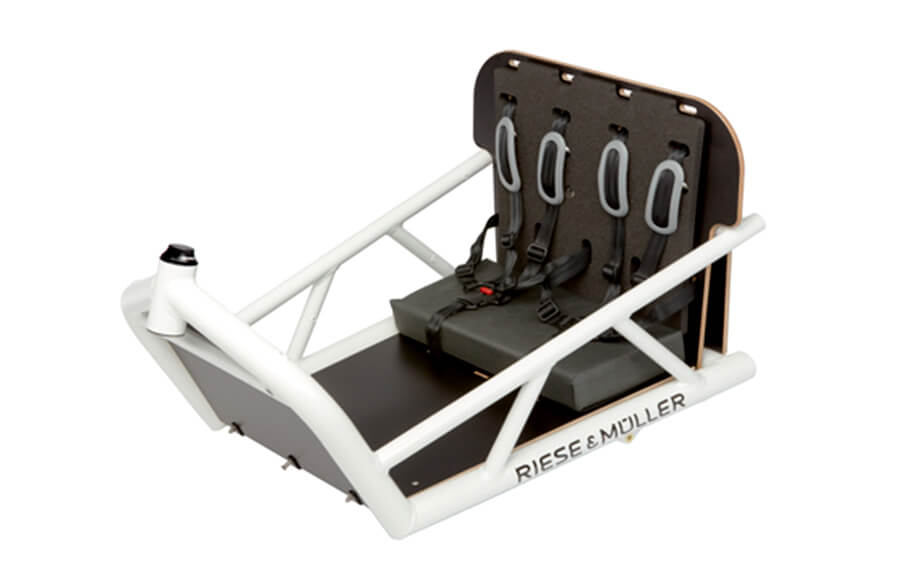 Safe child transport
The most valuable cargo anyone can carry is children. Their safety comes first. The two 5-point belts for two smaller children, a protected seat position and side protection thanks to the trellis frame offer plenty of safety in city traffic. Even more practical accessories are also available to buy. By the way: The high side walls are particularly suited to your four-legged friends.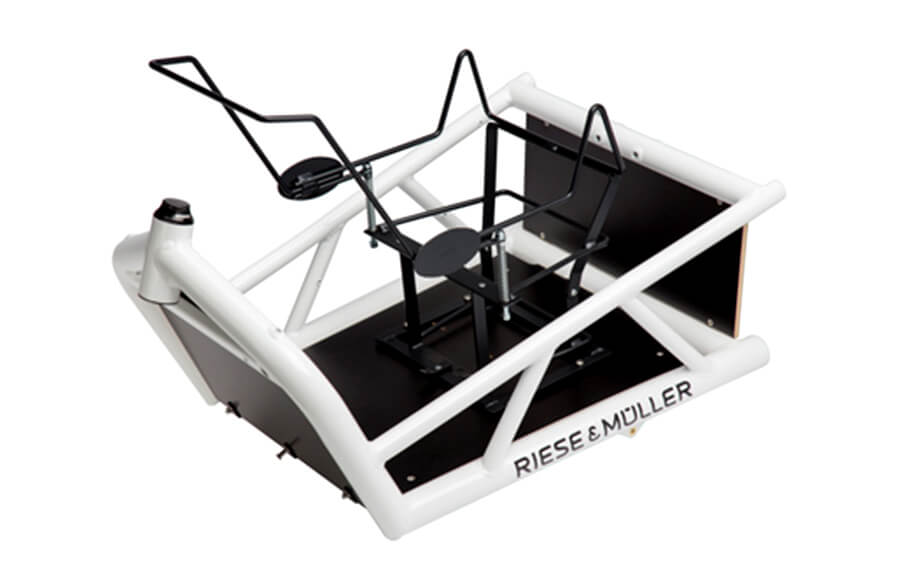 Riese & Muller Load Baby seat fastening
On the Load, even the tiniest passengers can travel along safely. Baby seats can be secured to this frame so that mum or dad can always have their eye on them. As an addition, we recommend the low sidewalls for interior assembly.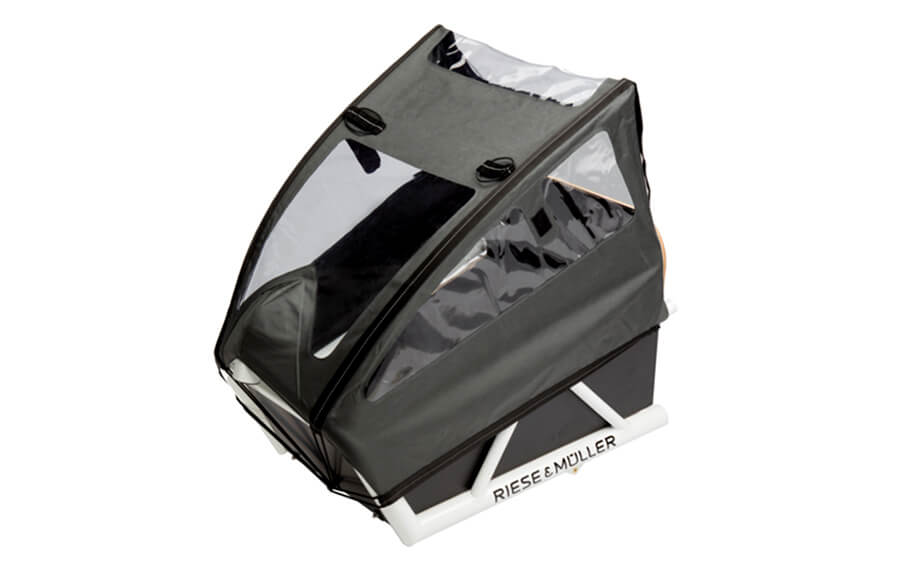 Riese & Muller Load Child cover
A few quick manual manoeuvres turn your Load into an all-weather vehicle thanks to the optional Cordura cover. So rain, cold droughts, sunshine or even stones thrown up from the road cannot harm your precious little ones.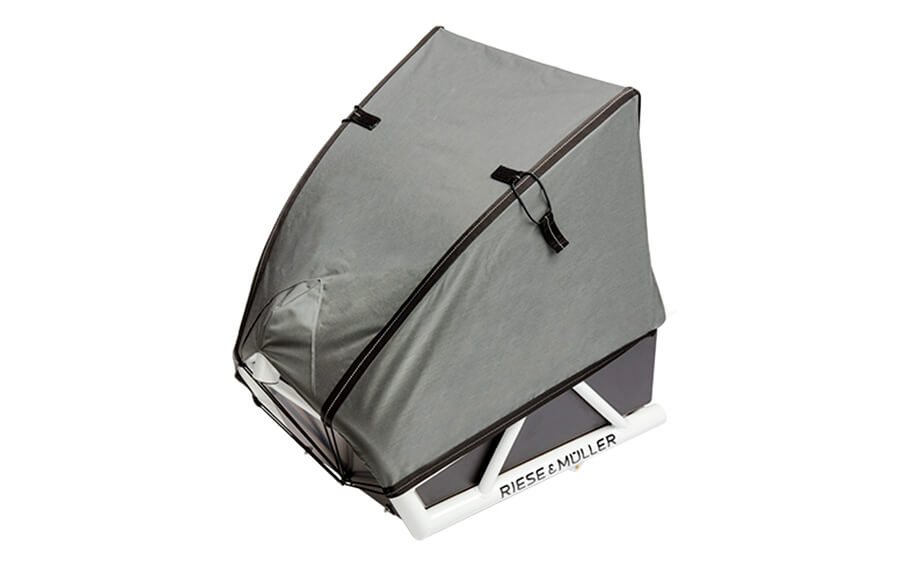 Cargo cover
As an addition to the low side walls, we advise the cargo cover made from Cordura material. It protects your cargo from all weathers and prying eyes. Low, lettered side walls externally with cargo cover.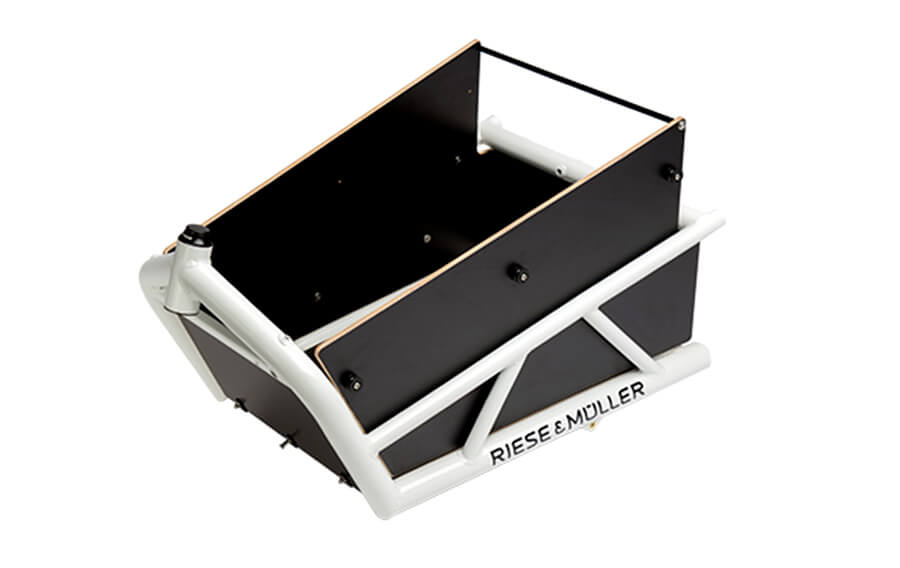 High side walls
With the optional high side walls, transporting heavy loads is a cinch. They are made from coated wood and are fitted internally.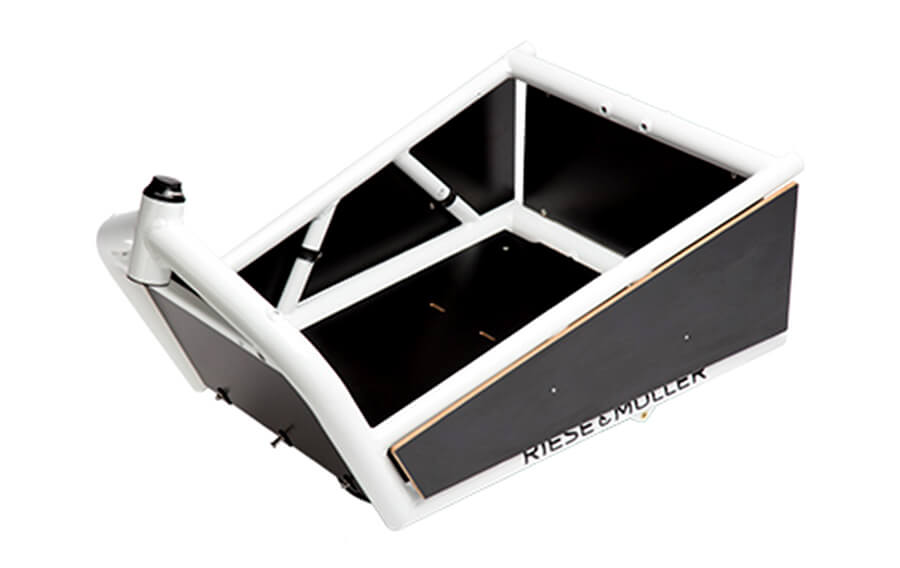 Low side walls for external fitting
Ideal for commercial use, advertising logos and lettering can be affixed to the low external walls.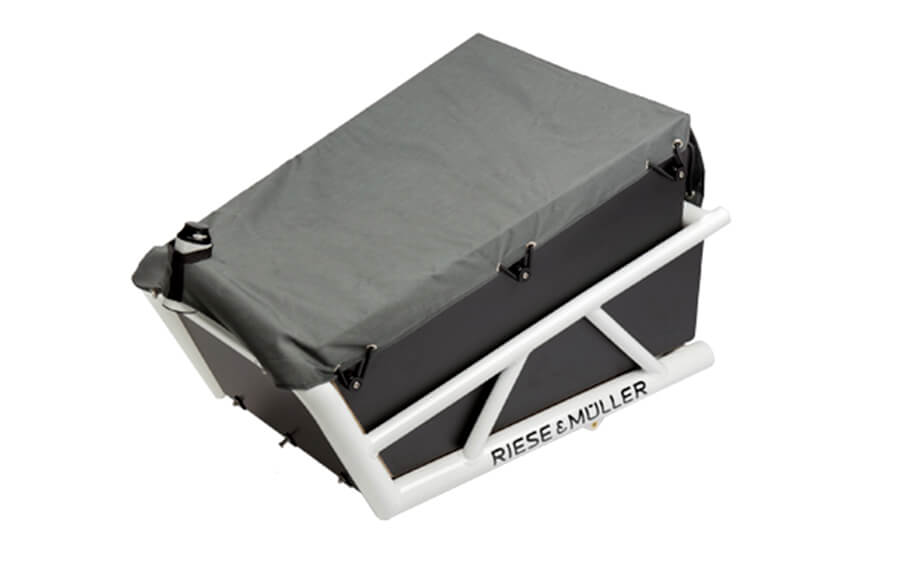 Tarpaulin
Suitable for the high side walls, a tarpaulin made from waterproof Cordura protects your cargo from all weathers.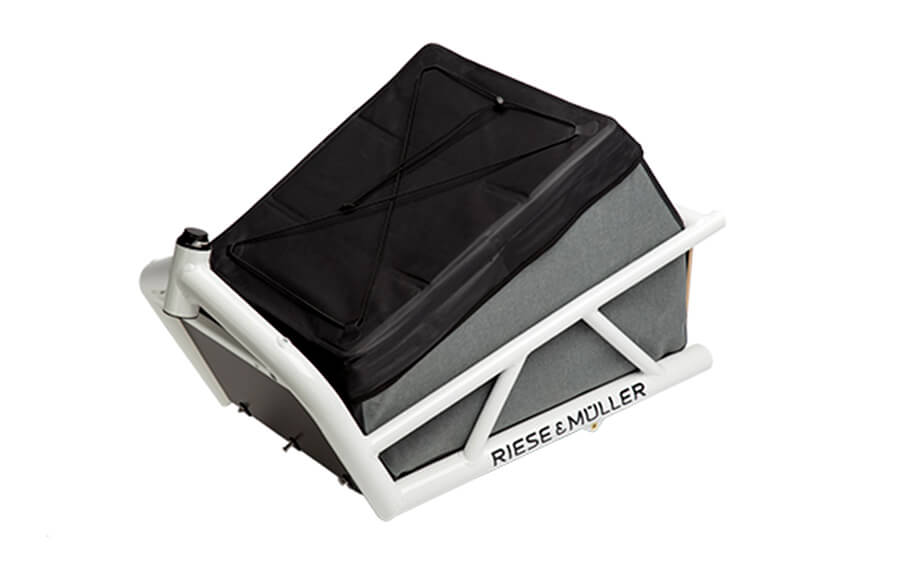 Lightweight folding box
Folded out, the lightweight and flexible folding box offers a waterproof storage space measuring 58 x 42 x 25 cm (front) / 45 cm (rear). A padlock secures your cargo. Folded down, the box becomes a tray. Bulky goods can be lashed to the rail on the frame of your Load.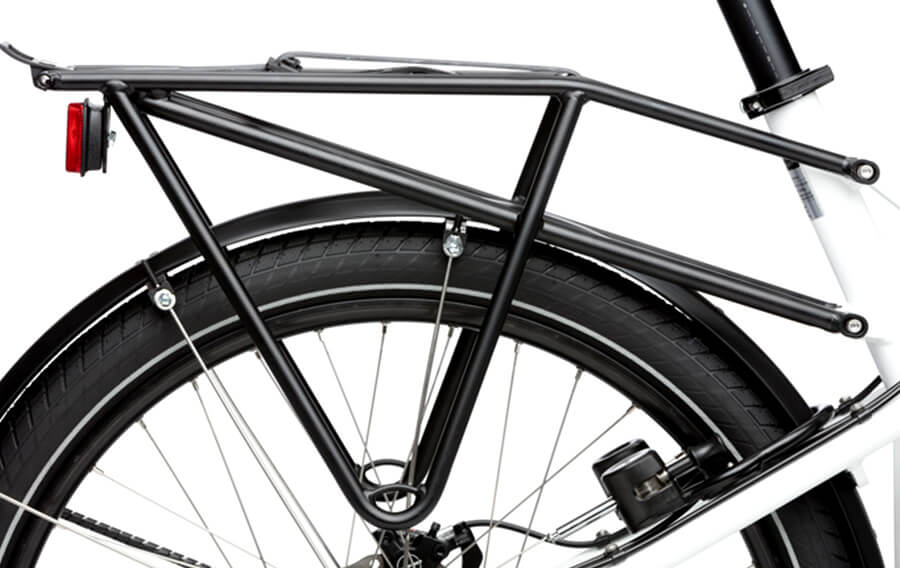 Carrier
Sometimes, the storage room at the front isn't enough, especially if you've got the kids with you too. The carrier is ideal for attaching panniers, making it perfect for longer bike trips too.
National Feed

Pedal assistance up to 28 mph. Comfortable, continuous NuVInci hub gear, always in the perfect gear, perfect shifting comfort, hydraulic Tektro disc brakes, trendy color concept, extensive accessories.

**The model version shown may be different from your selected model. We will correct all the images once we have them. If you have questions feel free to contact us.

$

7,709.00 –

$

9,062.00
Riese & Muller uses a modern Just in Time inventory strategy. Every bike is built to order in their Germany factory.
We have worked with R&M and several logistics partners to offer our customers several ordering options.
Twice a month we receive a container from Riese & Muller shipped via Sea Freight. If preferred, you have the option of having your bike shipped individually to you, arriving to us one week after it is built, for $300. **please note that cargo bikes are excluded from expedited shipping.
If you'd like a bike shipped to your home it will have to go to our shop first for us to fully build and test the bike. Please select freight when checking out.
If you have any questions about this process please feel free to contact us or if you are interested in checking out the Riese & Muller bikes that we have available for immediate shipment, please check out our Riese & Muller Stock section.