Drive
The Bosch system
Reliable, performance-oriented and innovative – these are the standards to which we hold our E-Bikes, as well as all components and especially the drive system. That's why all Riese & Müller E-Bikes are equipped with the industry-leading Bosch drive system.
Batteries
Drive
Bosch DualBattery 1,000 Wh
For long tours with lots of luggage or routes with considerable height differences, the DualBattery remains the benchmark. Riders using their E-Bike to commute to work also have to charge their bike less often. The load on the two frame batteries is minimized by means of an alternating load in 5 % increments, which significantly increasing the service life. Using the included Bosch Standard charger, both batteries can be charged directly on the bike or at any normal socket once removed. Both can even be charged together on the bike. The charging time for a single battery from a fully discharged state is only 4.5 hours. Charging them on the bike together, both batteries are fully operational again after 9 hours. It is also possible to use just one battery.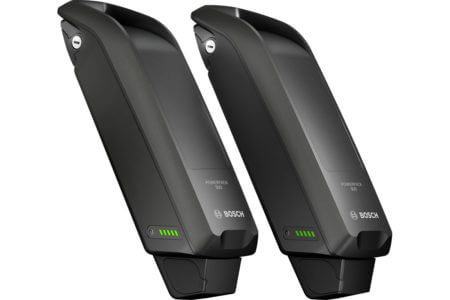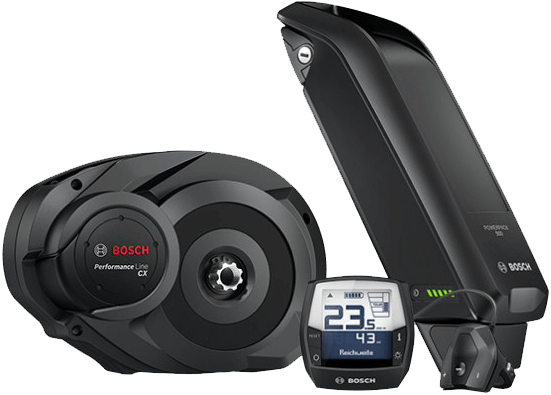 Motors
Depending on the models
Drive
Bosch Performance Speed motor
Assistance up to a speed of 28 mp/h makes the Performance Speed drive the fastest Bosch E-Bike motor. Sporty start-up characteristics, 350 watts of power and pedal assistance up to 275 % guarantee the ultimate riding pleasure with a maximum drive torque of up to 63 Nm with derailleur gear and up to 50 Nm with hub gear. For the Speed motor, you need an insurance certificate and a driving licence for small powered bikes. A driving licence for class MA (from the age of 16 upwards) or for cars includes this. Helmets are mandatory on HS models. We recommend using an E-Bike helmet that complies with the EN 1077 and EN 1078 standards.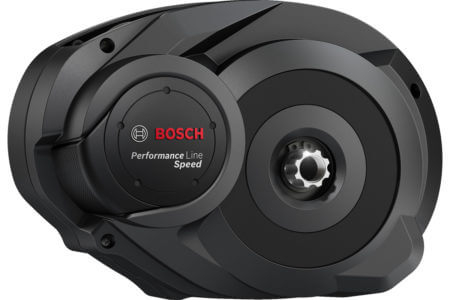 Drive
Bosch Performance CX motor
The Performance CX is the most powerful Bosch E-Bike motor ever – with pedal assistance of up to 300 %, a maximum torque of 75 Nm, very sporty start-up characteristics and pedalling rate assistance up to 120 rpm. With "Direct Flow" you have a powerful push on the back wheel from speeds of just 20 rpm. Whether it be uphill or on the flat, this acceleration will inspire you. Another highlight in the new Performance CX motor is the eMTB mode, which replaces the previous Sport mode (this is displayed as Sport mode on the Intuvia Display). Here, the progressive motor assistance automatically adapts to the individual riding style regardless of pedal pressure. This ensures optimum assistance at all times, which really pays off on climbs.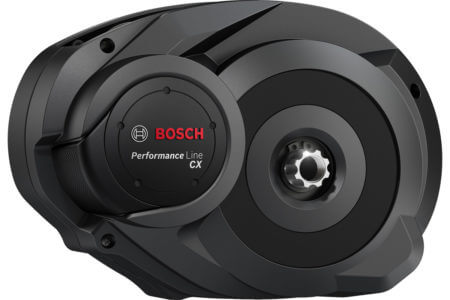 Displays
Depending on the configuration
Drive
Bosch Intuvia Display
The Intuvia display can be read under all lighting conditions and the eBike can be controlled easily and intuitively. Thanks to the separate control unit, your hands remain securely on the handlebar at all times, while the shift recommendation means you always pedal in the correct gear. This preserves the battery and increases your range. Intuvia means you always have all riding data clearly in sight.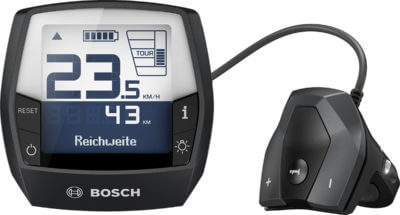 Drive
Bosch Kiox Display
Kiox is the on-board computer for ambitious sporty riders. Kiox has all the classic functions of an on-board computer, while at the same time giving you access to the digital world via the smartphone app. The color display gives you all riding data at a glance, while the separate control unit allows you to stay in control of the handlebars and keep an eye on the terrain. Kiox can record your trips and send all the relevant data via the smartphone's Bluetooth connection to the eBike Connect online portal. This makes Kiox your perfect companion on every ride. Using Bluetooth technology to connect with an optional chest strap enables you to check your current heart rate at all times, thus getting the most out of your training. The Bluetooth low energy interface also enables updates to the software to be downloaded onto your on-board computer without requiring a cable connection.
Drive
Bosch SmartphoneHub
The SmartphoneHub transforms the pedelec into a fully networked eBike and part of digital life: Thanks to the smartphone and the COBI.Bike app, the SmartphoneHub can become an intelligent control center that navigates, records activities and connects them to other services and apps. The eBike can also be started and controlled without a smartphone, because the display integrated within the SmartphoneHub shows you the most important riding data. That way you will remain flexible at all times – no matter where the route takes them.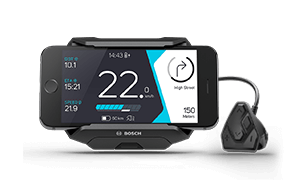 Control Technology
Great safety, even at high speeds.
Only an E-Bike with true full suspension consistently keeps ground contact even on poor roads – and keeps you in full control. The active rear wheel swing arm, optimised front wheel suspension and co-sprung luggage carrier form the core of the Control Technology. They ensure better road holding, sportier riding behaviour and safety even at high speeds and in tricky situations. Vibrations and hard knocks like those experienced on cobbles or kerbs are simply smoothed out. Your luggage is also protected by the frame-mounted, sprung luggage carrier.
DualBattery
Because not every adventure starts at your doorstep.
The DualBattery Technology perfected by Riese & Müller ensures twice the range or far higher climbs, fewer charging breaks and longer-lasting riding pleasure. The batteries are so cleverly positioned that the extra weight has no noticeable impact on riding behaviour – and yet both are easy to remove. With the 1,000 Wh now available, completely new destinations can be reached and you no longer have to worry about your range in your daily routine.
Carbon belt drive
Simple. Indestructible.
Anyone riding an E-Bike with the Gates CDX carbon belt drive is at peace. And in two ways: because on the one hand the innovative drive offers a wonderfully smooth ride and great riding comfort. While at the same time being unbelievably low-maintenance and performing its tasks with the utmost reliability. The carbon belt drive provides a new, carefree riding experience – for every need and every intent.
Folding lock
Always on high alert.
This lock knows all about quiet and loud noises: the Abus Bordo Alarm 6000A is activated as soon as you use it to secure your E-Bike. Move the bike only slightly and you'll hear a short, quiet sound. Attempt to steal it, and you'll trigger a 100 db alarm. Enough to frighten off any would-be thief. Naturally, this folding lock is also extremely strong and robust – and it closes with the same key as the battery lock, so you only need one key for your E-Bike.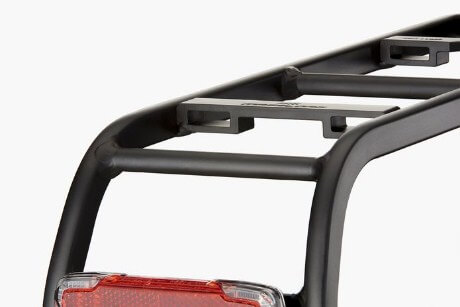 Load up, set off.
Baskets and panniers can be attached to the carrier with just one click using the MIK system from Basil. This extraordinarily stable system allows you to quickly swap bicycle accessories fitted with a MIK adapter plate. Accessories can be obtained from your dealer.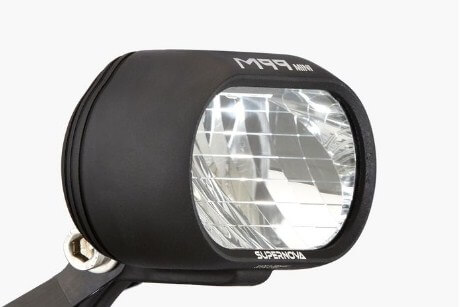 Proven vision.
No more sudden surprises with the Supernova M99 Mini front light. An impressive 1,250 lumens illuminate the road in a way that previously only car headlamps could manage. And even the 600-lumen dipped beam is far brighter than most conventional E-Bike headlamps. On all 28 mph models and even all 16 mph models, the brake light is integrated in the rear light to ensure that you are even safer on busy roads.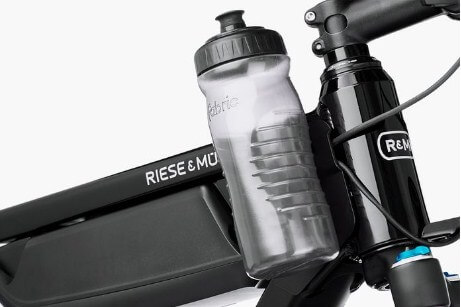 With no holder, there's no holding back.
The E-Bike features two water bottles, but without a single holder attached. This technical feat is revolutionary. The front cover plate of the frame is equipped with two mounting studs on each side, specially designed for direct mounting of cageless water bottles from Fabric. It doesn't get any easier than this when it comes to keeping two bottles within perfect reach during a ride.