Riese & Muller Delite Mountain
Riese & Muller Delite Mountain
The Delite mountain.
A challenge for every mountain.
Perhaps there is no literal form of mountain biking enthusiasm, but the Delite mountain will show it to you. Every performance-oriented driver will be amazed by the unimagined dynamics of the torque-powerful Bosch Performance CX engine. The battery is especially low and centrally arranged and allows for a handling that was only known by un-motorized mountain bikes. Thanks to the control technology with full suspension, the Delite mountain is able to master any subsoil sovereignty. And at the latest, if you feel even its extreme pulling power – even at low speeds – you will miss the words..
Riese & Muller Delite Mountain Control Technology
Look forward to the obstacles that line your path.
Only an E-Bike with true full suspension keeps ground contact on poor roads – and keeps you in full control. The active rear swing arm and optimized front wheel suspension form the core of the Control Technology. They ensure better road holding and safety at high speeds and in tricky situations. Vibrations and hard knocks like those experienced on cobbles or curbs are significantly diminished.
Riese & Muller Delite Mountain Dual Battery
Twice the range. Twice the riding pleasure.
Riese & Müller is doubling the range of its E-Bikes with DualBattery technology – in other words, by adding a second battery. This steps up battery capacity to 1,000 Wh. Using a charger, both batteries can be charged at the same time. Depending on your needs, you can also use just one battery to go on a ride. Its DualBattery technology puts Riese & Müller at the top of its class in terms of riding range.
Riese & Muller Delite Mountain Safe and super-bright lighting
A bright future.
Always ride with excellent road illumination thanks to the IQ-X headlamps from busch+müller. Only daylight is brighter than their exceptional brightness of over 100 lux. With its very wide-sweeping and homogeneous large-area illumination of the street, you won't miss a thing. They are operated via the Bosch display, while the energy is supplied via the battery. The Tail Light from Supernova makes you very easy to see from the rear. At the same time, it is hardly noticeable and very discreetly mounted on the rear disc brake.
Riese & Muller Delite Mountain Dropper Seatpost
One saddle for all gradients.
The enjoyment of E-biking is not just riding uphill, but traditional downhill riding as well. A normal high saddle can be troubling here. With the TranzX seatpost, the saddle can be quickly lowered up to 100 mm by remote control on the handlebar to give you significantly better control of your Delite mountain – specifically on challenging terrain.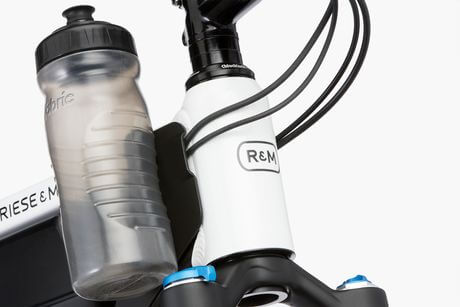 With no holder, there's no holding back.
The E-Bike features two water bottles, but without a single holder attached. This technical feat is revolutionary. The front cover plate of the frame is equipped with two plastic pegs on each side, both left and right, specially designed for direct mounting of the cageless water bottles from Fabric. It doesn't get any easier than this when it comes to keeping two bottles within perfect reach during a ride.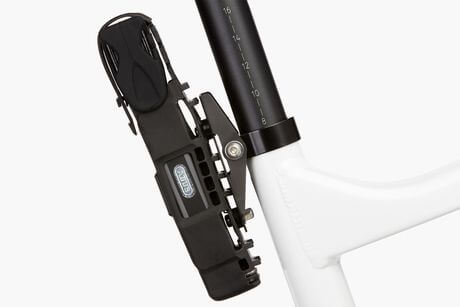 Steal success from thieves.
With the optional ABUS Bordo 90 cm folding lock, the bike can be secured to virtually anything. It locks simultaneously with the battery lock, which means you only need one key for your E-Bike.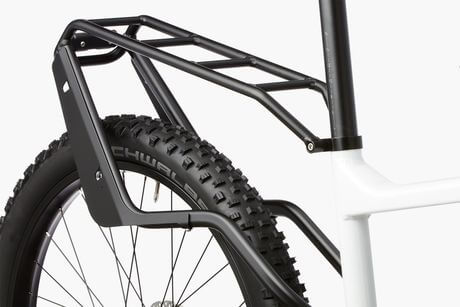 Packed for adventure.
For riders who like not only being off the beaten track but on it too, there's the optional co-sprung luggage carrier. With its superlative stability and suspension, the first-class riding characteristics of the Delite mountain are maintained even with a full load.
National Feed

With the lightweight and efficient Shimano Deore XT 11-speed derailleur gear, you've always got the best support even on the steepest hills. After all, the proven shifting technology possesses a high degree of efficiency.

**The model version shown may be different from your selected model. We will correct all the images once we have them. If you have questions feel free to contact us.

$

6,879.00 –

$

8,174.00

National Feed

Riese & Muller Delite Mountain Rohloff is a full suspension e-mountain bike. It features Rohloff hub shift 14-speed with huge transmission range up to 520% and other high-quality parts

**The model version shown may be different from your selected model. If you have questions feel free to contact us.

$

8,399.00 –

$

9,812.00
Riese & Muller uses a modern Just in Time inventory strategy. Every bike is built to order in their Germany factory.
We have worked with R&M and several logistics partners to offer our customers several ordering options.
Twice a month we receive a container from Riese & Muller shipped via Sea Freight. If preferred, you have the option of having your bike shipped individually to you, arriving to us one week after it is built, for $300. **please note that cargo bikes are excluded from expedited shipping.
If you'd like a bike shipped to your home it will have to go to our shop first for us to fully build and test the bike. Please select freight when checking out.
If you have any questions about this process please feel free to contact us or if you are interested in checking out the Riese & Muller bikes that we have available for immediate shipment, please check out our Riese & Muller Stock section.