Riese & Muller Delite 25
Riese & Muller Delite 25
The Delite 25.
Your aluminium E-Bike dream turned reality.
After 25 years of constant development of E-Bikes, folding bikes and E-Cargo bikes, it's time to launch a new flagship onto the streets. To mark this anniversary, the two company founders Markus Riese and Heiko Müller developed an E-Bike inspired by their dreams: the Delite 25. It was specified exactly as they both imagined their dream bike to be. Its basic configuration boasts what we feel to be the best components available on the market, like the electronic Shimano XTR Di2 gear, FOX Factory suspension elements with practically frictionless Kashima coating, Syntace components and DualBattery technology. We call it perfection – both visually and technically. Every Delite 25 comes with a box with exclusive content.
Riese & Muller Delite 25 Control Technology
Look forward to the obstacles that line your path.
And to potholes, lumps and bumps. Vibrations and sharp shocks are simply ironed out. Because with Control Technology – full suspension plus other safety components – the Delite 25 maintains contact with the ground on poor road surfaces and you remain in full control. As the flagship of Control Technology, only the very best components from FOX Factory have been used. The active rear swing arm, optimized front wheel suspension and co-sprung luggage carrier form the core of this technology. They ensure better road holding, a more sporty feel and increased safety at high speeds and in tricky situations.
Riese & Muller Delite 25 DualBattery
Design miles ahead.
The standard DualBattery doubles the range by using a second battery, which increases battery capacity to an incredible 1,000 Wh. Besides being able to go twice as far on long trips, you no longer have to worry about your range in your day-to-day riding either. Our engineers have integrated the batteries so skillfully that the additional weight and battery position have no effect on riding behavior. Depending on your needs, you can also use just one battery to go on a ride.
FOX Factory suspension elements
Like riding on air on bumpy roads.
The best from FOX, the FOX Factory elements with Kashima coating are among the highest-quality suspension elements and suspension forks on the market. The Kashima-coated, high-performance anodised lower legs are virtually frictionless, particularly sensitive, abrasion-resistant and have an excellent response thanks to a very low breakaway torque. The suspension fork and the suspension element can be easily adjusted to terrain requirements in three settings using the quick adjustment mechanism.
Hydraulic disc brakes
The fastest route to a standstill.
The best E-Bike from the Riese & Müller stable obviously features the best brakes: hydraulic Shimano XTR disc brakes. They guarantee maximum control in any weather and any situation and impress with their consistent braking performance. The braking force can be applied particularly well thanks to the large brake discs. And since they are disc brakes, there is no wear on the rim.
Electronic Shimano XTR Di2 gear
A gear for all paces.
One of the most innovative and high-quality groupsets from the Shimano portfolio the dream E-Bike naturally shouldn't do without: the electronic Shimano XTR Di2 gear. Its electronic control makes grinding cables obsolete. It allows immediate gear change reactions with high precision and eliminates faulty operation. The gear system is entirely insusceptible to dirt and draws current directly from the E-Bike's battery.
Riese & Muller Delite 25 Syntace components
Precision down to the last fibre.
Everything has been carefully thought out in the high-quality Syntace components, down to the smallest detail. The particularly sturdy carbon handlebar offers increased safety thanks to new types of fibre, a new arrangement of fibre layers and extra-reinforced, high-strain points. Its sophisticated elasticity means it is better at absorbing small impacts and vibrations while maintaining extremely precise and stiff steering. The lightweight and high-strength aluminium seatpost has an impeccable saddle fixing mechanism and great adjustment options. The Syntace Force stem is characterised by particularly high stability and can handle anything you throw at it. Its unrivalled combination of a new, high-strength, forgeable aluminium alloy and genuine 3D forging make it super stable, extremely stiff and exceptionally light.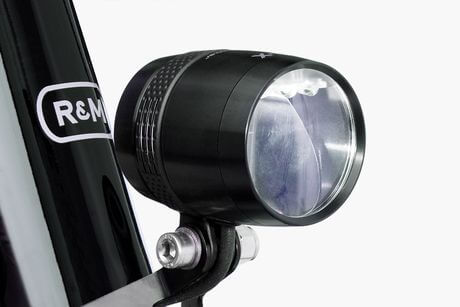 Helps night owls see in the dark.
Always ride with excellent road illumination thanks to the IQ-X headlamps from Busch & Müller. Only daylight is brighter than their exceptional brightness of over 100 lux. With its very wide-sweeping and homogeneous large-area illumination of the street, you won't miss a thing. They are operated via the Bosch display, while the energy is supplied via the battery.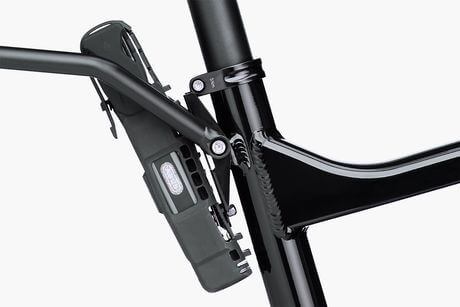 Steal success from thieves.
With the ABUS Bordo 90 cm folding lock, your Delite 25 can be securely fastened to virtually anything. It locks simultaneously with the battery locks, so you only need one key for your E-Bike and the battery.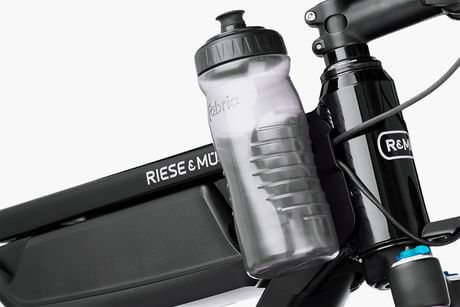 With no holder, there's no holding back.
The E-Bike features two water bottles, but without a single holder attached. This technical feat is revolutionary. The front cover plate of the frame is equipped with two mounting studs on each side, specially designed for direct mounting of cageless water bottles from Fabric. It doesn't get any easier than this when it comes to keeping two bottles within perfect reach during a ride.
National Feed

The ultimate E-Bike with top-of-the-range features: The high-precision electronic XTR Di2 11-speed derailleur gear offers shifting comfort at the highest technological level.
Riese & Muller uses a modern Just in Time inventory strategy. Every bike is built to order in their Germany factory.
We have worked with R&M and several logistics partners to offer our customers several ordering options.
Twice a month we receive a container from Riese & Muller shipped via Sea Freight. If preferred, you have the option of having your bike shipped individually to you, arriving to us one week after it is built, for $300. **please note that cargo bikes are excluded from expedited shipping.
If you'd like a bike shipped to your home it will have to go to our shop first for us to fully build and test the bike. Please select freight when checking out.
If you have any questions about this process please feel free to contact us or if you are interested in checking out the Riese & Muller bikes that we have available for immediate shipment, please check out our Riese & Muller Stock section.