Riese & Muller Cruiser
Riese & Muller Cruiser
The Cruiser.
Makes every mile a promenade.
How do you imagine a stroller to look like these days? We only imagine one: You. On the Cruiser. Elegant. Timeless. Followed by the admiring glances of passers-by, who wish they were where you are. Well away from the everyday. Well away from the grey boredom of mainstream. And yet they are only a few meters away from you. The sophisticated color combination of the frame, grips and 28" tires, together with the shiny chrome chain guard, makes your Cruiser a real bright spot on the road. And its Bosch Performance motor will be a revelation for you.
Riese & Muller Cruiser Timeless elegance
Riding ahead of fashion, not following it.
With an E-Bike, you can get away from it all. Not even time can catch up with the Cruiser. Brown color accents and the handlebars, optionally turned downwards for sporty biking or comfortably mounted upwards, provide expression for its timeless elegance.
Riese & Muller Cruiser Frame lock
Stops thieves.
Park your Cruiser wherever you want. Only you can take it away. The frame lock clicks shut simultaneously with the battery lock, which means you only need one key for your E-Bike.
Riese & Muller Cruiser Suspension fork and suspension seatpost
Turns gravel tracks into freshly asphalted roads.
Cobbles can be as difficult to negotiate as any route out in the wild. The suspension seatpost and sensitive suspension fork offer so much comfort that you'll barely feel any bumps.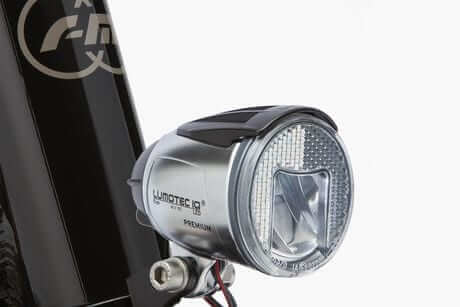 A bright future.
Always ride with excellent road illumination thanks to the LED headlamps from Busch & Muller. They are operated via the Bosch Display, while the energy is supplied via the battery.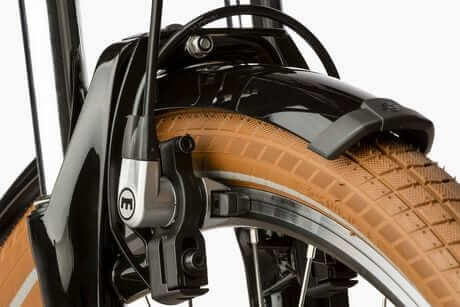 The fastest route to a standstill.
The low-maintenance Magura HS22 hydraulic rim brakes and HS11 on the Cruiser NuVinci HS set the standard in terms of safety and reliability. With low rim wear and excellent braking properties, you'll arrive safely at your destination.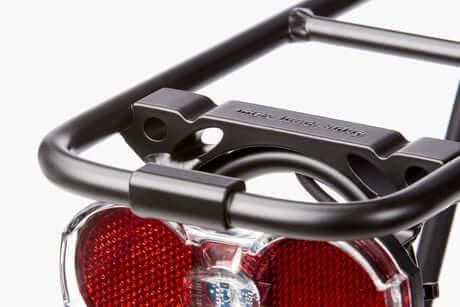 Load up, set off.
Baskets, panniers and child seats can be secured in record time to the carrier thanks to the "snapit" system from racktime. With just a click, your payload can be changed quicker than a pit stop. Contact us for assistance in selecting suitable accessories for your Riese & Muller Cruiser.
Riese & Muller Cruiser Option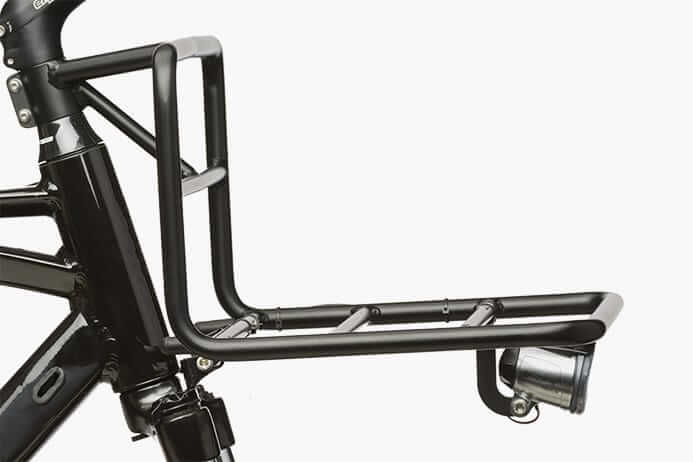 Front carrier Cruiser
Lend your E-Bike a new charm and most importantly practicality. Whether it be a case of wine or a weekly supermarket shop, you'll soon come to love the front carrier.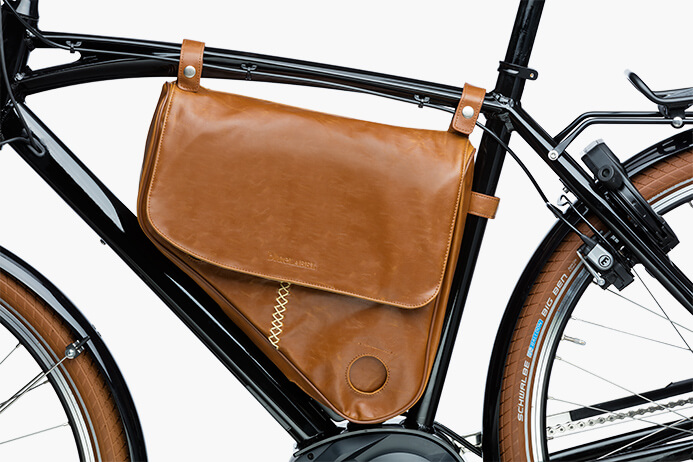 Frame Bag
This practical travel companion refines your Cruiser with its stunning vintage leather look. The weather-proof, vegan material is extremely resilient and not only protects its contents, but also the battery. Its inner pockets offer space for smartphones, raincoats, chargers and much, much more.
National Feed

Riese & Muller Cruiser Nuvinci HS has an elegant color combination in retro look. It's a Speed Pedelec e-bike with Bosch Speed Performance Speed Motor that supports up to 28mph.

**The model version shown may be different from your selected model. We will correct all the images once we have them. If you have questions feel free to contact us.

$

4,589.00

National Feed

Comfortable cruising comes as standard with the Bosch Performance CX motor and the NuVinci hub gear, without gaps between shifts and always in the right gear.

**The model version shown may be different from your selected model. We will correct all the images once we have them. If you have questions feel free to contact us.

$

4,389.00 –

$

4,507.00
Riese & Muller uses a modern Just in Time inventory strategy. Every bike is built to order in their Germany factory.
We have worked with R&M and several logistics partners to offer our customers several ordering options.
Twice a month we receive a container from Riese & Muller shipped via Sea Freight. If preferred, you have the option of having your bike shipped individually to you, arriving to us one week after it is built, for $300. **please note that cargo bikes are excluded from expedited shipping.
If you'd like a bike shipped to your home it will have to go to our shop first for us to fully build and test the bike. Please select freight when checking out.
If you have any questions about this process please feel free to contact us or if you are interested in checking out the Riese & Muller bikes that we have available for immediate shipment, please check out our Riese & Muller Stock section.