Riese & Muller Charger Mixte
Riese & Muller Charger Mixte
The Charger mixte.
The most beautiful side of nature is its wildest
The lavender field you're riding through stretches ahead of you as far as the eye can see. Its beauty competes with the Alpine poppy on the summit of the mountain you climbed last week with your Charger Mixte. The Bosch Performance motors and optional belt drive have been created to make conquering even the steepest mountain passes a breeze. A precisely-conceived geometry with optimized step-through height and 29" wheels guarantee the ultimate in riding comfort. Across the field, birds show you the way to the distance. Somewhere beyond the horizon is the city, and with it, everyday life. Bring it on. The Charger Mixte is ready for anything.
Riese & Muller Charger Mixte – High chainstay
Low step-through. Highly sporty appearance.
Even a parked Charger Mixte looks sporty enough to look like it's ready to lock horns with mountain goats 8,200 feet up. The reason? The high chainstay. It also allows a version with a robust and easy-care carbon belt drive. So sporty riders can throw off those chains and actually get started in the race on the mountain.
Riese & Muller Charger Mixte Design
You see – nothing.
On the Charger Mixte models, every detail delivers superb functionality. Even the design. The cables run hidden under the top tube and through the frame.
Riese & Muller Charger Mixte – Suspension fork and suspension seatpost
Turns gravel tracks into freshly asphalted roads.
Cobbles can be as difficult to negotiate as any route out in the wild. The optional parallelogram-shaped suspension seatpost and sensitive suspension fork offer so much comfort that you'll barely feel any bumps. Depending on the weight of the rider and the degree of comfort preferred, there are three levels of seatpost suspension to choose from.
Riese & Muller Charger Mixte Lock
Stops thieves.
Park your Charger Mixte wherever you want. Only you can take it away. Depending on the model, it comes with either a frame lock as standard or the optional Abus Bordo Plus folding lock on all GH, GT and mountain models. Both locks click shut simultaneously with the battery lock, which means you only need one key for your E-Bike.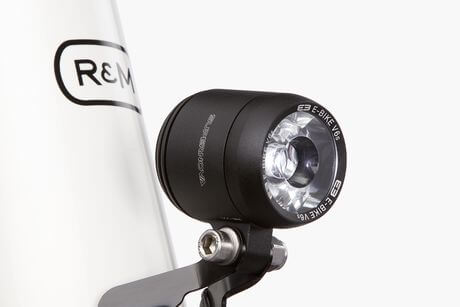 A bright future.
Always ride with excellent road illumination thanks to the LED headlamps from Supernova. Only daylight is brighter than their exceptional brightness. They are operated via the Bosch Display, while the energy is supplied via the battery.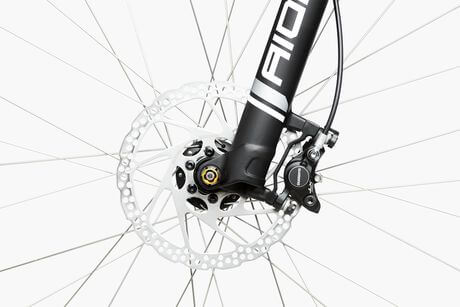 The fastest route to a standstill.
The hydraulic Shimano Deore or Shimano Deore XT disk brakes deliver maximum performance, no matter what the weather. The large brake disks allow the braking effect to be distributed most effectively. They don't produce rim wear and impress with their consistent braking performance.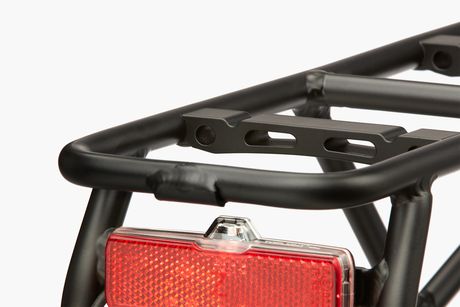 Load up, set off.
Baskets, panniers and child seats can be secured in record time to the carrier thanks to the "snapit" system from racktime. With just a click, your payload can be changed quicker than a pit stop. Accessories can be obtained from your dealer.
National Feed

Sporty, chic, comfortable and pretty fast. The assistance up to 28 mph from the Bosch Performance Speed motor greatly contributes to the riding pleasure. With the continuous NuVinci hub gear and Gates belt drive you are always on the move in the perfect gear. **The model version shown may be different from your selected model. We will correct all the images once we have them. If you have questions feel free to contact us.

$

4,999.00