Haibike XDURO FatSix 6.0 2017
Haibike XDURO FatSix 6.0 2017
The Haibike XDURO FatSix 6.0 2017 for rough terrain. With its tire width of 4 inches and Bosch performance mid-drive system, it is ideal for rough terrain or extremely loose surfaces like gravel, snow or sand.
The Haibike XDURO FatSix 6.0 2017 with the Bosch performance mid-drive system are perfect for rough terrain or extremely loose surfaces like gravel, snow or sand.
Frame: The Haibike XDURO FatSix 6.0 2017 features a lightweight hydroformed 6061 aircraft grade aluminum frame. It has a high strength to weight ratio and is highly resistant to corrosion. The frame also features a cable inlet system giving the bike an elegant solution for routing the wires and cables. Some other notable frame features include a gravity cast junction giving superior strength to the central load area and the Haibike's high clearance centrally mounted motor is protected with their unique skidguard design.
Brakes: The Haibike XDURO FatSix 6.0 2017 is equipped with high quality Magura MT5 aluminum front brake and Magura MT4 aluminum rear brake. In addition to providing reliable stopping power, these brakes are low-maintenance and easy-to-control.
Drivetrain: The Haibike XDURO FatSix 6.0 2017 features SRAM NX 11-speed rear derailleur paired with a SRAM NX trigger switch shifter located on the grip.
Top Speed: Like most electric bikes sold in the US, the The Haibike XDURO FatSix 6.0 2017 has a top speed of 20 mph in keeping with federal law. There are ways to remove this speed limit for use on private roadways, however the jury is still out on how this will impact your Warranty. Until we get an official word from Haibike, we're going to err on the side of caution. Please contact us to learn about the concerns with making this modification.
Sizing Options: It comes in a variety of sizes; Small (40cm), Medium (45cm), and Large (50cm). If you're unsure of what size would be best for you, please contact us so that we can assist you in finding your correct fit.
Tires: The power meets the ground with it's Schwalbe Jumbo Jum Evo 100-559 tires.
Accessories: Our team has a lot of experience outfitting bikes with additional accessories, so be sure to reach out to us if there's anything you may need.
Motor: The Bosch Performance CX has been specially optimized for performance for sports use. The engine delivers up to a high speed range, a constant maximum torque of up to 70Nm.
The "Direct Flow" technology, which guarantees a powerful support in the lower cadences from 20 U / min. The Trail Control provides a dynamic power control, in which the driver always choose the right level of support (50-300%) and thus the perfect coordination can adjust for terrain. The Gear Change Control enables chain-sparing gear changes.
Battery:  To reduce the visual "weight", we sink the Bosch battery slightly in the down tube. Through a combination of hydroformed tubes and special castings we bind the battery optically into the frame and can avoid the conventional, tight-tolerance welding of the attachment points. In addition, to reduce the distance between the motor and battery to 11mm succeeded.
Display: The extremely legible and removable Intuvia display provides all information as actual, average and maximum speeds, day trip and total distance. In addition, it provides information on the time, driving time and total operating time of the e-bikes and the actual engine performance.
Accurate remaining range indicator indicates how far the current charge level. From the remote of the five support modes (Eco, Tour, Sport, Turbo & OFF) selected or the pushing aid can be activated. The "OFF-board use" ensures that all functions can be accessed even when removed. A Micro-USB connector enables charging function for navigation system, mobile phone or MP3 player.
Lights: Lighting at the wheel is not only an important safety feature, but extends the application using the daylight borders. However lights are with the character sporty bikes in stark contrast.
Headlight and taillight are STVZ compliant. Both can be upgraded individually or as a set at each XDURO. The on and off via the light button on the Bosch display. The result is a naturally-acting lighting system that integrates itself seamlessly in sportive bikes.
Skidplate: Especially with eMTBs include bouncing or rockfalls, which can seriously damage the deep-seated motor, an everyday occurrence. The Skidplate is useful as a protective device not only from a technical perspective, it also encompasses optical engine.So this is visually part of the frame. The result is a technically perfect tailed motor which, as its standard solution, a non-autogenous part is not, but is a self-evident center of ePerformance bikes.
Sprocket: The Bosch Performance CX drive has a compared to classical chainrings significantly smaller drive pinion. This rotates faster than the revolution of the crank, thereby transferring more power on less teeth to 2.5 times.
Additional information
FRAME

6061 Aluminum, Gravity Casting Interface, hydroformed, thru axle M12 (1.50) x 197mm, disc brake Postmount

MOTOR

Bosch Performance CX, 250W, 75Nm, 20 mp / h

DISPLAY

Bosch Purion

BATTERY

Bosch Power Pack, 500 Wh

CHARGER

Bosch quick charger 4A

Front Suspension

RockShox Bluto remote lockout, air Travel: 100mm, aluminum shaft 1 1/8 "- 1 1/2" tapered, half shaft

Rear Derailleur

NX, 11-speed, SRAM

GEAR LEVER

Sram NX, trigger switch

SPROCKET (REAR)

Sram PG1130, 11-42 teeth

CHAIN

Sram PC1110

CHAINRING

Haibike CNC Sprocket steel Fatbike, 16

Front Brake

BRAKE (FRONT)
Magura MT5, aluminum

REAR BRAKE

Magura MT4, aluminum

TIRE

Schwalbe Jumbo Jim Evo, 100-559

RIMS

Alexrims Blizzerk Pro, aluminum

FRONT HUB

XLC Evo Disc, floating axle 15×150 Fatbike

REAR HUB

XLC Evo Disc, floating axle 12×197, Fatbike

SPOKES

DT Swiss Industry, black

HANDLEBARS

Haibike Components TheBar +++ Gravity 35 780mm

HANDLES

XLC screw handles Sport

Stem

Haibike Components TheStem +++ Gravity, A-Head, bar bore: 35mm, 0˚

Headset

A-Head Alloy Tapered

SADDLE

XDURO Light MTB

SEATPOST

Haibike Components The Seat Post +++, patent, 31.6mm

PEDALS

XLC freeride platform pedal

WEIGHT

50.5 lbs.

WHEEL SIZE

26 "
Below sizes are recommended as a good starting point when thinking about sizing. Please contact us for recommendations based on your specific needs.
---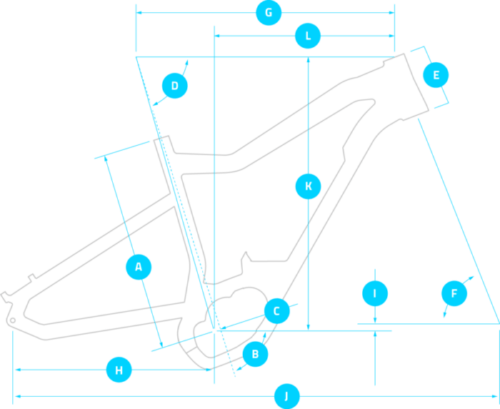 | | | | | |
| --- | --- | --- | --- | --- |
| | Frame size | S | M | L |
| A | FRAME HEIGHT | 40 cm | 45 cm | 50 cm |
| B | SEAT TUBE ANGLE | 73 ° | 73 ° | 73 ° |
| C | SEAT TUBE OFFSET | – | – | – |
| D | SEAT ANGLE | 73 ° | 73 ° | 73 ° |
| E | HEAD TUBE LENGTH | 120 mm | 130 mm | 140 mm |
| F | HEAD TUBE ANGLE | 69 ° | 69 ° | 69 ° |
| G | TOP TUBE LENGTH (HORIZONTAL) | 570 mm | 600 mm | 630 mm |
| H | CHAINSTAY LENGTH | 475 mm | 475 mm | 475 mm |
| I | BB DROP | -50 mm | -50 mm | -50 mm |
| J | WHEEL BASE | 1127 mm | 1157 mm | 1188 mm |
| K | STACK | 624 mm | 633 mm | 642 mm |
| L | REACH | 379 mm | 406 mm | 434 mm |