Bosch eBike System
Drive unit, rechargeable battery and on-board computer: Each of the three products features the highest technical quality, together ensuring maximum riding enjoyment. The individual components of the Bosch eBike system harmonize like a well-drilled team. The result is a perfectly coordinated combination for maximum efficiency, comfort and riding enjoyment.
Batteries
Depending on the configuration
Bosch PowerPack 400 frame battery
Whether visiting friends, enjoying a country bike ride in the fresh air or doing some errands with the eBike: PowerPack 400 delivers the energy required. The light lithium-ion battery is easy to install or remove or can simply be charged using the charging socket on the eBike. Its long life, ergonomic design and ease of handling means the PowerPack 400 provides reliable support that is strong on performance. The PowerPack 400 is included as a frame or rack battery for all product lines.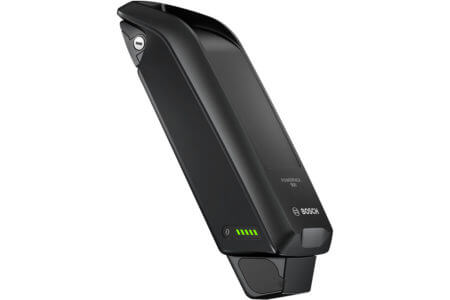 Bosch PowerPack 500 frame battery
The powerful lithium-ion battery attached to the framehas an energy reserve of 500 Wh. High reliability and a service life of 800 to 1,000 charging cycles make it a strong companion over hill and dale. It can be charged directly on the E-Bike or removed from the frame in a single step. It takes 4.5 hours to charge from a fully discharged state. So with the PowerPack 500 you are perfectly equipped for any trip.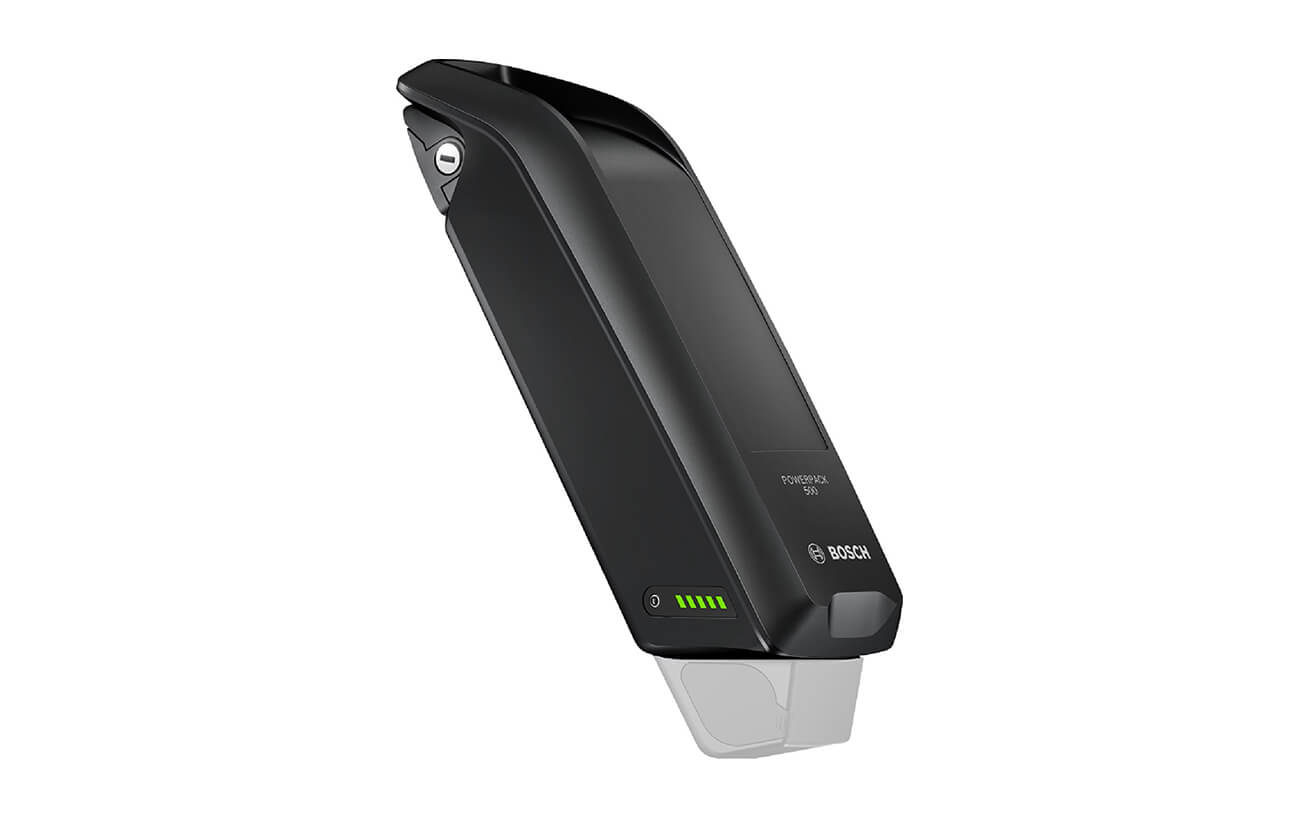 Motors
Depending on the model
Bosch Performance Sport Gen 3
The new Bosch Performance Line Sport ensures riding enjoyment, particularly during athletic riding at high cadences. The drive weighs only 7 lbs. and accelerates smoothly over 20 mph, with a maximum speed of 28 mph – for care-free riding and that unique Bosch riding sensation.
Propel's video about Bosch performance sport motor
Bosch Performance Line Gen 3
The Performance Line is made for ambitious riders – whether for trekking, all-mountain riding or commuting. The finely balanced system facilitates top performance and a sporty riding style by delivering the necessary support at precisely the right moment for more riding enjoyment in the saddle.
Displays
Depending on the configuration
Purion Display
Design meets functionality: Purion is the minimalist on-board computer for everyone wishing to have a neat look on the handlebar, be it for use in the city or the countryside. You get all important information conveniently at the touch of a button during the ride, with both hands remaining on the handlebar. Five different riding modes give you the correct support in every situation.
REMIDEMI. READY. CLEVER. BOLD.
The longer I design ebikes the more I realize they are less bikes and more two-wheeled electrical vehicles. That means they will continue to take on their own looks, identity and most importantly their own purpose. The electric motor changes how bikes ride, what you can do with them and what they are allowed to look like. Fat, small tires are no longer slow and hard to ride; they are fun, grippy and offer lots of cushy suspension. Low step through frames are cool and convenient. High handlebars allow you to sit upright with a clear view of the road. Bigger saddles are comfy and make you want to ride further. The RemiDemi was designed to shed those old and outdated beliefs. It's a totally new breed of ebikes with a fun yet sturdy and stable ride that gives you more control. The unique and iconic lines of the pragmatic frame design give it a fresh yet timeless and simple look. And of course being a Benno it has our trademarked Etility® Design which means it can carry more cargo and can easily be accessorized with different Benno front trays, Yepp® child seats and most Racktime® baskets, trays and bags.
REMIDEMI SIZING AND CAPACITY
FITS WIDE RANGE OF RIDERS 5'1"/155CM – 6'1"/185CM
MAX GROSS WEIGHT 400LB/180KG (RIDER+CARGO+BIKE)
Be aware, when added together, the individual load ratings shown for the rider and cargo plus the actual weight of the bike will exceed max gross weight. Therefore, while you may maximize selected individual load ratings, the sum of all loads cannot exceed the max gross weight (rider+cargo+bike ≤ 400lb/180kg
REMIDEMI. THE ETILITY BIKE.
Like all Bennos the RemiDemi is a true Etility Bike that rides well, looks great and has lots of practical cargo capabilities. The rear rack of the RemiDemi lets you simply click in a Thule® Yepp Maxi Easyfit child seat or most Racktime® accessories such as baskets, crates, bags and trays. In addition you can easily attach any of our frame mounted Benno Front Trays and Baskets which will vastly increase your loading capacity. The RemiDemi is not only fun to ride but can really pack a load.
Carry a passenger (85lbs/40kg max) with Passenger Kit and Jump Seat Rear Rack.
Compatible with Yepp® and other popular child seats.
Fits most Racktime® accessories for more versatility.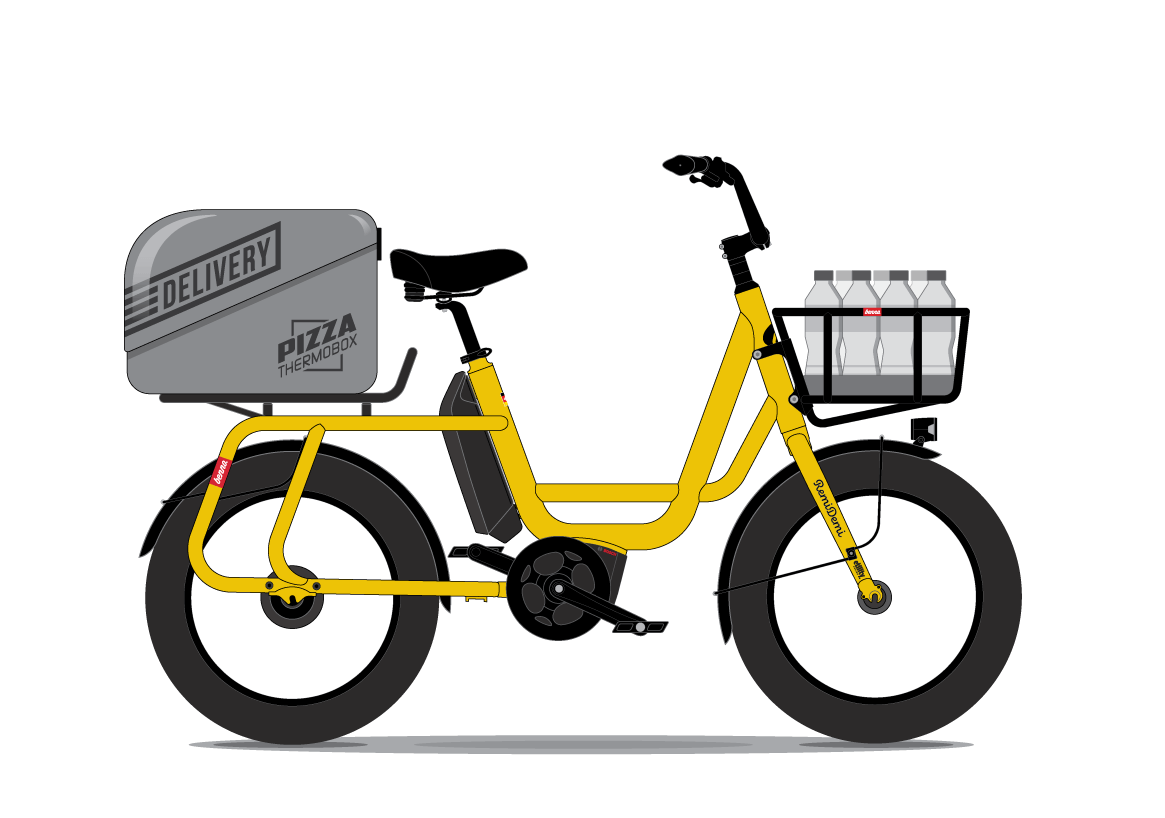 Delivery box and City Front Basket for commercial use.
Attach your own crate to our Sport Front Tray.
Secure frame-mounted front tray options.
Works great with seatpost mounted
surfboard racks.
City Pannier Bags fit onto our Jump Seat Rear Rack.
Choose your Remidemi Models