Bosch eBike System
Drive unit, rechargeable battery and on-board computer: Each of the three products features the highest technical quality, together ensuring maximum riding enjoyment. The individual components of the Bosch eBike system harmonize like a well-drilled team. The result is a perfectly coordinated combination for maximum efficiency, comfort and riding enjoyment.
Batteries
Depending on the configuration
Bosch PowerPack 500 frame battery
The powerful lithium-ion battery attached to the framehas an energy reserve of 500 Wh. High reliability and a service life of 800 to 1,000 charging cycles make it a strong companion over hill and dale. It can be charged directly on the E-Bike or removed from the frame in a single step. It takes 4.5 hours to charge from a fully discharged state. So with the PowerPack 500 you are perfectly equipped for any trip.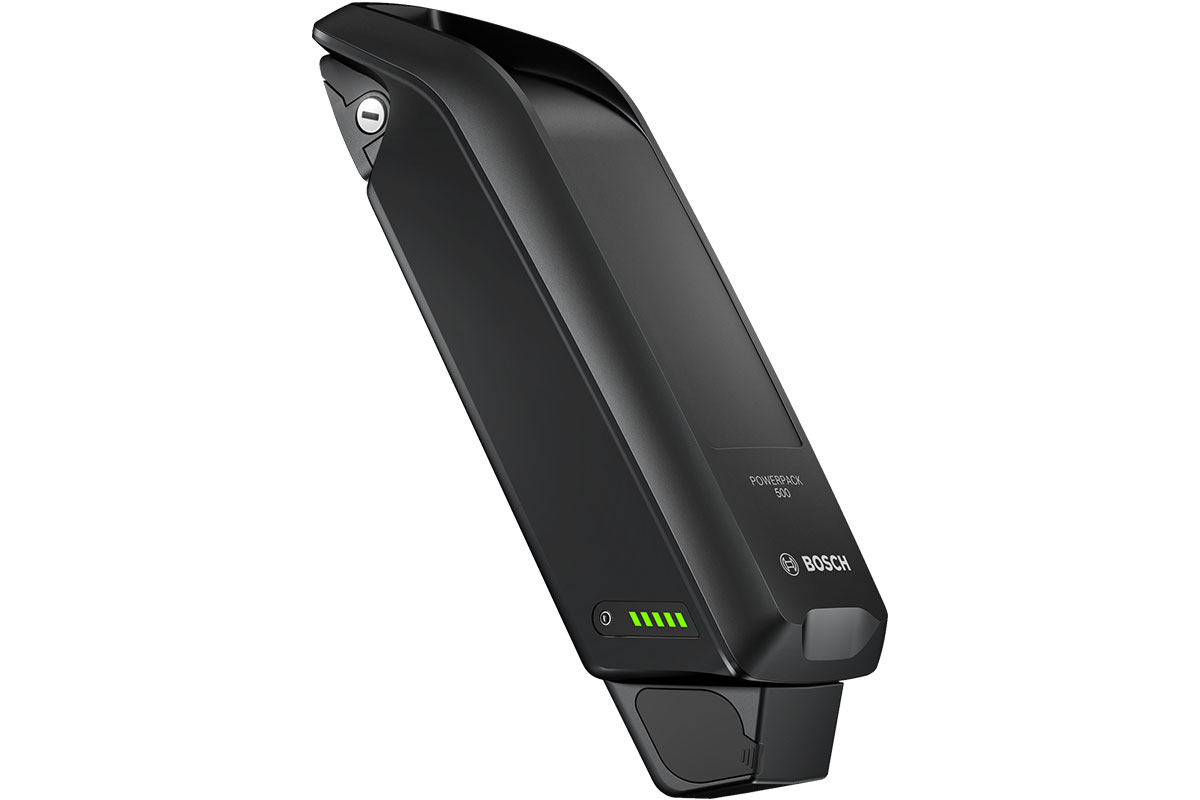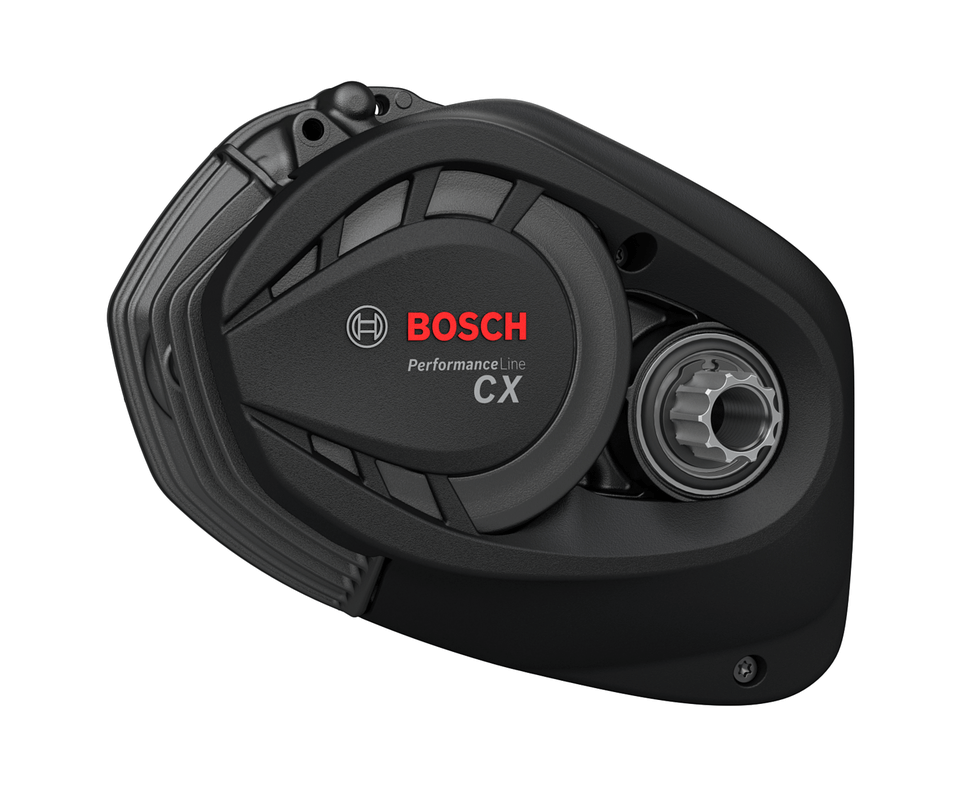 Motors
Depending on the model
Bosch Performance Speed Gen 4
With a whopping 75 Nm of maximum torque and a low weight of only 2.9 kg developed for dynamic support in everyday life or in leisure use. High speeds are reached quickly and safely – the perfect way to cover long distances with a smile on your face.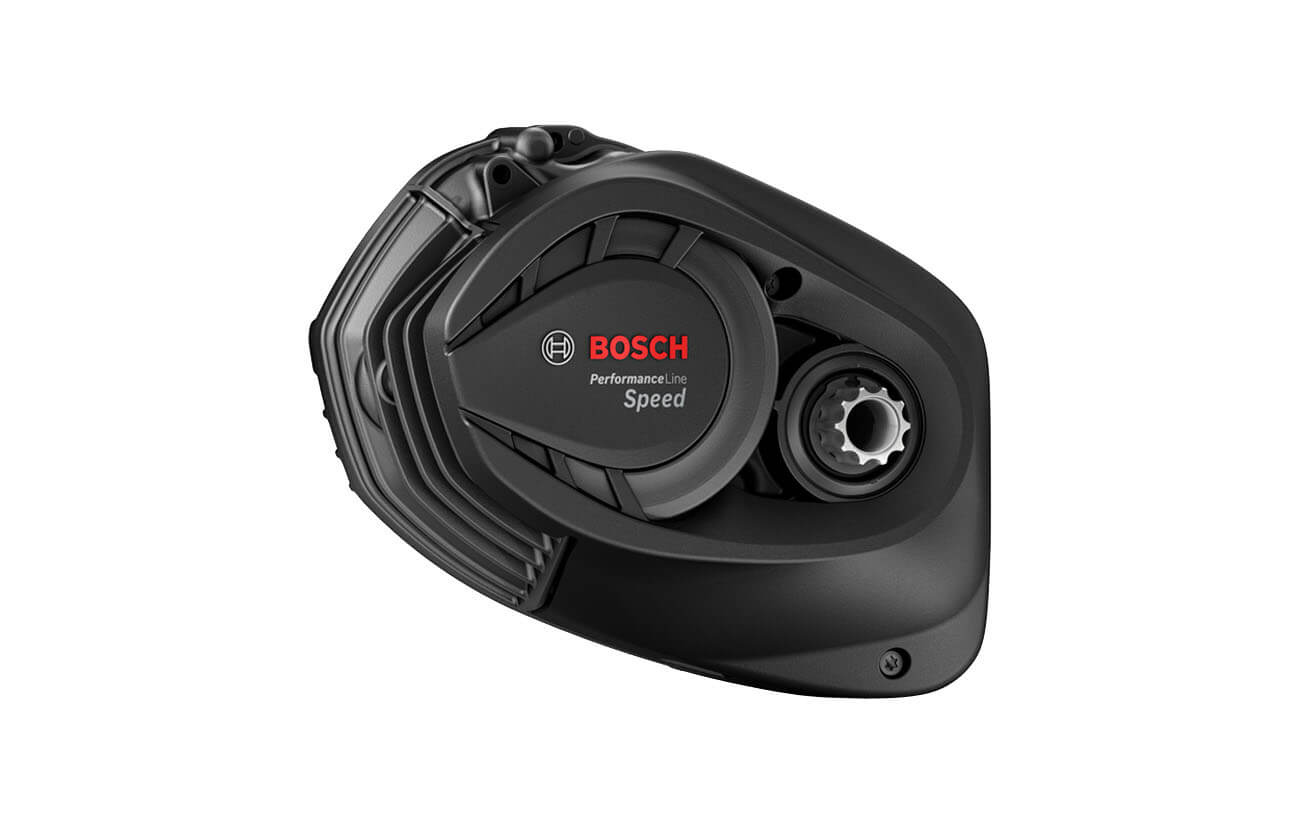 Drive
Bosch Performance Line Gen 3
Whether you're on a sporty jaunt through the countryside, commuting to work or cruising on a leisurely outing, the versatile drive system from Bosch always gives you the right support at the right moment. The Performance Line is quiet, lightweight Drive Unit Performance Cruise provides support up to 20 mph and offers a convincingly natural riding sensation. With a torque of 65 Nm, it helps you get the most out of outings, even in mountainous terrain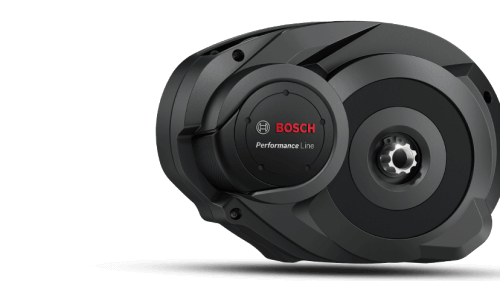 Displays
Depending on the configuration
Purion Display
Design meets functionality: Purion is the minimalist on-board computer for everyone wishing to have a neat look on the handlebar, be it for use in the city or the countryside. You get all important information conveniently at the touch of a button during the ride, with both hands remaining on the handlebar. Five different riding modes give you the correct support in every situation.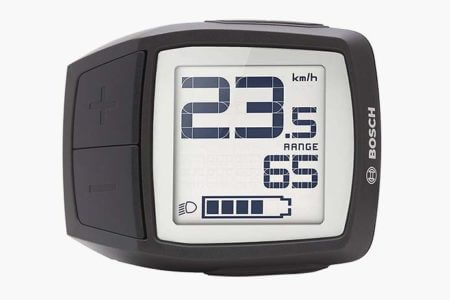 SPECIFICATION:
Bosch Performance 250W, 63Nm
Bosch Performance CX 250W, 75Nm
Bosch Performance Speed 350W, 63Nm
Bosch Purion On-Board Computer (5 Riding Modes)
Bosch PowerPack 400Wh/500Wh Lithium-Ion Battery
Range 25-80mi (40-130km) Dep. On Mode/Battery
Bosch 2A/4A Compact Charger Dep. on Model
Assisted Speed: USA 20/28mph
Shimano Deore 10-Speed and Hydraulic Disk Brakes
6061 Aluminum Alloy Frame with Front Tray Mounts
Oversized CRMO Fork with Integrated Headset
Custom 24″x 2.6″ Benno Dual Sport Tires (45PSI)
German Supernova Mini 2 Front Light and E3 Rear Light
Multifunction Rear Rack (Max. Load 90lbs/40kg)
Secure Yepp Baby Seat Installation (Single)
Fits Most Aftermarket Pannier Bags and Accessories
Special Benno Front Trays and Bags Sold Separately
One Frame Size (Fits Riders from 5'2″ to 6'2″)
Weight: 58.1lbs/26.5kg
BOOST E. YES, IT CAN.
The Boost E is many bikes in one, combining brilliant capability with surprising maneuverability. It's compatible with a wide range of accessories and can handle more than twice the load of a typical bike. More versatility, more possibilities, more reasons to ride.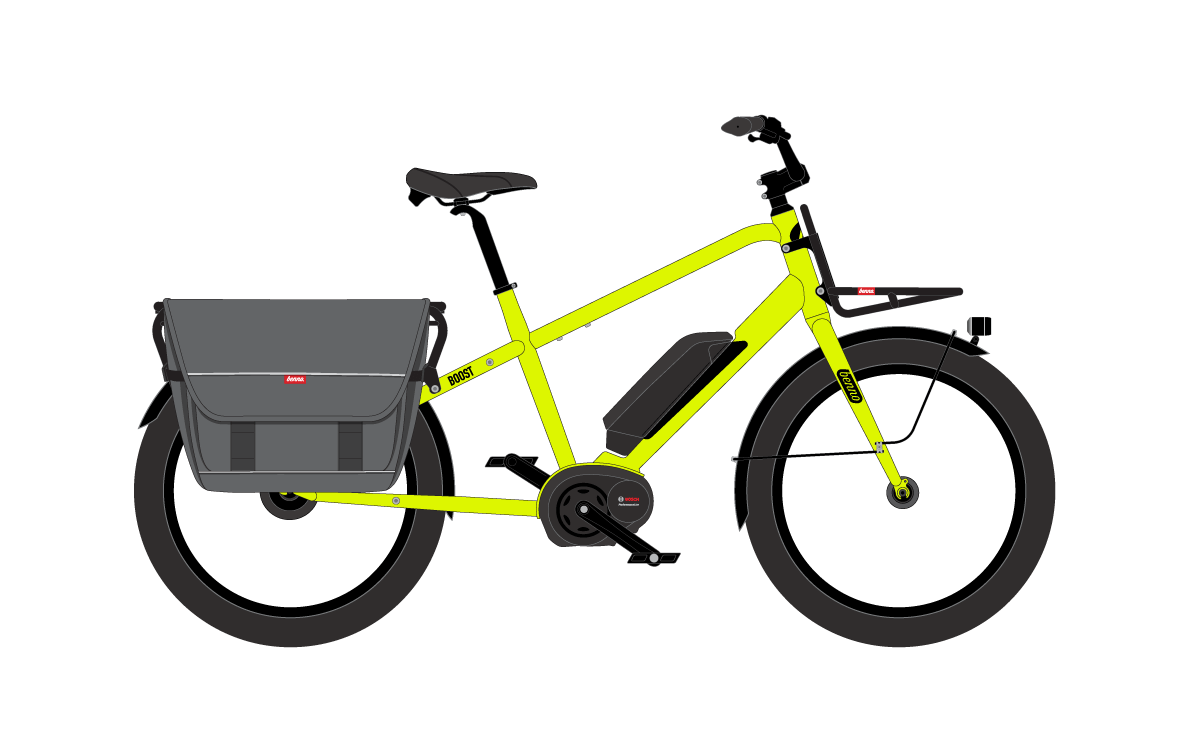 Heavy duty rear rack with 90lbs/40kg max load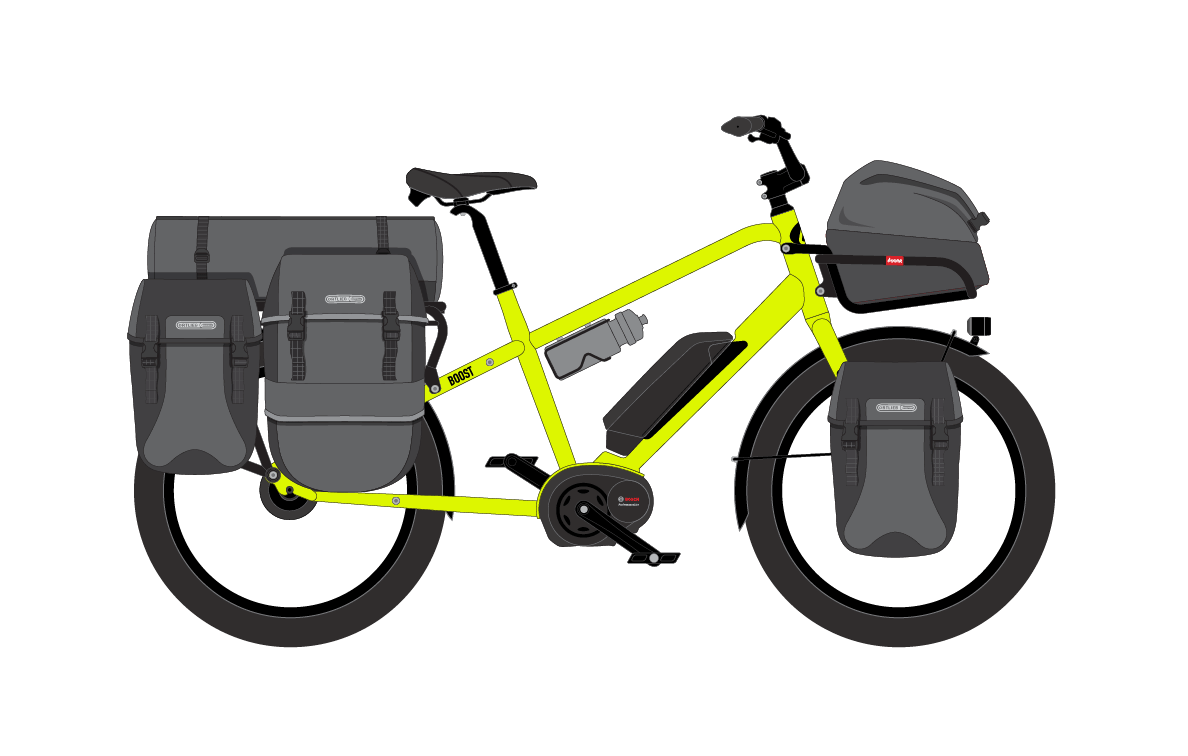 Fits most aftermarket pannier bags and accessories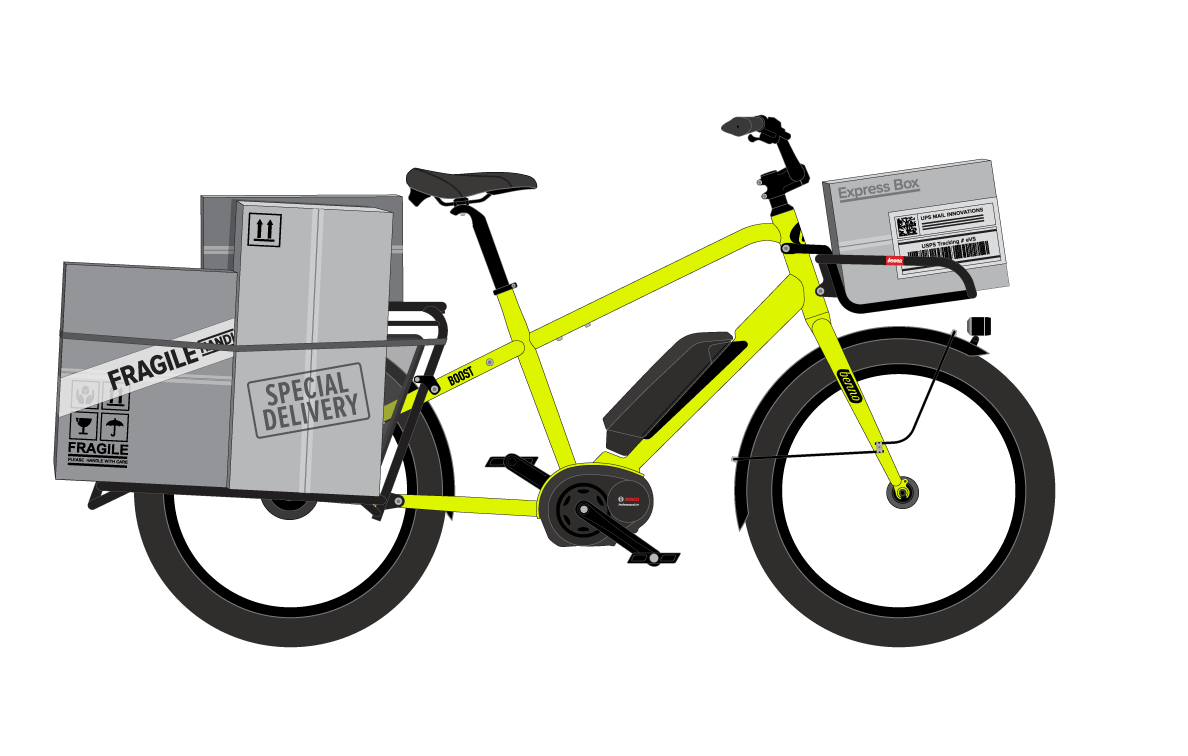 Optional side loader rear rack for oversized cargo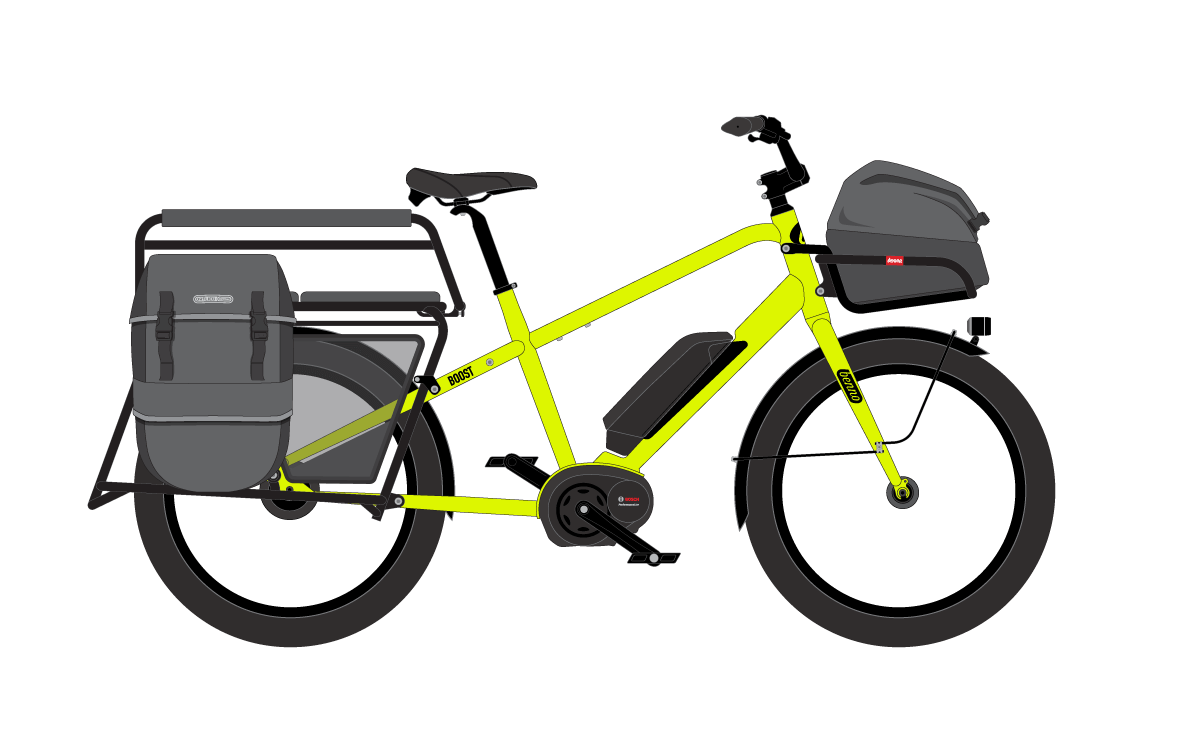 Endless configurations allow for multipurpose use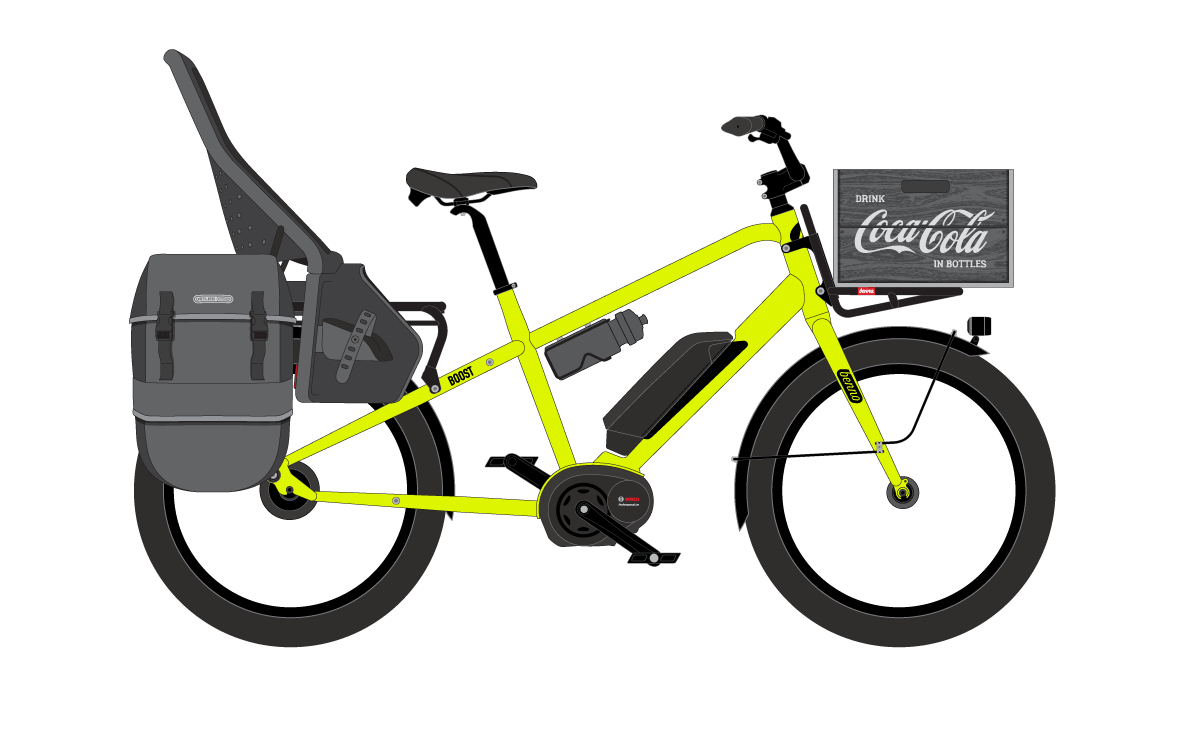 Yepp® and Hamax® child seat compatible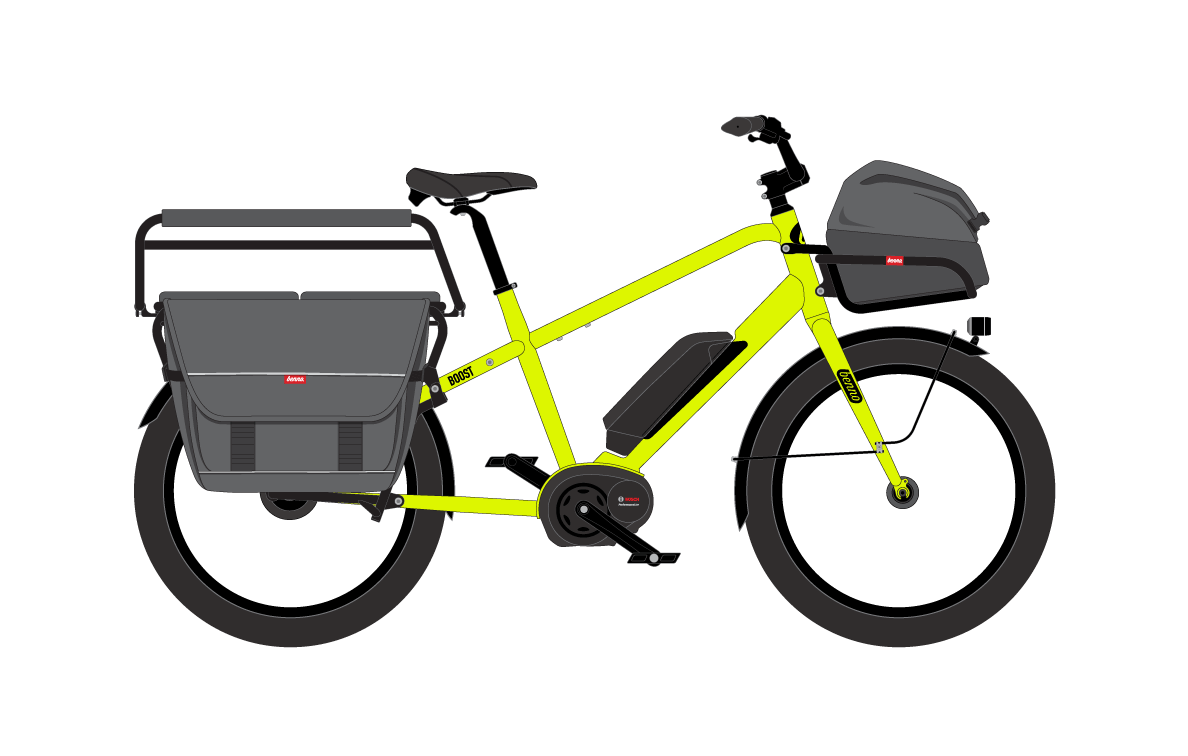 Optional front trays and high volume bags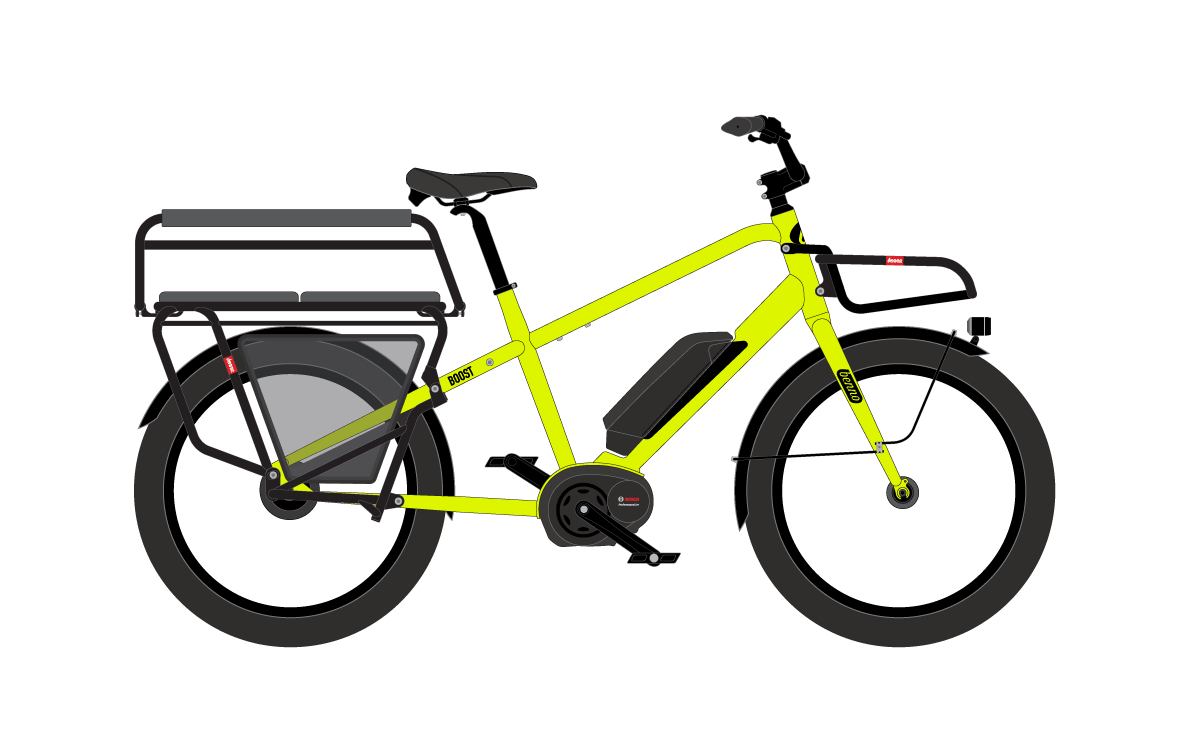 Add pads, mini side loaders and extension rails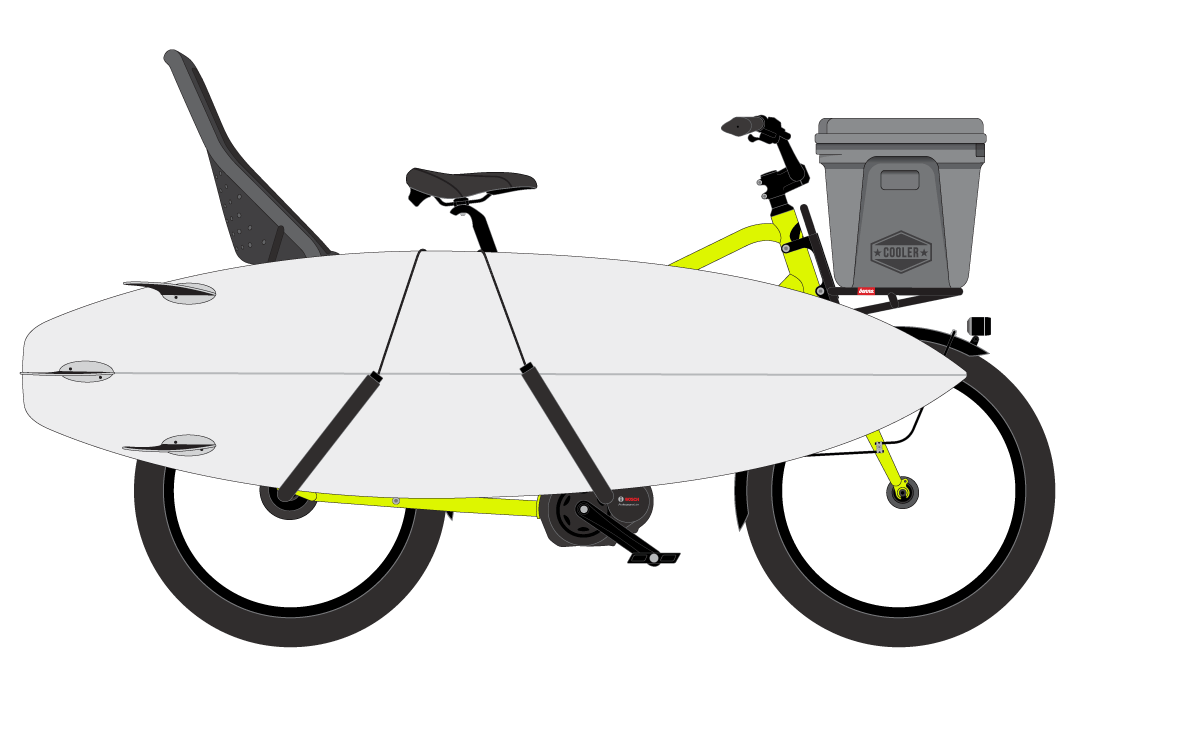 Works great with Carver Surf Racks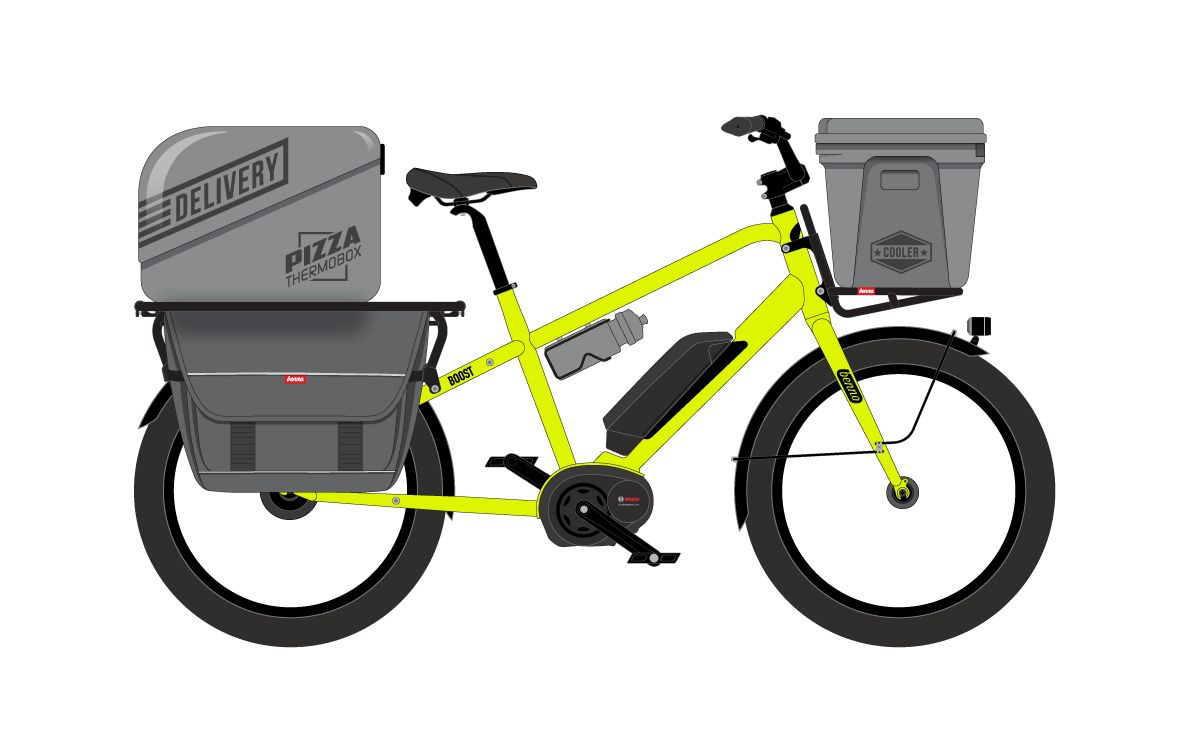 Easy to customize for commercial use
More Like Your Car's Trunk
These water-resistant, oversized Benno Utility Pannier Bags are designed to be used like a trunk. Simply drop in your backpack, grocery bags, boxes or other oversized items and secure them with our adjustable strap system. Depending on the size of the item, you can close the bag or keep the cover open for the load to extend out.
A Stable Ride Under Load
Our specially designed Utility Front Tray can carry up to 20lbs/10kg and with its open front you can transport even larger items, taking care to fasten them securely. This heavy-duty tray mounts to the front of the frame so it won't affect steering balance, letting you carry loads effortlessly while enjoying a stable ride.
Fits Two Full Grocery Bags
Our large capacity, extra durable bag fits perfectly in our Utility Front Tray. With its simple fold over design it can help you carry and secure a variety of different loads. It will easily hold two fully packed grocery bags or a large backpack. If you prefer to use it more like a basket, simply roll down the sides and keep it open on top.
Supersize Your Rack
Carry and secure even larger loads with our new, easy-to-mount Extension Rails for the Utility Rear Racks. The Platform Rail extends the rack deck into an extra-large platform, while the High Rail adds more railing to help keep your cargo in place.