Riese & Muller Tinker
Riese & Muller Tinker
The Tinker. An E-Bike of stature.
The city is full of challenges to your nerves: commuter hold-ups on the streets, full buses and trains, sometimes heavy luggage and all this even before the sun comes up. But don't panic. The solution has a name: Tinker. With this compact E-Bike featuring 20" wheels, you can effortlessly glide past all of this with a broad smile. Its frame is even so compact that it can easily be taken on public transport. At the same time, it can also be adapted with great flexibility to body heights from 4'9 m to 6'4″ m. The HS version offers even more riding pleasure with up to 28 mp/h of power. There's never been a quicker way to get away from commuter stress.
Riese & Muller Tinker Motor and battery
The heart of an athlete.
With its tremendous driving force and pedal assistance of up to 250%, you can conquer any mountain and any terrain. Depending on the model, you will be assisted by either the Bosch Active Cruise motor up to 20 mp/h or the Performance Speed motor on the HS versions even up to 28 mp/h with pedal assistance up to 275%. But if it's not so much speed but higher torque you're after, then you should be tempted by a model with the Performance CX motor and pedal assistance of up to 300%. Even walking, your E-Bike helps out with its pushing aid.
The standard Intuvia Display can serve as a control center with a smartphone charging function. Ultra-modern Bosch lithium ion batteries with a 500 Wh energy reserve provide the power for whichever mountain you want to conquer.
Riese & Muller Tinker Compact Frame
Saves your ticker and your tickets.
Not a folding bike. Not a mountain bike either. But perfect for busy cities and unspoiled nature. Once the stem is folded and the seatpost pushed in or pulled out, the Tinker can fit into most estate cars, SUVs or mini-vans for transportation. Its frame is so compact that it can effortlessly be taken on public transport.
Riese & Muller Tinker Flexible stem
Perfect for everyone. With no compromises.
The angle and height-adjustable stem and adjustable seatpost mean that the Tinker can adjust to rider heights from 4'9″ to 6'4″ and adapt to every rider's comfort preferences. This means that it can be used by multiple users with different dimensions. The Tinker serves them all with panache.
Riese & Muller Tinker Racktime snapit adapter
Load up, set off.
Baskets, panniers and child seats can be secured in record time to the carrier thanks to the "snapit" system from racktime. With just a click, your payload can be changed quicker than a pit stop. Accessories can be obtained from your dealer.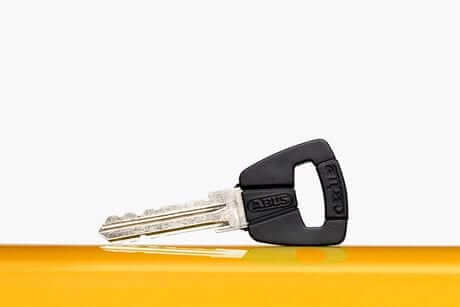 Stops thieves.
Park your Tinker wherever you want. Only you can take it away. The frame lock snaps shut simultaneously with the battery lock, which means you only need one key for your bike and the battery.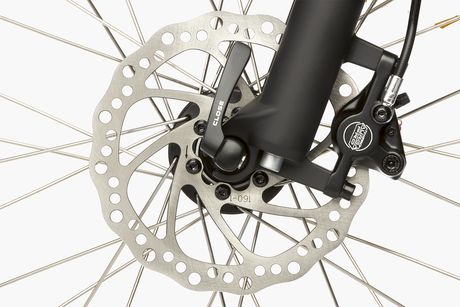 The fastest route to a standstill.
The hydraulic disc brakes from Tektro Dorado deliver maximum performance, no matter what the weather. The large brake discs allow the braking effect to be distributed most effectively. They don't produce rim wear and impress with their consistent braking performance.
Riese & Muller Tinker Options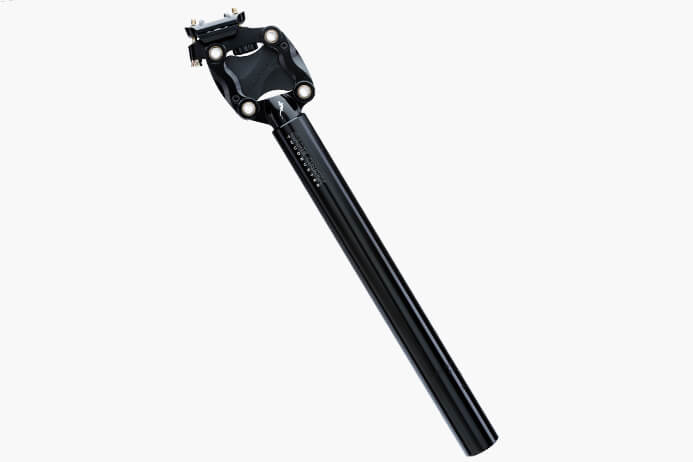 Suspension Seatpost
Cobbles can be as difficult to negotiate as any route out in the wild. This diamond-shaped, sprung seatpost offers a degree of comfort that makes any dirt track almost like a freshly asphalted road. Depending on the rider's weight and comfort preferences, there are three elastomers of differing hardness to choose from.
Carrier
Nothing makes a quicker dash through town and congested roads than the Tinker. For rush deliveries of all kinds, the standard Cargo carrier is the perfect solution. After all, it features the "snapit" system from racktime, allowing the wide Cargo-Box can to be attached along with the Cargo carrier in just one click. The box features a volume of 18 l and interior dimensions of 42.5 cm x 30.5 cm x 12.5 cm (W x L x H).
National Feed

Comfortable, continuous NuVinci hub hear, always in the perfect gear, no gaps between shifts, virtually maintenance- and wear-free, Gates belt drive, hyraulic Tektro disk brakes **The model version shown may be different from your selected model. We will correct all the images once we have them. If you have questions feel free to contact us.

$

4,489.00–

$

5,093.00

National Feed

Urban sportiness: Shimano Deore XT 10-speed derailleur gear, proven shift technology, high effectiveness, hydraulic Tektro disk brakes, assistance up to 28 mp/h **The model version shown may be different from your selected model. We will correct all the images once we have them. If you have questions feel free to contact us.

$

4,389.00–

$

4,993.00