The Bosch system
Reliable, performance-oriented and innovative – these are the standards to which we hold our E-Bikes, as well as all components and especially the drive system. That's why all Riese & Müller E-Bikes are equipped with the industry-leading Bosch drive system.
Batteries
Depending on the configuration
Bosch PowerPack 500Wh
The powerful lithium-ion battery attached to the frame has an energy reserve of 500 Wh. High reliability and a service life of 800 to 1,000 charging cycles make it a strong companion over hill and dale. It can be charged directly on the E-Bike or removed from the frame in a single step. It takes 4.5 hours to charge from a fully discharged state. So with the PowerPack 500 you are perfectly equipped for any trip.
Bosch DualBattery 1,000Wh
For long tours with lots of luggage or routes with considerable height differences, the DualBattery remains the benchmark. Riders using their E-Bike to commute to work also have to charge their bike less often. The load on the two frame batteries is minimized by means of an alternating load in 5 % increments, which significantly increasing the service life. Using the included Bosch Standard charger, both batteries can be charged directly on the bike or at any normal socket once removed. Both can even be charged together on the bike. The charging time for a single battery from a fully discharged state is only 4.5 hours. Charging them on the bike together, both batteries are fully operational again after 9 hours. It is also possible to use just one battery.
Motors
Depending on the models
Bosch Performance CX Gen 2 motor
The Performance CX is the most powerful Bosch E-Bike motor ever – with pedal assistance of up to 300 %, a maximum torque of 75 Nm, very sporty start-up characteristics and pedaling rate assistance up to 120 rpm. With "Direct Flow" you have a powerful push on the back wheel from speeds of just 20 rpm. Whether it be uphill or on the flat, this acceleration will inspire you. Another highlight in the new Performance CX motor is the eMTB mode, which replaces the previous Sport mode (this is displayed as Sport mode on the Intuvia Display). Here, the progressive motor assistance automatically adapts to the individual riding style regardless of pedal pressure. This ensures optimum assistance at all times, which really pays off on climbs.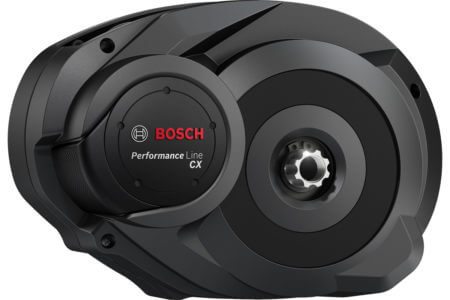 Display
Depending on the configuration
Drive
Bosch Purion Display
With the Purion, you are guaranteed to never lose sight of things. Its sleek design combines all relevant information on one small, easy-to-read display. While your hands stay firmly on the handlebars, you can navigate through all the functions with your thumb. The Purion is highly efficient, lightweight and trimmed down to the essentials.
Bosch SmartphoneHub Display
The Bosch SmartphoneHub and free app turns your smartphone into a display which combines the functions smart navigation with live weather, fitness data and much more. Other services and apps on your smartphone, such as music playback, can be controlled at the same time. But it also works without a mobile phone: in this case, a display integrated into the cockpit shows key riding data.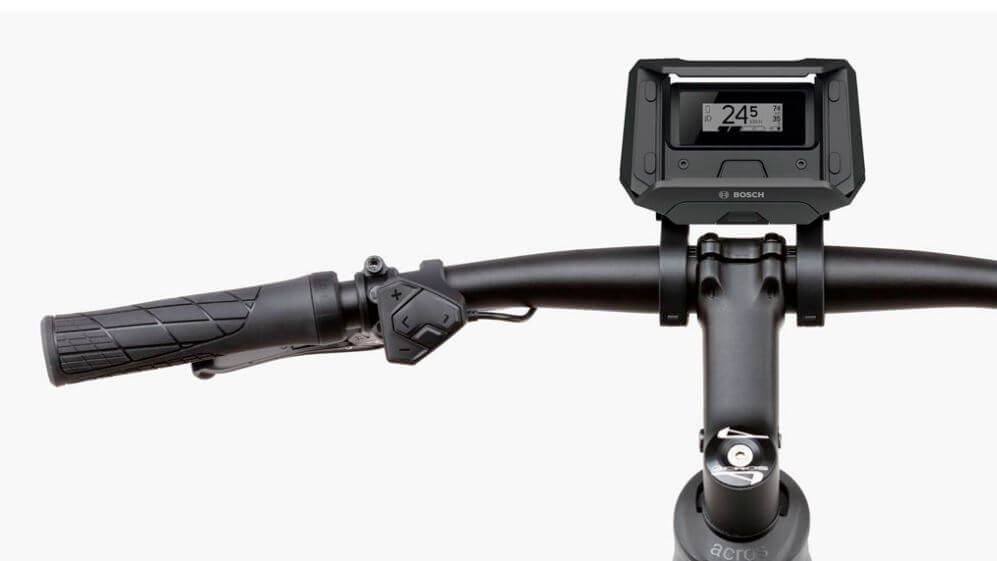 Safe child transport
Keeping an eye on the most important thing.
The optional child seat allows you to convert the Packster 40's cargo surface into a comfortable seating area for your child. A padded 5-point belt provides a high degree of safety and you'll never lose sight of your most valuable cargo thanks to the upright seating position facing the rider. The seat cushion of the child seat can easily be folded into its footwell, creating a cargo surface in the blink of an eye. And the seat cushion is stowed safe and dry. The child seat is only available in combination with the Carry System.
Flexible load transport
Sets the bar high. Also in width.
Do you need to take more on your trip than you thought? Is the barbecue party in the forest bigger than expected? No need to fret, because the large cargo surface and permitted overall weight of 160 kg mean greater freedom and loads of spontaneity. With the optional box you can remove or fold down the wooden side walls to transport wide loads. And if you need to leave something important in the Packster 40, an optional lockable glove box provides extra storage space.
Adjustable seat position
Changing riders made easy.
The height-adjustable stem and saddle allow you to adjust the Packster 40's seating position to different body heights in the blink of an eye. This ensures that the Packster 40 can easily be ridden by almost any member of your family or circle of friends and a quick change of rider is possible at any time.
Low weight and compact size
Genuinely compact class.
The Packster 40 offers as much cargo surface as possible in as little space as necessary. With its reduced length, 48 cm-wide cargo surface and its agility, it needs less storage space than other E-Cargo bikes. And at less than 30 kg, it's a real lightweight in its class. Its compact length means it can even be mounted on a car rear-mounted bike rack. To do this you only have to remove the front wheel, so the Packster 40 is only 2 metres long.
Choose your Packster 40 model