Riese & Muller Nevo Touring
Riese & Muller Nevo Touring
Riese & Muller Nevo Touring 2018 comes with Bosch Performance CX engine, sporty Shimano Deore XT 10-speed chain shifting (high efficiency, proven shifting technology) and for maximum stopping power the hydraulic Magura MT4 disc brakes
**The model version shown may be different from your selected model. We will correct all the images once we have them. If you have questions feel free to contact us.
Frame Color
Midnight Blue Mettalic
Racing Red
White
Size
L (56cm)
M (47cm)
S (43cm)
Clear selection
Riese & Muller Nevo Touring is the e-bike of the future generation combines purism and dynamism. With the sporty Bosch Performance CX engine and the Shimano Deore XT 10-speed chain shifting with high efficiency, you are always energized on the road. For more safety, high-quality Magura MT4 disc brakes. New design and more driving fun create a new urban feeling for life.
Motor: The Riese & Muller Nevo Touring with Bosch Performance CX, 20 mph. The Bosch Motor riding sensation creates a unique electric Bike experience. It features three sensors, it measures pedaling power, cadence, and speed more than 1000 times per second. This enables the rider and the electric Bike to interact with each other organically.
Brakes: The Riese & Muller Nevo Touring is equipped with the high-quality Magura MT4 disc brakes. It provides very reliable stopping power, these brakes are low-maintenance, and easy to control.
Top Speed: Like most electric bikes sold in the US, the Riese & Muller Nevo Touring has a top speed of 20 mph in keeping with federal law. There are ways to remove this speed limit for use on private roadways, however, the jury is still out on how this will impact your Warranty. Until we get an official word from Riese & Muller, we're going to err on the side of caution. Please contact us to learn about the concerns with making this modification.
Warranty: Two years after pick-up when you purchase a bike. Furthermore, Riese & Muller grants you a voluntary warranty on the battery of two years: We guarantee that the battery will still have a capacity of 60% after two years or 500 full charge cycles (whichever happens first).
Accessories: This bike comes with the Supernova frontlight and Busch & Muller taillight for safety, it also comes with Riese & Muller Carrier Curana fenders, Pletscher kickstand and a Humpert mini bell. Our team has a lot of experience outfitting bikes with additional accessories, so be sure to reach out to us if there's anything you may need.
Riese & Muller Nevo Touring Features:
Battery Position:
The exceptional sporty look of Nevo makes it a special touring e-bike. The main reason for this is the new placement of the battery on the lower tube. In addition to the visionary design, this also has functional reasons: the center of gravity of the Nevo is arranged centrally, which enables neutral and safe handling in all driving situations.
Design:
With the Nevo models every detail is highly functional. Even the design. The trains run hidden through the frame.
Suspension fork and suspension seatpost:
As bumpy as some paths in nature can also be cobblestone streets. The spring seatpost and the sensitive suspension fork offer a comfort that makes you barely feel unevenness.
Frame height 43 cm:
From the 2018 model year, the Nevo is available in the frame height of 43 cm, which is suitable for body sizes of 5'0″ – 5'5″ m. The 26 "tires, which are matched to them, have a width of 55 mm, which is slightly wider than their siblings at larger frame heights. For more comfort and a confident riding feel.
Lighting System: 
Always drive with excellent road illumination with the E3 LED headlights from Supernova or Busch & Muller IQ-X headlights on the HS models. With its extraordinarily high light intensity, only daylight is brighter. The display is via the Bosch display, the energy supply via the battery.
Motor: The highest-torque Bosch drive guarantees maximum riding fun – even up hills. Its enormous performance coupled with sensitive responsiveness produce a completely new riding experience off the beaten track. The maximum torque is 75 Nm, with pedal assistance of as much as 300% – even at high speeds. With "Direct Flow", you have a powerful push on the back wheel from speeds of just 20 rpm. Whether it be uphill or on the flat, this acceleration will inspire you.
Battery: Bosch PowerPack 500 Performance, 36 V, 13,4 Ah/500Wh – The most powerful PowerPack available from Bosch. Ultra-modern Bosch lithium ion batteries with 500 Wh energy reserve provide the power for our E-Bikes. The more Watt hours the battery has, the wider its range. This also depends on numerous other factors, such as the pedal assistance level set, the pace, the outside temperature or the inclination of the route. The range computer on the display provides more detailed information. When it's stop-and-go in the city, the range is shorter than with a constant journey over a longer distance – comparable with the fuel consumption of a car. If you find while you're on a ride that your battery's residual power is not going to be enough to complete your journey, you can reduce the degree of assistance and therefore still reach your destination comfortably.
The lifespan is 800 – 1,000 charging cycles. Thanks to the short charging times, the battery can be significantly topped up during a lunch break, for example. A complete charge takes just 4.5 hours.
Display: The variable mode Bosch Intuvia LCD display has two main functions; to allow the rider to control drive parameters, and to display system information, including distance, time and speed. The control pad allows you to access all the computer and drive functions remotely, leaving your hands on the bar to maintain safety and security. To change motor settings while riding, simply push the large, glove friendly keys on the handlebar control pad. This ensures safety and stability, while still allowing you to control the motor for optimal performance.
Functions at a Glance:
 – Five user-selectable power modes to choose from (Eco, Tour, Sport, Turbo & OFF)
 – Speed: Current, average, and top
 – Trip distance and total
 – Clock and riding timer
 – Current motor performance
 – Remaining Range based on current use
 – Off-Board Use: All functions can still be accessed even when the control panel is removed
 – USB port to connect to your GPS, phone or MP3-Player
 – Motor Assistance of up to 4mph when guiding the bike on foot- WALK MODE
 – High precision distance measurement, even after a wheel change
Additional information
| | |
| --- | --- |
| Fork | Suntour NCX 28", tapered, Suntour XCR32 Air, tapered, 70mm, black |
| Seatpost | Satori Elegance-LT OV |
| Tire | Swallow Big Ben Plus 50-622 Reflex, Swallow Big Ben Plus 55-559 Reflex |
| Hoses | Schwalbe SV19, Swallow SV21 |
| Rims | Alex MD30, 26", Mach1 650, 28 " |
| Spoke | Sapim Leader 2.0 mm, inox (16x); Sapim Leader 2.0 mm, inox (36x) |
| Front Hub | Novatec, QR |
| Rear Hub | Shimano Deore XT Disc |
| Battery Option | |
| Motor | Bosch Performance CX, 20 mph |
| Display | Bosch Intuvia |
| crank | FSA / Riese & Müller, 170 mm |
| Chainring | 17T, 18T |
| Chain Guard | Horn Catena |
| Chain | KMC X10 (107x), KMX X10 (103x) |
| Saddle | Selle Royal New Lookin Moderate Male |
| Pedals | VP-191 |
| Gear Lever | Shimano Deore, 10-speed |
| handlebars | Humpert ergotec ErgoXXL, 31.8 mm |
| porch | Humpert ergotec Charisma, 90mm, 45degrees |
| Handles | Ergon ergonomic |
| Brake | Magura MT4, disc brake |
| Headlight | Supernova E3 E-bike |
| Taillight | Busch & Müller Toplight Mini LED |
| Fenders | Curana CLite 55, Curana CLite 60 |
| Porter | Riese & Muller |
| Clamping rubber | Bibia |
| Bell | Humpert Mini Bell |
| Kickstand | Pletscher Comp 18 Flex |
| Lock | ABUS Shield |
| Frame Height | 46cm, 49cm, 53cm |
| Cassette | Shimano Deore 10-speed, 11-42 |
| circuit | Shimano Deore, 10-speed |
Riese & Muller uses a modern Just in Time inventory strategy. Every bike is built to order in their Germany factory.
We have worked with R&M and several logistics partners to offer our customers several ordering options.
Once a month their will be a container shipped via Sea Freight. There will also be an option to have bikes shipped individually to our shop for $200 for standard bikes and $300 with cargo bikes.
If you'd like a bike shipped to your home it will have to go to our shop first for us to fully build and test the bike. Please select freight when checking out.
If you have any questions about this process please feel free to contact us.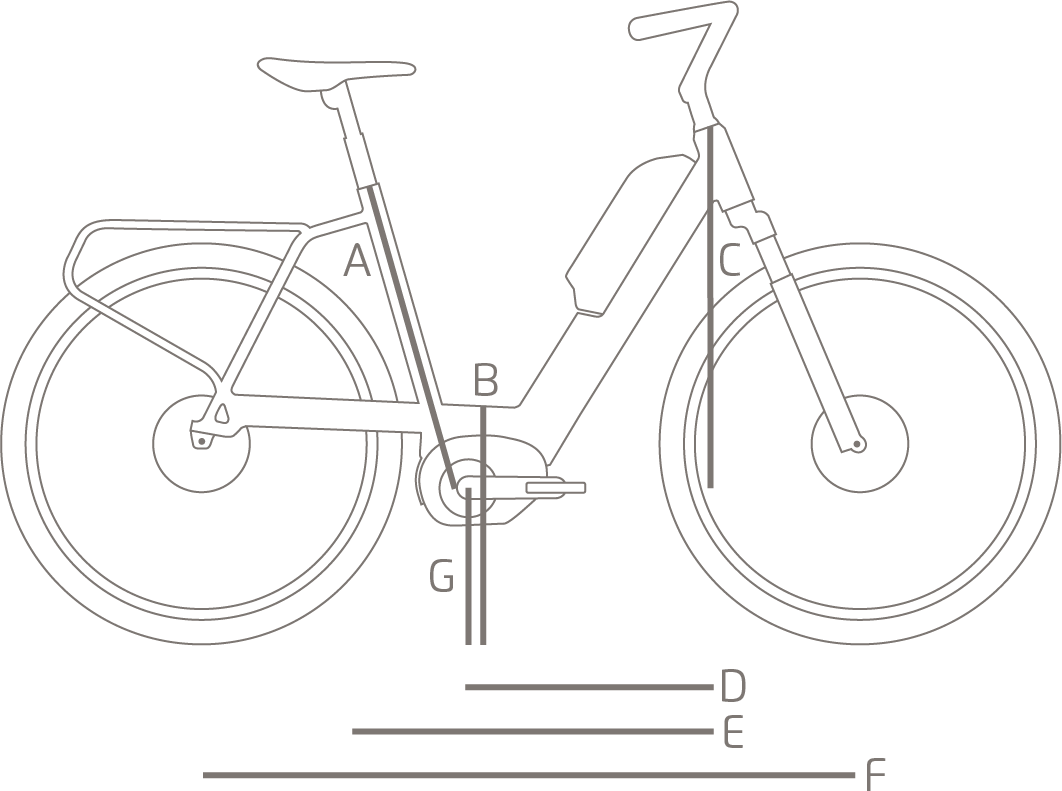 | Frame height | 43 cm | 47 cm | 56 cm |
| --- | --- | --- | --- |
| Top tube length [cm] | 56 | 60 | 64 |
| Reach [cm] | 35.5 | 38.5 | 42.5 |
| Stack [cm] | 60 | 64.5 | 64.5 |
| Steering head angle [°] | 69.5 | 68.5 | 68.5 |
| Seat tube angle [°] | 74 | 74 | 74 |
| Overtravel [mm] | 80 | 95 | 95 |
| Wheelbase [cm] | 106 | 113 | 117 |
| Bottom bracket height [cm] | 28.5 | 28 | 28 |
| Through height [cm] | 43 | 43.5 | 43.5 |
| Back length [cm] | 45.5 | 48.5 | 48.5 |
| Wheel size ["] | 26 | 28 | 28 |
| Control head tube length [mm] | 150 | 150 | 150 |
| Front spring travel [mm] | 63 | 60 | 60 |
| Rear width [mm] | 135 | 135 | 135 |
| Development [m] | 2.22 to 8.47 | 2.27 to 8.65 | 2.27 to 8.65 |
| Weight [kg] | 25.9 | 26 | 26.1 |
| Weight [lbs] | 57 | 57 | 57 |
| Perm. Total weight [kg] | 140 | 140 | 140 |
| Release of luggage rack [kg] | 20 | 20 | 20 |
| Release handlebar / basket [kg] | 3 | 3 | 3 |
| Child seat release | Yes | Yes | Yes |
| Trailer release single-track | No | No | No |
| Trailer release two-lane | Yes | Yes | Yes |
| Release bike trailer | Yes | Yes | Yes |