Drive
The Bosch system
Reliable, performance-oriented and innovative – these are the standards to which we hold our E-Bikes, as well as all components and especially the drive system. That's why all Riese & Müller E-Bikes are equipped with the industry-leading Bosch drive system.
Battery
Depending on the configuration
Drive
Bosch 500 Wh PowerTube
The Bosch PowerTube battery with its 500-Wh energy reserve sets the standard for design and function. Fully integrated into the frame, it remains almost invisible and perfectly protected at all times. The high-quality lithium-ion battery can be charged directly on the bike.
When unlocked, it automatically pops a few centimeters out of the frame, so that it can be removed quickly and easily for external charging with the Bosch charger at any normal socket as well.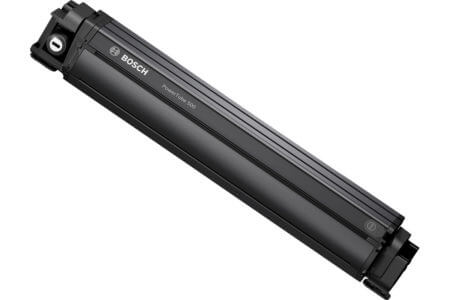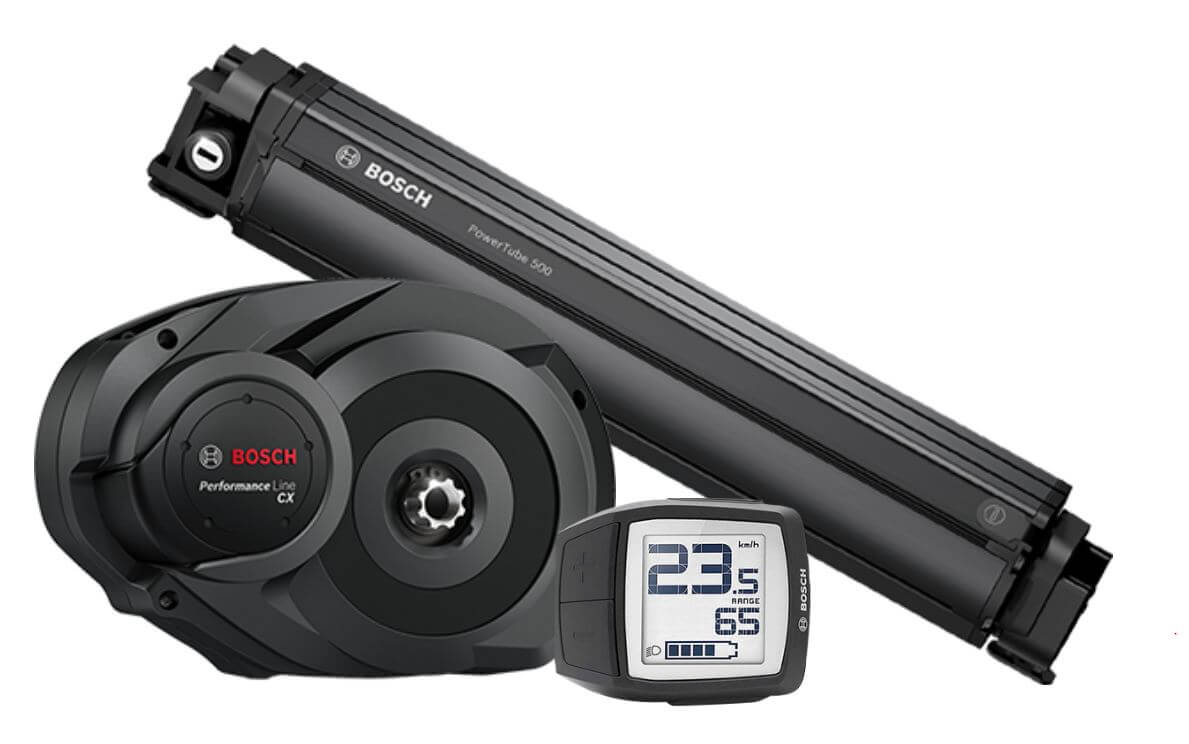 Motors
Depending on the models
Drive
Bosch Performance Speed motor
Assistance up to a speed of 28 mp/h makes the Performance Speed drive the fastest Bosch E-Bike motor. Sporty start-up characteristics, 350 watts of power and pedal assistance up to 275 % guarantee the ultimate riding pleasure with a maximum drive torque of up to 63 Nm with derailleur gear and up to 50 Nm with hub gear. For the Speed motor, you need an insurance certificate and a driving license for small powered bikes. A driving license for class MA (from the age of 16 upwards) or for cars includes this. Helmets are mandatory on HS models. We recommend using an E-Bike helmet that complies with the EN 1077 and EN 1078 standards.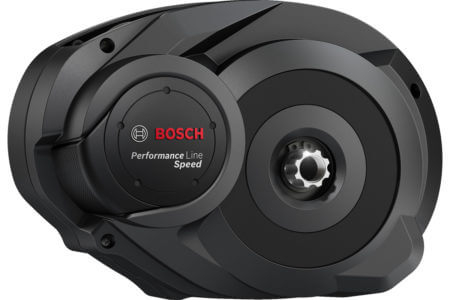 Drive
Bosch Performance CX motor
The Performance CX is the most powerful Bosch E-Bike motor ever – with pedal assistance of up to 300 %, a maximum torque of 75 Nm, very sporty start-up characteristics and pedaling rate assistance up to 120 rpm. With "Direct Flow" you have a powerful push on the back wheel from speeds of just 20 rpm. Whether it be uphill or on the flat, this acceleration will inspire you. Another highlight in the new Performance CX motor is the eMTB mode, which replaces the previous Sport mode (this is displayed as Sport mode on the Intuvia Display). Here, the progressive motor assistance automatically adapts to the individual riding style regardless of pedal pressure. This ensures optimum assistance at all times, which really pays off on climbs.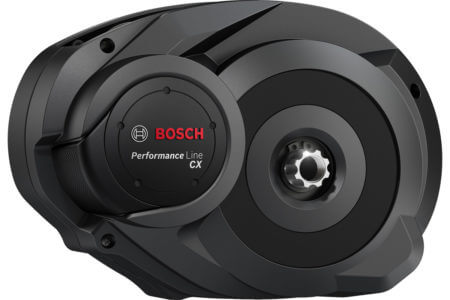 Display
Depending on the configuration
Drive
Bosch Purion Display
With the Purion, you are guaranteed to never lose sight of things. Its sleek design combines all relevant information on one small, easy-to-read display. While your hands stay firmly on the handlebars, you can navigate through all the functions with your thumb. The Purion is highly efficient, lightweight and trimmed down to the essentials.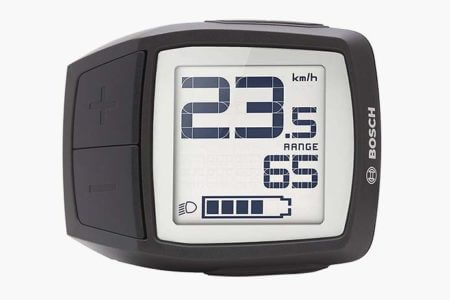 Flexible load transport
The cargo bike of E-Bikes.
The Multicharger Mixte has a 64.5-cm-long carrier and an optional luggage space. These large, fixed, 33-litre panniers make it as easy and handy to transport shopping and parcels as it is to carry everyday items such as laptops, keys, bottles and a spare battery. The shape and size of the bags make optimum use of the Multicharger Mixte's cargo area. Excluding the luggage space, there is room for two standard bicycle bags on each side of the carrier. The standard front carrier offers additional transport space for luggage or smaller purchases.
(Illustration shows frame of Multicharger)
Safe handling
Safe riding pleasure.
Force equals mass times acceleration. But anyone riding a fully loaded Multicharger Mixte for the first time might wonder whether this law of physics needs to be rewritten. Despite its generous loading volume and length, the Multicharger Mixte retains its extreme agility and manoeuvrability at all times, and you're in control. So you can master every situation, whether in the city or on a long ride in the country.
(Illustration shows frame of Multicharger)
Low weight and high load capacity
Weighs a little. Carries a lot.
The Multicharger sets new standards in terms of the ratio of size and weight to loading options. So a full family shop is no problem at all. Or even two small children – safely accommodated in child seats. It can transport an additional load of up to 60 kg with surprising ease on its rear. And if you carry the Multicharger up or down a few steps, you'll be pleasantly surprised by how light it is: the Multicharger weighs less than 30 kg in most model variants.
Transport: good(s)
To match your Multicharger, the perfect accessories provide the ideal solution for your transport projects.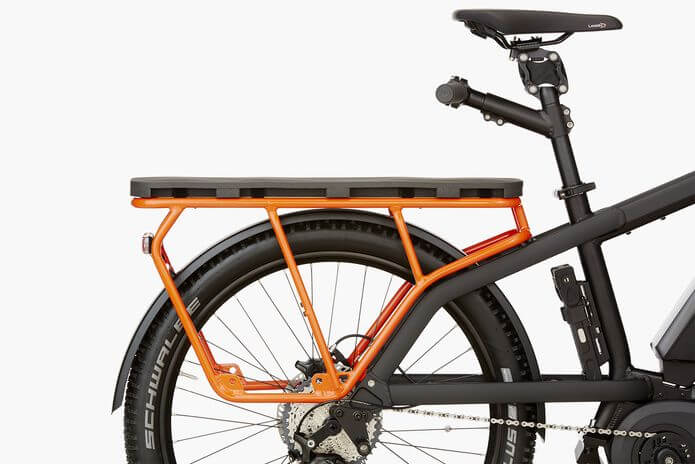 Transporting people
The optional passenger kit with comfortable foam seat, handles and footrests offers space for one passenger up to 60 kg. (Illustration shows frame of Multicharger)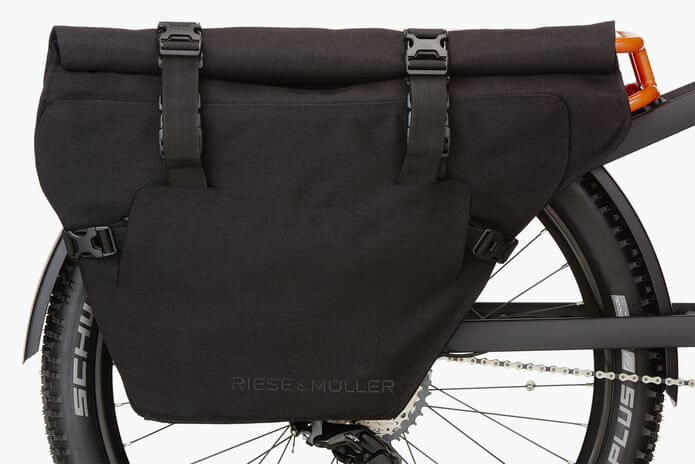 Transporting cargo
Two fixed cargo bags, each with a volume of 33 litres, make optimum use of the cargo area. Full of useful details, everything finds its intended place. (Illustration shows frame of Multicharger)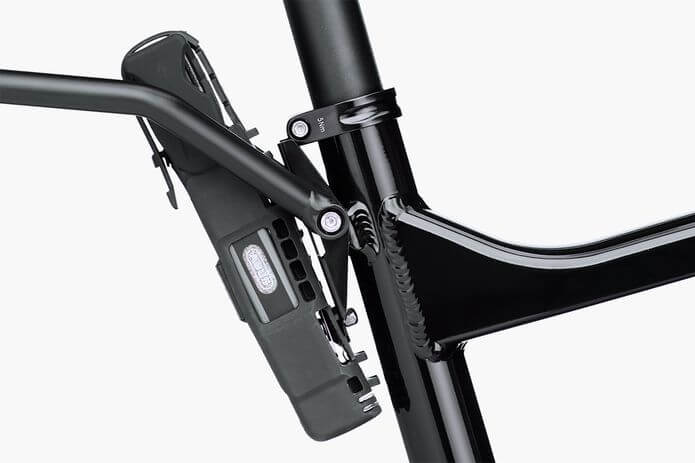 A securely locked bike is one less worry for you.
With the Abus Bordo 90 cm folding lock, you can securely fasten your E-Bike to virtually anything. If you want to continue your journey, it can be compactly folded up, disappears into a pouch and is Velcro-fastened to the bicycle frame. The lock, with its ultra-secure articulated design, weighs just 1,120 g and clicks shut simultaneously with the battery lock.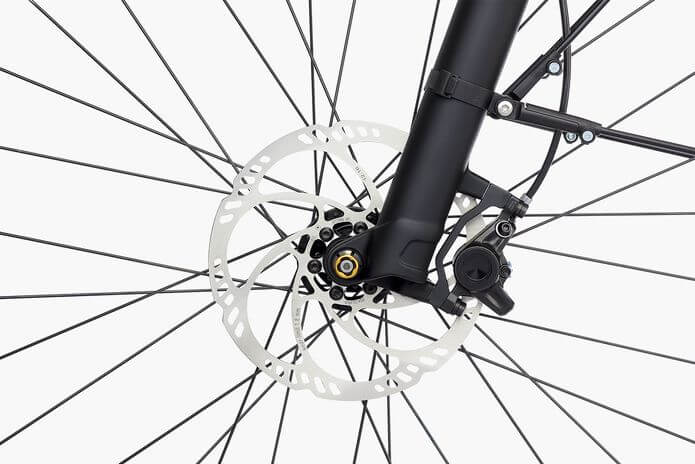 The fastest route to a standstill.
The hydraulic Magura MT4 disc brakes deliver maximum performance, no matter what the weather. The large brake discs allow the braking effect to be distributed most effectively. They don't produce rim wear and impress with their consistent braking performance.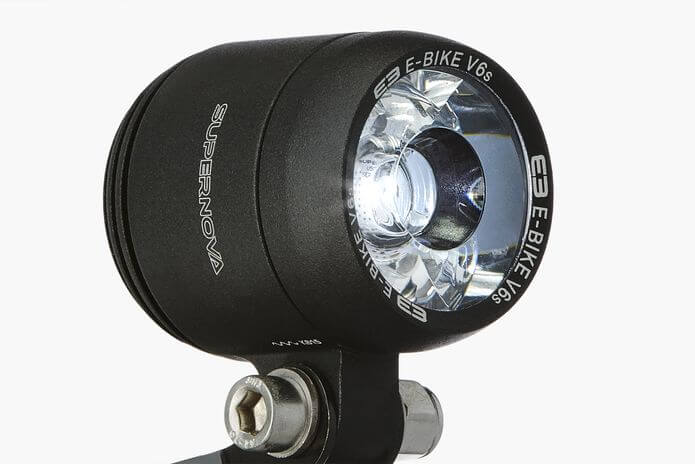 A bright outlook.
At dusk, in the woods or late at night: Supernova's or Busch & Müller's LED headlamps provide consistently excellent road illumination whenever you go for a ride. They are supplied with power by the battery. Thus, full lighting power is ensured at all times – whether at high speeds or standing still, for instance when stopping at a traffic light.