Haibike XDURO Trekking S 5.0 2017
Haibike XDURO Trekking S 5.0 2017
The Haibike XDURO Trekking S 5.0 2017 features a lightweight 6061 Aluminum Alloy with Gravity Casting Interface frame and a high performance Bosch Performance Speed as its motor.
Are you looking for a sporty eBike, prefer longer distances in less demanding terrain or roads? Then Haibike XDURO Trekking S 5.0 2017 is the right choice. The performance and reliability of the Bosch Perfomance Speed drive system ensures you have a lot of fun, whether on gentle terrain, forest tracks, or riding through the city.
Frame: The Haibike XDURO Trekking S 5.0 2017 features a lightweight hydroformed 6061 aircraft grade aluminum frame. It has a high strength to weight ratio and is highly resistant to corrosion. The frame also features a cable inlet system giving the bike an elegant solution for routing the wires and cables. Some other notable frame features include a gravity cast junction giving superior strength to the central load area and the Haibike's high clearance centrally mounted motor is protected with their unique skidguard design.
Brakes: The Haibike XDURO Trekking S 5.0 2017 is equipped with high-quality Magura MT4 aluminum brakes. In addition to providing reliable stopping power, these brakes are low-maintenance and easy-to-control.
Drivetrain: The Haibike XDURO Trekking S 5.0 2017 features Shimano Deore XT Shadow M8000 11-speed rear derailleur paired with a Shimano SLX M7000 Rapidfire shifter located on the grip.
Top Speed: The Haibike XDURO Trekking S 5.0 2017 has a top speed of 28 mph.
Sizing Options: The Haibike XDURO Trekking S 5.0 2017 comes in a variety of sizes; Extra Small (48cm), Small (52cm), Medium (56cm), Large (60cm), and Extra Large (64cm). If you're unsure of what size would be best for you, please contact us so that we can assist you in finding your correct fit.
Tires: The power meets the ground with it's Schwalbe Energizer Pro 40-622 with  puncture protection and reflective strips tires.
Accessories: The Haibike XDURO Trekking S 5.0 2017 comes with a Haibike eHeadlight front light and a Busch & Muller top light line plus rear light, a SKS Chrome plastic fenders, etc. Our team has a lot of experience outfitting bikes with additional accessories, so be sure to reach out to us if there's anything you may need.
Motor: The performance speed drive is a powerful and reliable drive the S-pedelec class.With its 350 watts rated power and helps the driver to 28 mp / h. It is used therefore only in the fast eBikes (S-pedelec)
The 3-sensor system detects torque, cadence and speed with 1,000 measurements per second, which are processed by a powerful processor in the shortest time.This extremely fast and precise motor control ensures an extremely sensitive response of the engine support.
Battery:  To reduce the visual "weight", we sink the Bosch battery slightly in the down tube. Through a combination of hydroformed tubes and special castings we bind the battery optically into the frame and can avoid the conventional, tight-tolerance welding of the attachment points. In addition, to reduce the distance between the motor and battery to 11mm succeeded.
Display: The extremely legible and removable Intuvia display provides all information as actual, average and maximum speeds, day trip and total distance. In addition, it provides information on the time, driving time and total operating time of the e-bikes and the actual engine performance.
Accurate remaining range indicator indicates how far the current charge level. From the remote of the five support modes (Eco, Tour, Sport, Turbo & OFF) selected or the pushing aid can be activated. The "OFF-board use" ensures that all functions can be accessed even when removed. A Micro-USB connector enables charging function for navigation system, mobile phone or MP3 player.
Light: Lighting at the wheel is not only an important safety feature, but extends the application using the daylight borders. However lights are with the character sporty bikes in stark contrast. Therefore we have developed with the eLight own lighting system, the first system to combine optical integration and functionality.
Headlight and taillight are STVZ compliant. Both can be upgraded individually or as a set at each XDURO. The on and off via the light button on the Bosch display. The result is a naturally-acting lighting system that integrates itself seamlessly in sportive bikes.
Skidplate: Especially with eMTBs include bouncing or rockfalls, which can seriously damage the deep-seated motor, an everyday occurrence. The Skidplate is useful as a protective device not only from a technical perspective, it also encompasses optical engine.So this is visually part of the frame. The result is a technically perfect tailed motor which, as its standard solution, a non-autogenous part is not, but is a self-evident center of ePerformance bikes.
Sprocket: Almost all XDUROs possess a specially developed for this series of Haibike drive pinion. These are individually from a solid block computer-controlled milling (CNC). The special shape of the teeth is a wholly-owned support and guide the chain links and thus guarantees a long lifetime.Together with the integrated chain guide ring on Sprocket and Chain Guard on Pulley Wheel a chain shedding is totally excluded.
Additional information
| | |
| --- | --- |
| FRAME | 6061 Aluminum, Gravity Casting Interface, hydroformed, quick release 5 x 135mm, disc brake Postmount |
| MOTOR | Bosch Performance Speed, 350W, 60Nm, 28 mp / h |
| DISPLAY | Bosch Intuvia |
| BATTERY | Bosch Power Pack, 500 Wh |
| CHARGER | Bosch quick charger 4A |
| Front Suspension | SR Suntour NCX-E45 LOR lockout, air travel: 60mm, aluminum shaft 1 1/8 "- 1 1/2" tapered, half shaft |
| Rear Derailleur | Deore XT Shadow M8000 Plus, 11-speed, Shimano |
| GEAR LEVER | Shimano SLX M7000, RapidFire |
| SPROCKET (REAR) | Shimano SLX M7000, 11-42 teeth |
| CHAIN | Shimano HG601 |
| CHAINRING | Haibike CNC Sprocket steel, 20 |
| Front and Rear Brakes | Magura MT4 E-Bike, aluminum |
| TIRE | Schwalbe Energizer Pro, 40-622, puncture protection, reflective strips |
| RIMS | Rodi BlackRock disc, hollow rim, aluminum |
| FRONT HUB | XLC Evo Disc, 15×100 thru axle |
| REAR HUB | XLC Evo Disc |
| SPOKES | DT Swiss Industry, black |
| HANDLEBARS | Haibike Components TheBar ++ Topflat 720mm |
| HANDLES | XLC sport bo2 screw handles |
| Stem | Haibike Components TheStem ++, A-Head, bar bore: 31.8mm, 7˚ |
| Headset | A-Head Alloy Tapered |
| SADDLE | Selle Royal Milo |
| SEATPOST | Haibike Components TheSeatpost ++, patent, 31.6mm |
| PEDALS | Wellgo C29 |
| HEADLIGHTS | Haibike eHeadlight, 60 lux |
| TAILLIGHT | Busch & Müller Top Light Line Plus |
| Carrier | Stand Wellsystem Porter S-pedelec X- / SDURO, XLC Carrymore |
| FENDERS | SKS, Chromoplastik |
| STAND | Pletscher Comp ARA |
| WEIGHT | 51.1 lbs. |
| WHEEL SIZE | 28 " |
As the new 2017 electric bikes roll in, it is our job to ensure that our customers have the very first opportunity available to pre-order their electric bike. Pre-ordering with Propel is made simple. In order to be among the first to get your hands on your 2017 electric bike, a small deposit of $250 is required. For the most up-to-date availability information or to pre-order, please contact[email protected] or give us a call at 718-643-4542.
This electric bike is expected to be available for shipment as early as January of 2017.
Below sizes are recommended as a good starting point when thinking about sizing. Please contact us for recommendations based on your specific needs.
---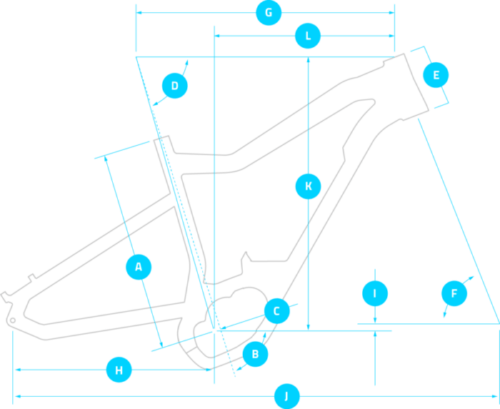 | | | | | | | |
| --- | --- | --- | --- | --- | --- | --- |
| | Frame size | XS | S | M | L | XL |
| A | FRAME HEIGHT | 48 cm | 52 cm | 56 cm | 60 cm | 64 cm |
| B | SEAT TUBE ANGLE | 72.5 ° | 72.5 ° | 72.5 ° | 72.5 ° | 72.5 ° |
| C | SEAT TUBE OFFSET | – | – | – | – | – |
| D | SEAT ANGLE | 72.5 ° | 72.5 ° | 72.5 ° | 72.5 ° | 72.5 ° |
| E | HEAD TUBE LENGTH | 135 mm | 140 mm | 145 mm | 150 mm | 150 mm |
| F | HEAD TUBE ANGLE | 70.5 ° | 70.5 ° | 70.5 ° | 70.5 ° | 70.5 ° |
| G | TOP TUBE LENGTH (HORIZONTAL) | 585 mm | 600 mm | 615 mm | 630 mm | 645 mm |
| H | CHAINSTAY LENGTH | 482 mm | 482 mm | 482 mm | 482 mm | 482 mm |
| I | BB DROP | -60 mm | -60 mm | -60 mm | -60 mm | -60 mm |
| J | WHEEL BASE | 1107 mm | 1123 mm | 1138 mm | 1153 mm | 1168 mm |
| K | STACK | 620 mm | 625 mm | 630 mm | 634 mm | 634 mm |
| L | REACH | 389 mm | 403 mm | 417 mm | 430 mm | 445 mm |