Riese & Muller Load
Riese & Muller Load
The Load.
The dawn of a new E-ra.
The revolution begins in the crowded streets of the city bustling with commuter traffic. Past the long queues, on the Load E-Cargo bike. Fully laden like a car boot or like a back seat with children, it takes you effortlessly, and usually faster than a car, to your destination. Even as you set off, you'll be surprised by its sportiness, even despite all your luggage. Its low center of gravity and rigid trellis frame make it astonishingly manageable. Safely protected, children can enjoy the thrill of the air stream whistling around their ears. Thanks to the full suspension, there is absolutely nothing to spoil the happy mood. The numerous accessories mean that virtually every transport task can be accomplished. Thanks to the adjustable seat position and the angle and height-adjustable stem, multiple riders can use the bike with ease. So all that remains is for us to say: dear car, it's great staying in the garage..
Riese & Muller Load – Control technology
Maintains a deep relationship with the road.
Only an E-Bike with true full suspension keeps ground contact on poor roads – and keeps you in full control. The active rear swing arm, optimized front wheel suspension and co-sprung carrier form the core of the Control Technology. They ensure better road holding and safety at high speeds, with heavy loads and in tricky situations. The immediately appreciable advantage is the back-sparing riding comfort. Vibrations and hard knocks like those experienced on cobbles or curbs are significantly diminished. Your luggage is also protected on the sprung loading surface and optional, rigid-frame and therefore sprung carrier.
Riese & Muller Load – Motor and battery
The heart of an athlete.
With its tremendous driving force and pedal assistance of up to 275%, you can conquer any mountain and any terrain. Depending on the model, you will be assisted by either the Bosch Performance Cruise motor up to 20 mp/h or the Performance Speed motor on the HS versions even up to 28 mp/h. But if it's not so much speed but higher torque you're after, then you should be tempted by a model with Performance CX motor and pedal assistance of up to 300%. Even walking, your Load helps out with its pushing aid.
The standard Intuvia Display can serve as a control center with a smartphone charging function. Ultra-modern Bosch lithium ion batteries with a 500 Wh energy reserve provide the power for every one of your trips. And by harnessing the power of a second battery through dual battery technology, you can even increase your energy reserve to an incredible 1,000 Wh and effectively double your biking range.
Low step-through and variable seat position
Enjoyment begins as soon as you get on.
On an E-Bike, you feel like you're 20 again. It's important to hang on to this exhilarated feeling when getting on and off the bike. The comfortable, relatively low step-through, at a height of 49 cm, makes sure that's exactly what happens. Thanks to the angle- and height-adjustable stem (only height-adjustable on the Load light), the seat position on the Load can be adjusted to accommodate body heights from 4'9″ to 6'4″ and adapted to comfort preferences from sporty to comfortable. This means that it can be used by multiple users with different standards. The Load serves them all with panache.
Riese & Muller Load – Safe child transport
Suitable for younger generations too.
The most valuable cargo anyone can carry is children. Their safety comes first. The two 5-point belts for two smaller children, a protected seat position and side protection thanks to the trellis frame offer maximum safety in city traffic. A few quick manual manoeuvres turn your Load into an all-weather vehicle thanks to the optional Cordura cover. So rain, cold droughts, sunshine or even stones thrown up from the road cannot harm your precious little ones. Even more practical accessories are also available to buy.
Compatible with logistics stacking boxes
From warehouse to delivery.
The loading surface of the Load has been designed to perfectly accommodate stacking boxes in the Euro modular dimensions. These boxes (example manufacturer: UTZ Rako or Tanos Systainer) are available in various sizes and colors from specialist retailers for storage and logistics tasks or can also be purchased on the Internet. They are also suitable as insulating containers for transporting food.
Riese & Muller Load Dual battery
Twice the range. Twice the riding pleasure.
Riese & Muller is doubling the range of its E-Bikes with dual battery technology – in other words, by adding a second battery. This steps up battery capacity to 1,000 Wh. Using a charger, both batteries can be charged at the same time. Depending on your needs, you can also use just one battery to go on a ride. Its dual battery technology puts Riese & Muller at the top of its class in terms of riding range.
Riese & Muller Load High frame stability
Does not bend to any challenge.
The trellis frame has extremely high rigidity values. The less bendy the frame, the more direct the transfer of force, and the E-Bike tends to jitter significantly less. Coupled with the low center of gravity, the Load's superlative and sporty riding characteristics really become noticeable.

A bright future.
Always ride with excellent road illumination thanks to the IQ-X headlamps from busch & muller. Only daylight is brighter than their exceptional brightness of over 100 lux. With its very wide-sweeping and homogeneous large-area illumination of the street, you won't miss a thing. They are operated via the Bosch display, while the energy is supplied via the battery. The Load light is not equipped with standard lighting.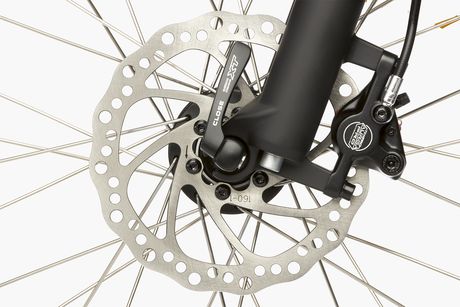 The fastest route to a standstill.
The hydraulic disk brakes from Tektro deliver maximum performance, no matter what the weather. The large brake disks allow the braking effect to be distributed most effectively. They don't produce rim wear and impress with their consistent braking performance.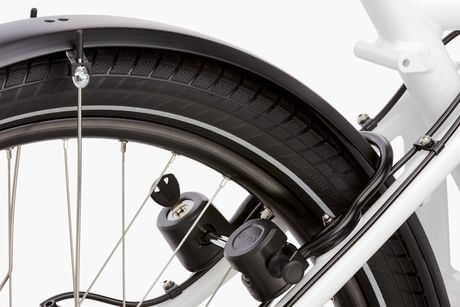 Steal success from thieves.
Park your Load wherever you want. Only you can take it away. The Abus Protectus 5000 frame lock, with its 9 mm thick locking clasp, offers great protection against theft.
Riese & Muller Load Custom Variables
To match your Load, the perfect accessories provide the ideal solution for your transport projects.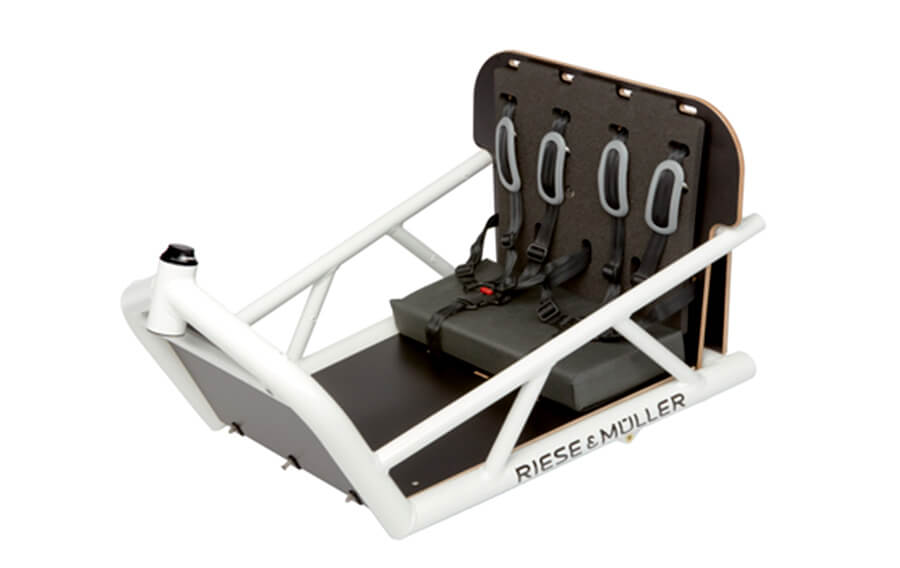 Riese & Muller Load Double child seat
Right at the front – children love it. With the double child seat, your children up to the age of 6 can travel safely with you. Sidewalls and the tarpaulin can be combined with the child seat.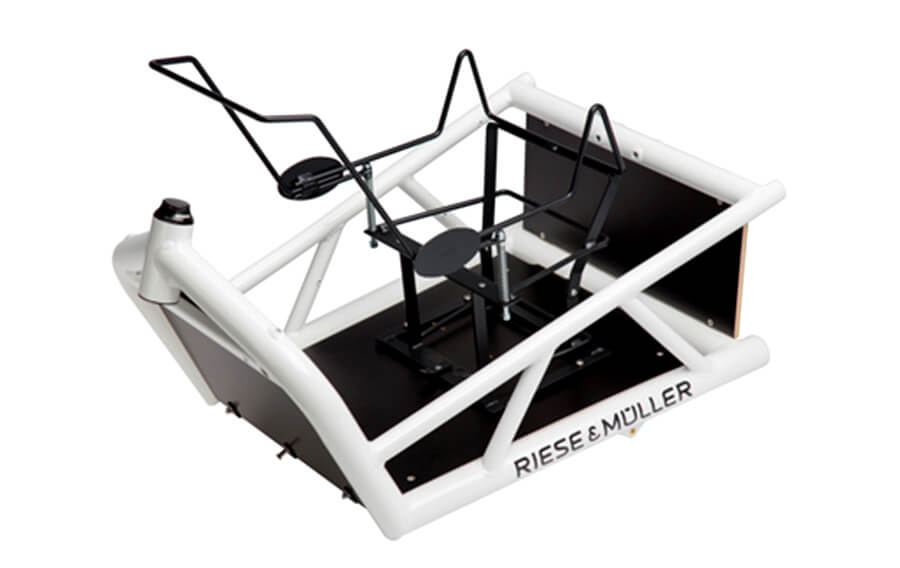 Riese & Muller Load Baby seat fastening
On the Load, even the tiniest passengers can travel along safely. Baby seats can be secured to this frame so that mum or dad can always have their eye on them. As an addition, we recommend the low sidewalls for interior assembly.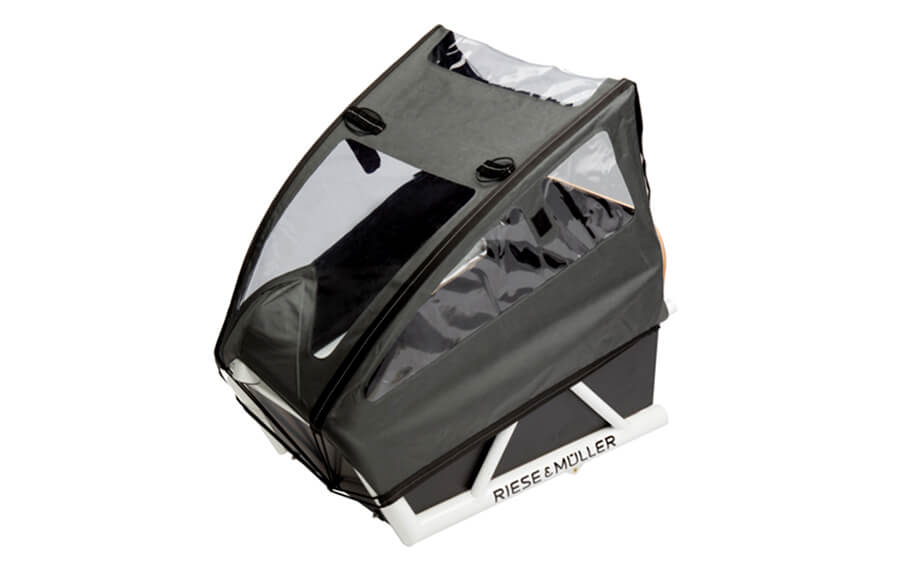 Riese & Muller Load Child cover
A few quick manual manoeuvres turn your Load into an all-weather vehicle thanks to the optional Cordura cover. So rain, cold droughts, sunshine or even stones thrown up from the road cannot harm your precious little ones.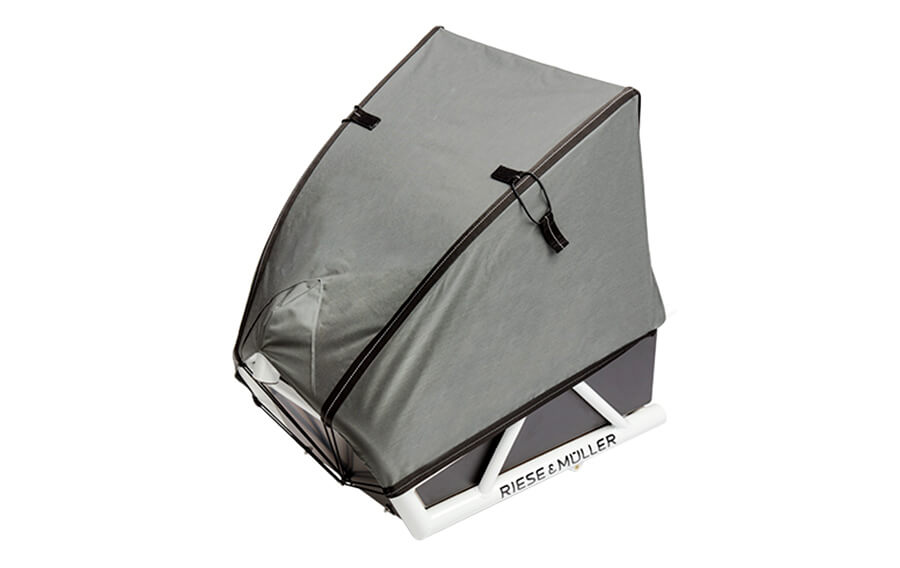 Cargo cover
As an addition to the low side walls, we advise the cargo cover made from Cordura material. It protects your cargo from all weathers and prying eyes. Low, lettered side walls externally with cargo cover.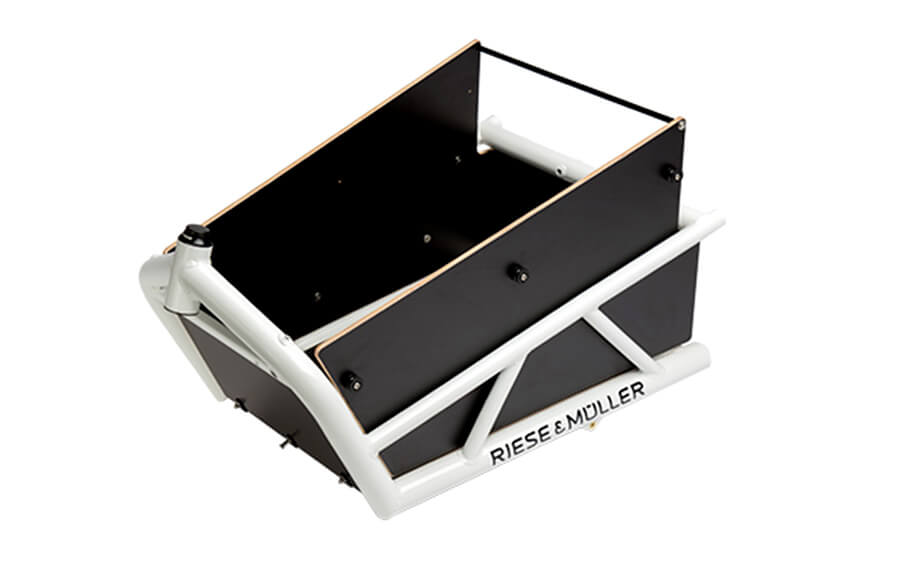 High side walls
With the optional high side walls, transporting heavy loads is a cinch. They are made from coated wood and are fitted internally.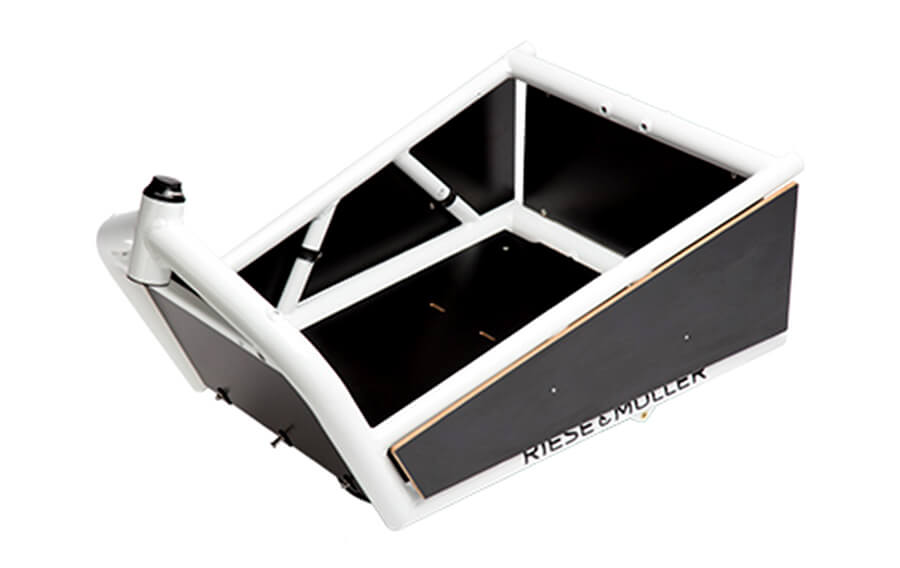 Low side walls for external fitting
Ideal for commercial use, advertising logos and lettering can be affixed to the low external walls.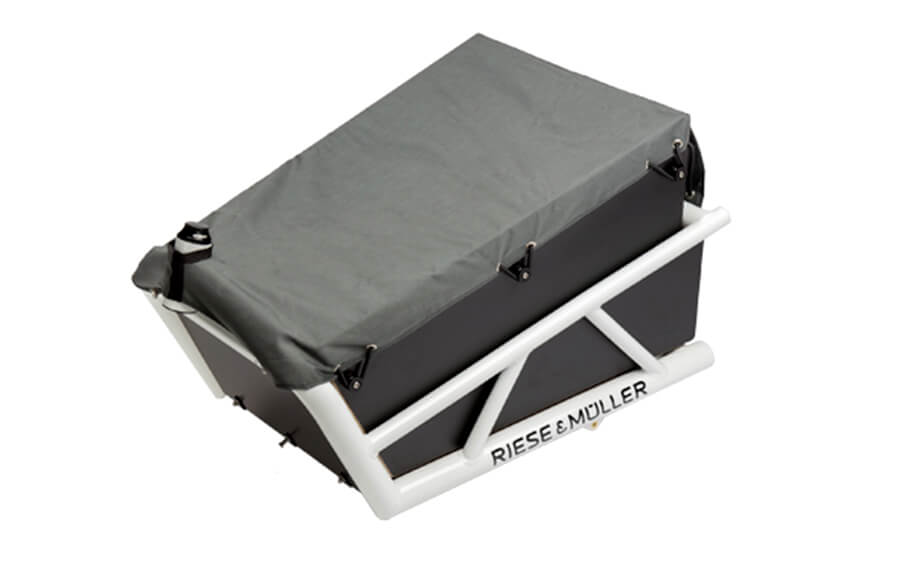 Tarpaulin
Suitable for the high side walls, a tarpaulin made from waterproof Cordura protects your cargo from all weathers.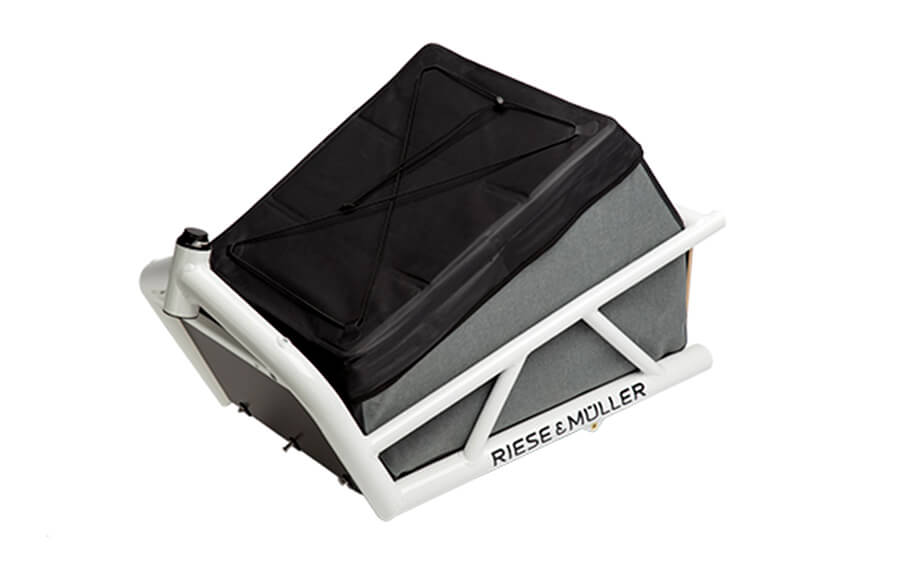 Lightweight folding box
Folded out, the lightweight and flexible folding box offers a waterproof storage space measuring 58 x 42 x 25 cm (front) / 45 cm (rear). A padlock secures your cargo. Folded down, the box becomes a tray. Bulky goods can be lashed to the rail on the frame of your Load.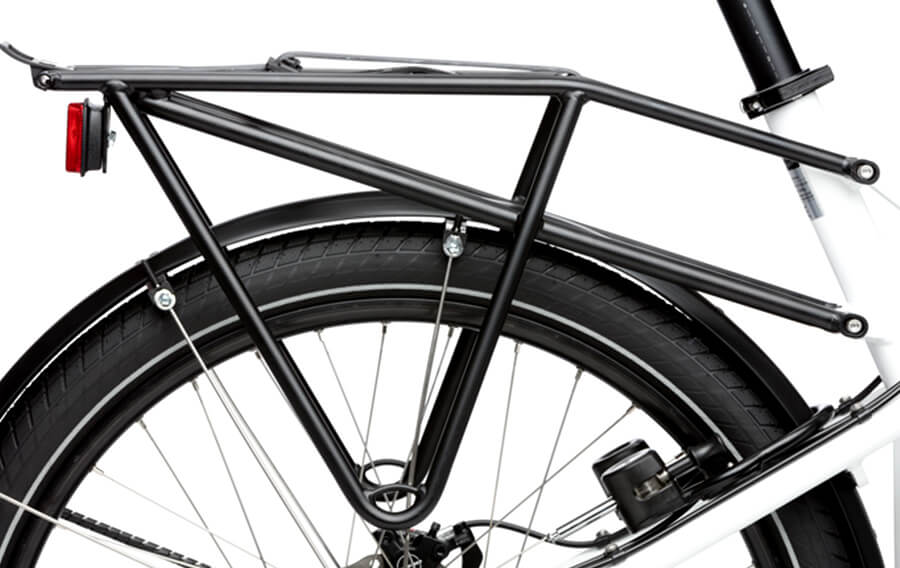 Carrier
Sometimes, the storage room at the front isn't enough, especially if you've got the kids with you too. The carrier is ideal for attaching panniers, making it perfect for longer bike trips too.
National Feed

Pedal assistance up to 28 mph. Comfortable, continuous NuVInci hub gear, always in the perfect gear, perfect shifting comfort, hydraulic Tektro disc brakes, trendy color concept, extensive accessories. **The model version shown may be different from your selected model. We will correct all the images once we have them. If you have questions feel free to contact us.

$

6,789.00–

$

7,777.00