Haibike XDURO Urban S 5.0 2017
Haibike XDURO Urban S 5.0 2017
The Haibike XDURO Urban S 5.0 2017 features Bosch Intuvia display, the extremely legible and removable Intuvia display provides all information as actual, average and maximum speeds, day trip and total distance. In addition, it provides information on the time, driving time and total operating time of the e-bikes and the actual engine performance.
Skidplate: The Haibike XDURO Urban S 5.0 2017 is made of impact-resistant plastic, the lightweight device provides effective protection against scratches or damage to the engines.
Gravity Casting Interface: The heart of the Haibike XDURO Urban S 5.0 2017 aluminum frame: light, highly stable and costly manufactured with a special casting technology in motorcycle sports.
Sprocket: A specially developed by us for XDURO class component for a perfect, wear-optimized power transmission from the engine to the chain.
eLight-System: The first specially developed for sportive eBike lighting system that fits perfectly into the overall picture visually. Luminous Stark and retrofitted on all XDUROs.
The Bosch Performance Speed Drive: The reliable and proven performance speed drive from the leader Bosch in the special 350 Watt version for support to 28 mp / h.
The Bosch Intuvia display: Both computer and operating element: the proven Bosch Intuvia display with comprehensive functions and information.
Motor: The Haibike XDURO Urban S 5.0 2017 has Bosch Performance Speed, 350W, 60Nm, 28 mp/h
The Bosch Performance Speed Drive: The performance speed drive is a powerful and reliable drive the S-pedelec class. With its 350 watts rated power and helps the driver to 28 mp / h. It is used therefore only in the fast eBikes (S-pedelec). Sensitive sensors for sensbiles response – His 3-sensor system detects torque, cadence and speed with 1,000 measurements per second, which are processed by a powerful processor in the shortest time. This extremely fast and precise motor control ensures an extremely sensitive response of the engine support.
Battery:  This is the Performance line 500 Wh Bosch Power Pack Battery. This is suitable as a direct replacement for any of our Bosch eBike with the Performance / Active line system. With 20% increased ranges over the 400Wh battery. Handy as a replacement or to keep as a spare to increase the range of any Bosch eBike.
Additional Information
| | |
| --- | --- |
| FRAME | Aluminium 6061, Gravity Casting Interface, hydroformed, Schnellspanner 5 x 135mm, Scheibenbremse Post Mount |
| MOTOR | Bosch Performance Speed, 350W, 60Nm, 28 mp/h |
| DISPLAY | Bosch Intuvia |
| BATTERY | Bosch PowerPack, 500 Wh |
| CHARGER | Bosch quick charger 4A |
| FRONT SUSPENSION | Haibike Urban Race, Aluschaft 1 1/8″ |
| REAR DERAILLEUR | Rival 1 longcage, 11-Gang, Sram |
| GEAR LEVER | Shame SL700, Triggerschalter |
| SPROCKET (REAR) | Sram PG1130, 11-42 teeth |
| CHAIN | Sram PC1110 |
| CHAINRING | Haibike CNC Sprocket steel, 20 |
| Front and Rear Brake | Magura MT4 E-Bike, Aluminium |
| TIRE | Schwalbe Durano E, 32-622 |
| WHEELSET | DT Swiss R32 Spline db |
| handlebar | Haibike Components TheBar ++ Topflat 720mm |
| HANDLES | XLC sport bo2 screw handles |
| stem | XLC Anti-Shock |
| HEADSET | A-Head Alloy Tapered |
| SADDLE | Arione R5 |
| SEATPOST | XLC Alu Antishock, Patent, 31.6mm |
| PEDALS | Wellgo C29 |
| HEADLIGHTS | Haibike eHeadlight, 60 lux |
| TAILLIGHT | Haibike String Light LED Light Bar |
| DYNAMO | on system battery |
| STAND | Pletscher Comp ARA |
| WHEEL SIZE | 28″ |
As the new 2017 electric bikes roll in, it is our job to ensure that our customers have the very first opportunity available to pre-order their electric bike. Pre-ordering with Propel is made simple. In order to be among the first to get your hands on your 2017 electric bike, a small deposit of $250 is required. For the most up-to-date availability information or to pre-order, please contact [email protected] or give us a call at 718-643-4542.
This electric bike is expected to be available for shipment as early as January of 2017.
Below sizes are recommended as a good starting point when thinking about sizing. Please contact us for recommendations based on your specific needs.
---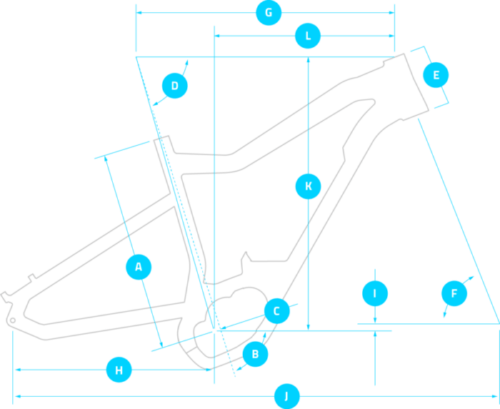 '
| | | | | | | |
| --- | --- | --- | --- | --- | --- | --- |
| | Frame size | XS | S | M | L | XL |
| A | FRAME HEIGHT | 50 cm | 53 cm | 56 cm | 59 cm | 62 cm |
| B | SEAT TUBE ANGLE | 74 ° | 74 ° | 74 ° | 74 ° | 74 ° |
| C | SEAT TUBE OFFSET | – | – | – | – | – |
| D | SEAT ANGLE | 74 ° | 74 ° | 74 ° | 74 ° | 74 ° |
| E | HEAD TUBE LENGTH | 115 mm | 135 mm | 155 mm | 180 mm | 180 mm |
| F | HEAD TUBE ANGLE | 71 ° | 72 ° | 73 ° | 74 ° | 74 ° |
| G | TOP TUBE LENGTH (HORIZONTAL) | 530 mm | 545 mm | 560 mm | 575 mm | 590 mm |
| H | CHAINSTAY LENGTH | 462 mm | 462 mm | 462 mm | 462 mm | 462 mm |
| I | BB DROP | -68 mm | -68 mm | -68 mm | -68 mm | -68 mm |
| J | WHEEL BASE | 1043 mm | 1049 mm | 1054 mm | 1059 mm | 1074 mm |
| K | STACK | 547 mm | 570 mm | 592 mm | 620 mm | 620 mm |
| L | REACH | 373 mm | 382 mm | 390 mm | 397 mm | 412 mm |