Focus JARIFA IStreet 2017
Focus Electric Bike Sizing
---
Below sizes are recommended as a good starting point when thinking about sizing. Please
contact us
for recommendations based on your specific needs.
---
| Size | Height |
| --- | --- |
| S | 5'3" - 5'7" |
| M | 5'7" - 5'11" |
| L | 5'10" - 6'2" |
| XL | 6'1" - 6'5" |
Focus JARIFA IStreet 2017
The Focus JARIFA IStreet is perfect for those who loves to commute without compromises in equipment and fun. It is the all-around package e-Bike with fun factor. The Focus JARIFA IStreet features all you need for commuting. With fenders, integrated lights, and a sturdy rack, it is the ultimate sporty commuter bike.
The Focus JARIFA IStreet boasts all the features you need for commuting. With fenders, integrated lights, and a sturdy rack, it is the ultimate sporty commuter bike. The battery is discreetly tucked away on the downtube to provide beautiful aesthetics. Coupled with Bluetooth-capable onboard navigation.
Brakes: The Focus JARIFA IStreet is equipped with Shimano BR-M315 disc Brakes, it also has a 180mm front and rear rotors. It provides very reliable stopping power, these brakes are low-maintenance, and easy to control.
Top Speed: Like most electric bikes sold in the US, the Focus JARIFA IStreet has a top speed of 20 mph in keeping with federal law. There are ways to remove this speed limit for use on private roadways, however the jury is still out on how this will impact your Warranty. Until we get an official word from Focus, we're going to err on the side of caution. Please contact us to learn about the concerns with making this modification
Warranty: Focus offer a 6-year manufacturer's warranty on all FOCUS carbon frames and forks. For paintwork of FOCUS carbon frames the 2-year warranty applies. Any damage to the paint finish which occurs after your specialist dealer has delivered your bike is not covered by the terms of the warranty.
Accessories: This bike comes with Supernova E3V6S Head light and Busch & Muller tail light for safety, it also comes with a rear kickstand and fenders to keep your clothes clean. Our team has a lot of experience outfitting bikes with additional accessories, so be sure to reach out to us if there's anything you may need.
Key Features of Focus JARIFA IStreet
– Safety: The integral lighting set from Supernova lights up the way ahead perfectly.
– Accessories: The fenders keeps you and your clothes clean and dry. The Racktime system supports 55 lbs.
– Premier mid-drive system engineered in Germany.
– Maximum power with Ultra mode (speed models) and maximum torque of 100Nm
– XXL Battery with 612 Wh and range of up to 125 miles on one change. (depends on various driving conditions)
–  Includes smartphone networking and navigation app
Motor: The IMPULSE EVO is the premier mid-drive engineered in Germany. With an updated motor housing and shorter wheelbase the EVO system is optimize for sporty use. Based on the IMPULSE EVO, the RS version boasts a more powerful EVO drive at 612 Wh. IMPULSE EVO RS has an extra level of assistance, Ultra mode which provides impressive maximum assistance. Only the IMPULSE EVO RS Speed motor, which assists speeds of up to 28 mph, has greater power reserves.
– Stronger gear unit, designed for a maximum torque of 100 Nm
– Noise reduced by 50%
– Additional pedalling cadence sensor integrated in the motor for even more sensitive control of the power assist function
– Innovative multi-tooth axis for safe crank assembly
– The lighting system is supplied via the motor
– Bold designs, uncompromised power
Battery:  Whether fully integrated or or elegantly placed on the down tube, both IMPULSE EVO battery versions use the same technology. With 50 high-performance cells and a capacity of 17 Ah, under ideal conditions* power reserves can provide a range of up to 125 miles on one charge. This new battery generation also boasts durability, simple handling and rapid recharging. The charging socket, also serves as a service interface, this dual functionality makes it simple to perform system software updates.
Display & Control Unit:  The new IMPULSE EVO Smart Display makes use of smartphone technology and functions as an e-bike on-board computer and a Bluetooth capable navigation system. A standard USB socket on the back of the display offers a convenient place to charge your smartphone.
The IMPULSE EVO Control Unit is e-bike handling made easy. The ergonomically designed control panel offers you full control of the IMPULSE EVO electric drive within reach. The optimized design and elegant back lighting guarantees safe operation of the functions and displays without having to take your hands off the handlebars.
IMPULSE EVO NAVI APP
Your smartphone is safely stored in your pocket, and yet the navigation instructions are constantly visible on the IMPULSE EVO smart LCD. Thanks to the navigation app and Bluetooth connection, the IMPULSE EVO conveniently displays the route to your destination. What's more, the USB charging socket ensures you stay powered up even if your smartphone's battery runs out.
START SCREEN – The IMPULSE EVO system is characterized by simple, intuitive operation – this also extends to use of the navigation software. The clear menu provides quick access to all central functions.
CALCULATE ROUTE – In addition to the standard "Start-Destination" navigation function, you can also plan tours around your location. This is always based on the current battery capacity.
MAP ROUTE – The tracking function enables the actual route taken to be mapped, thus allowing you to create your own tour library.
MY ROUTES – You can save your routes, comment on them and call them up again as necessary. You can also grant other users access to your routes or upload routes published by other Naviki users.
The IMPULSE EVO  navigation app can be downloaded, for free, from the App Store or the Google Play Store.
IMPULSE EVO NAVI APP
– On-board navigation via bluetooth with Impulse display
– High level of clarity
– Route calculation
– Synchronization with Naviki Server
– Available for free in the App Store
Additional Information
| | |
| --- | --- |
| Frame | JARIFA MTB Integrale Impulse, 6061 alloy, 142 mm dropouts, internal cable routing, post mount brake standard |
| Fork | RST Pulse, LO, 9 mm QR, 75 mm travel |
| Motor | Impulse Evo RS |
| Battery | Impulse, 612 Wh, removeable |
| Charger | Impulse 4Amp |
| Display | Impulse Evo Smart LCD, with Control panel and push assistance, bluetooth |
| Derailleur | Shimano Deore, 9-speed |
| Shifter | Shimano Altus |
| Cassette | SRAM PG-920 |
| Crankset | Impulse Performance |
| Drivetrain | front: 36, rear: 11-34 |
| Handlebar | Concept, riser |
| Stem | Concept EX |
| Saddle | Concept EX |
| Seatpost | Concept Race, 31,6 mm, 350 mm |
| Brakes | Shimano BR-M315, 180 mm / 180 mm |
| Rims | Concept EX, 622-23, Shimano Deore CL, 142×12 mm / 9 mm |
| Tires | Schwalbe Big Ben 50c |
| Fender | Buechel Sport |
| Carrier | Racktime, w/integrated rear light |
| Front Light | Supernova E3V6S |
| Tail Light | Busch & Müller integrated with LineTec-Technology |
| Kick Stand | Rear Kickstand |
| Color | Nimbusgrey/Orange matte |
Focus Electric Bike Sizing
---
Below sizes are recommended as a good starting point when thinking about sizing. Please
contact us
for recommendations based on your specific needs.
---
| Size | Height |
| --- | --- |
| S | 5'3" - 5'7" |
| M | 5'7" - 5'11" |
| L | 5'10" - 6'2" |
| XL | 6'1" - 6'5" |
Focus JARIFA IStreet Frame Geometry
---
Below sizes are recommended as a good starting point when thinking about sizing. Please
contact us
for recommendations based on your specific needs.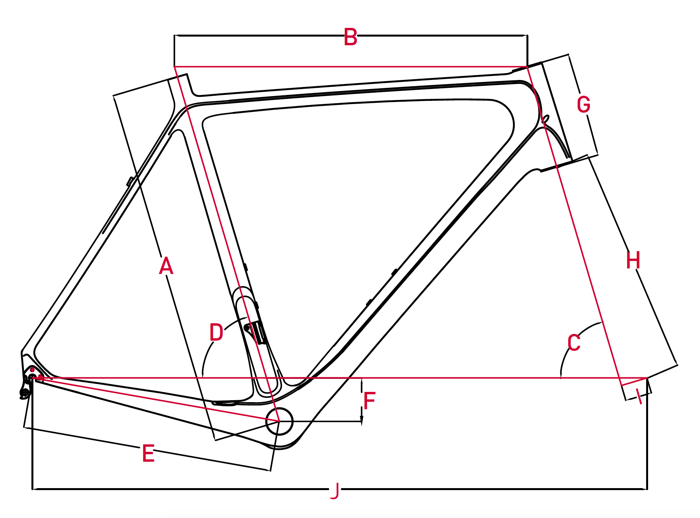 | | | | | | |
| --- | --- | --- | --- | --- | --- |
| | Frame Size Code | S | M | L | XL |
| A | Frame Sizes | 43cm | 46cm | 50cm | 54cm |
| B | Top Tube | 57.7cm | 59cm | 60.7cm | 62.3cm |
| C | Head Tube Angle | 70° | 70° | 70° | 70° |
| D | Seat Tube Angle | 74° | 74° | 74° | 74° |
| E | Chainstay Length | 47.2cm | 47.2cm | 47.2cm | 47.2cm |
| F | BB Drop | 7cm | 7cm | 7cm | 7cm |
| G | Head Tube | 11cm | 12cm | 13cm | 15cm |
| H | Fork Length | 50.1cm | 50.1cm | 50.1cm | 50.1cm |
| I | Fork Rake | 4.4cm | 4.4cm | 4.4cm | 4.4cm |
| J | Wheel Base | 111.4cm | 112.8cm | 114.5cm | 116.3cm |
| K | Stack | 63.2cm | 64.1cm | 65.1cm | 67cm |
| L | Reach | 39.6cm | 40.6cm | 42cm | 43.1cm |